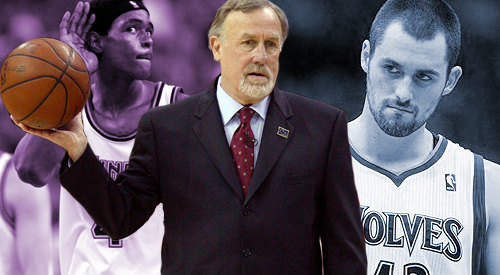 Rick Adelman: Rocket Scientist, Wolf Tamer
October 7, 2011
When Minnesota hired Rick Adelman as the cellar-dwelling franchise's new head coach in September, no one doubted the Timberwolves' choice. By almost all measures, Adelman was the best basketball coach on the planet without a job (not named Phil Jackson). The only real question that remains is why would a head coach with nearly a thousand wins under his belt would take a job with a lowly 17-win team?
After the conclusion of the NBA Finals, rumors immediately began to spread that Adelman – who had turned down an optional two-year extension with the Rockets – would fill the vacant Lakers position now that Phil Jackson has retired. The Wolves themselves had other candidates – including NBA veteran Terry Porter and former Atlanta Hawks boss Mike Woodson – but according to reports, when Adelman became interested in the job it was an easy decision.
Having begun his coaching career in Portland, the Northwest division is familiar territory for Adelman, who is heading into his 21st season as a head coach, all of them in the Western Conference. In his first full year coaching the Trailblazers, he took the Clyde Drexler-led team to the NBA Finals, where they'd eventually lose to the Pistons. Two years later his Blazers would again fall in the Finals, this time to Michael Jordan's Bulls.
Replaced in Portland by P.J. Carlesimo two years later, Adelman then spent two years in Golden State where he failed to make the playoffs and was once again replaced by Carlesimo. During that time, for better or worse, he gained a reputation for being a "player's coach" by letting his players be themselves and play the game the way that they wanted to play the game.
[php snippet=1]
A hobbled experiment in Houston
Skipping forward one decade, Adelman's most recent gig – a four-year stint in Houston – became a giant "what if" situation for embittered Rockets fans. When he took the position, the grand narrative of the NBA seemed to have a significant role set aside for Yao Ming, Tracy McGrady and the blossoming Rockets. The fact that this duo fizzled when some basketball writers had them pegged to potentially change the power balance in the West is due more to injuries and questionable decisions from Rockets management than any lack of skill at the helm of the team.
But it's easy to forget the impact of the Houston Rockets at the time, especially when the Lakers, Spurs, Mavericks (and to a lesser extent, the Suns) had been, and in most cases continue to be, so dominant. In his first two seasons, Adelman steered the Rockets to a 22-game winning streak (the second-longest in NBA history) while Ming watched with a season-ending knee injury. With McGrady injured in 2008-09, the Rockets managed 53 wins and a strong fifth seed position in the West. Had Ming not fractured his foot during Game 3 of the second round, the Rockets could've perhaps defeated the eventual champion Lakers and made a run at a title of their own.
With further injuries mounting, Houston would miss the playoffs for the next two years in a row.
That Adelman's Rockets managed to achieve two more 40-win seasons with Ming in constant disrepair and Trevor Ariza good-but-not-nearly-good-enough is something impressive in itself. His ability to steer the proverbial rocket away from a catastrophic collision with the beasts of the Western Conference is a testament to his ability as a manager of mediocrity, and will be invaluable during his initial years in Minnesota.
Turning Kings into Wolves
Adelman's reputation for turning mediocre teams into contenders was cemented during his eight-year stint in Sacramento, where he spent eight seasons between Golden State and Houston. Peaking with a 2001-02 Kings team lead by Chris Webber and the veteran presence of Vlade Divac, Adelman played full-court basketball when the rest of the NBA was only using half. Taking advantage of the quality passing skills of his two big men, Webber and Divac, Adelman's Kings were an offensive threat that were true to his fast-breaking Loyola Marymount roots. Not afraid to shoot when open from three or on the break, the Kings played high tempo and thrived on easy baskets.
Considered not only to be one of the best teams to never win a championship (thank you, Tim Donaghy) but also one of the most entertaining teams in recent history, the offensively-minded Kings challenged the Kobe-Shaq dynasty's supremacy at the peak of its collective power.
But the process of building that Kings team took years of clever management and the ability to absorb criticism. In questioning why Adelman would take on such a lofty endeavor with Minnesota, one possible motivation is that Adelman sees the same ingredients in Kevin Love, Michael Beasley and Ricky Rubio that he once saw in Chris Webber, Peja Stojakovic and Jason Williams.
With Adelman's previous successes, the upcoming season will be less of an experiment about whether a phenomenon can happen, and more about whether one such phenomenon can be repeated. Due to Minnesota's floundering success in recent seasons, Wolves management may give their new head coach not only a long enough leash to try something new and completely different, but also the time he needs to build a team that can contend in the ultra-competitive Western Conference.
Kevin Love may be one of the most promising young players in the league, but Chris Webber he is not… yet. Webber came to the Kings the same year as Adelman in 1998, and by the 2001-02 season he had nine seasons under his belt. Chris Webber, by then a veteran, was at the height of his skill at power forward when he almost toppled Tim Donaghy and the Lakers in the Western Conference final.
This season – whenever that is – will only be Love's fourth. Leading Minnesota last season with 20 points per game, Love is already proving to be a capable leader. Predicting the coming wave of a Webber-like talent, Adelman will be quick to exploit those unique talents, but it will take time to develop.
Offense aside, it is Love's rebounding skills and ability to outlet the ball up the floor quickly that will be most valuable to Adelman's run-heavy offense, serving as a conduit in the same manner as Webber and Divac. Over a number of seasons, with the same kind of preparation, it is reasonable to expect that Adelman can help Love explore parts of his game that haven't matured in the same way that Webber matured as a passer, rebounder and leader in Sacramento.
Further comparing Adelman's Kings to the 2011-12 Timberwolves, Jason Williams circa 2001 is resurrected in Spanish point guard Rubio. Arriving in Sacramento with Webber and Divac in 1998, Williams was a gamble who played a hybrid version of street ball and pro ball, wore his shorts low and chucked threes on wide open fast breaks. Skilled in an untraditional manner, Williams fit into the Kings system because it was perfectly tailored for the free-wheelin' point guard. Even though the Kings' biggest successes came after Williams left, the fast tempo of the Kings had his fingerprints all over it long into the Mike Bibby era and Adelman proved to be the only coach who could truly harness the point guard's talents.
More Jason Williams: The Jason Williams Effect
Rubio is a similar gamble for the Timberwolves, and after failing to make the commitment to the NBA he is seen as a tough fit for most NBA rosters. With the strong likelihood of Rubio/Love running high screen pick and rolls, just as Adelman predominantly ran in Sacramento, he may be the perfect choice to tailor Rubio's unique skills for the demands of the NBA. Adelman has already mentioned that he is going to give Rubio the room to play the way he knows how, which is at the core of his philosophy as a coach.
Jason Williams eventually reigned in most of his erratic behavior after enough time with Adelman, and with his work to make Aaron Brooks and Kyle Lowry into workable point guards in Houston – as well as his track record developing Terry Porter in Portland and Bibby in Sacramento – perhaps most of Rubio's bad habits will be squashed before they have a chance to come to fruition in the NBA.
Beyond the adjustments of working Rubio into the mix, general manager David Kahn will need to make some roster changes to allow these Timberwolves a chance to become a playoff ready team in the increasingly contentious and young Western Conference. Adelman's Kings thrived using Vlade Divac's size and passing ability on the fast break and Nikola Pekovic just won't cut it.
Fortunately, the high screens and fast tempo of a typical Adelman offense is well-suited for Michael Beasley, who has had limited and sporadic success in the currently rigid Wolves system. An upside to a more wide open, free-flowing system is that Beasley's slashing and scoring ability seems perfectly suited for a role similar to what Stojakovic served on Adelman's high tempo Kings. Stojakovic's shooting ability was used in complement to Webber's footwork in the post, and the Serbian dead-eye averaged a career-high points per game with the Kings in 2003-04 as their most reliable second option.
Reversing roles, as it's no secret Beasley isn't the pure shooter that Stojakovic was, Adelman may use Kevin Love's long distance shooting to similarly space the court and create opportunities in the paint with Beasley slashing and cutting in the three spot. The fact remains: versatility similar to that found in Adelman's Kings can be identified in Minnesota's front court, it just has to be properly channeled.
This coming season will be tough, and even with the most recent addition of second-overall pick Derrick Williams, the end of the season may see Kahn looking to build the team with even more young talent at shooting guard, small forward and center – all positions where the Wolves can improve greatly.
There is also an obvious need to get rid of under-performing players. If having two unknowns in Rubio and Beasley is risky, a third in Anthony Randolph is bad news and a fourth in Darko Milicic is a recipe for another sub-20 win season. Likely to end up with a high lottery draft pick due to a tough transition into a lockout-shortened season, the Wolves will benefit next season with the possible addition of J.D. Sullinger from Ohio State at center or Harrison Barnes from UNC on the wing.
Over two decades, Adelman coached four NBA teams and missed the playoffs only four times. Next season the Timberwolves are unlikely to make the playoffs, but fans in Minnesota could be able to watch the slow progression of the Wolves into a contender over the next coming seasons with the offensively-minded legend at the helm.
Once the season eventually kicks into gear (if it does at all), the eyes of hopeful Wolves fans will be on the experienced new head coach to eventually replicate the success of Drexler's Blazers and Webber's Kings. While such a transformation in one season is highly unlikely, the future of the NBA has never been more up in the air. Just as his offenses would strive to do, maybe the struggling Timberwolves can catch the rest of the NBA off-guard and bring Rick Adelman back to the top of the Western Conference.
Maybe exactly what this young, brash and confident team needs is someone to let them be themselves. On any of his teams, Rick Adelman has never had it any other way.
More T-Wolves: The Michael Beasley/Kevin Love Friendship | The Blessing and Curse of the Minnesota Moon
[php snippet=1]