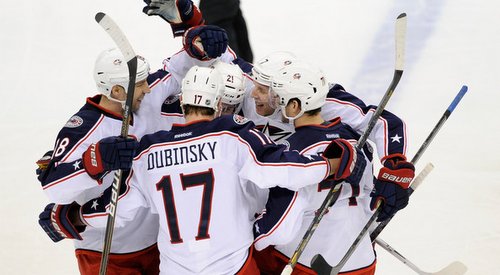 Jackets Take Decision in Rick Nash Trade
March 20, 2013
When former Columbus Blue Jackets GM Scott Howson traded Rick Nash to the New York Rangers last summer, the move was expected to add an element they were sorely lacking. What wasn't expected was that it would be Columbus netting a return of forwards Brandon Dubinsky and Artem Anisimov, defenseman Tim Erixon and a first-round pick in this year's entry draft, who would ultimately get the better of the deal.
The Rangers finally received the big, goal-scoring winger they so desired, but Nash came at a much higher cost than three players and a draft pick. While Nash is creating offense with little help from Brad Richards and Marian Gaborik, both of whom have been slumping after hot starts, the supporting group of bottom six forwards has thinned out effectively limiting the amount of grit and sandpaper they used to get within two wins of a Stanley Cup final appearance last season.
Dubinsky was the team's emotional leader and even though his point totals took a dip last year, he was a player who brought energy and effort every shift and was always difficult to play against. His passion for the team was always evident, especially when he slammed the Gatorade cooler after being ejected from Game 2 of the first round against Ottawa last season, and his spirit personified what Rangers hockey was all about; they have been lacking that kind of intensity all season. Dubinsky is also a valuable special teams member; his 3:01 per game a man down has helped Columbus climb go from 30th on the penalty kill (76.6%) to fourth (86.5%) while the Rangers have dropped from fifth (86.2%) to 11th (83%).
[php snippet=1]
Anisimov and Erixon are also playing well in Columbus. Anisimov is third among forwards playing 16:47 per game and second on the club with six goals. Meanwhile, four years and two trades after he was drafted by Calgary 23rd overall in 2009, Erixon is finally a full-time NHL defenseman, leading the team with a plus-4, the only blueliner to play more than 10 games with the team and maintain a positive rating.
And of course with the large cap hit of one great player comes the inevitable release of several serviceable players. NHL.com writer Dave Lozo explains how more cap space dedicated to one player meant letting others go for nothing in the offseason:
With an eye on adding Nash and his $7.8 million cap hit once the offseason began, the Rangers were forced to make some tough decisions about their free agency eligible forwards. Brandon Prust said he wanted to stay in New York, but he couldn't say no to a four-year, $10 million deal with the Montreal Canadiens. Forward Ruslan Fedotenko received a slight raise with his one-year, $1.75 million deal with the Philadelphia Flyers. Forward John Mitchell, a fourth-line center who played 63 games with the Rangers last season, saw his salary nearly double when he agreed to a two-year, $2.2 million deal with the Colorado Avalanche.
None of those players are spectacular by any means, but they all helped pull the Rangers in the same direction and made them incredibly difficult to play against. Prust's up-tempo style is one of several reasons the Canadiens have made the jump from last to, depending on the day, first in the Eastern Conference and they are seriously missing his willingness to stand up for his teammates. Collaborating on an article with Puck Daddy editor Greg Wyshynski, Rangers blogger Kevin DeLury notes how the potential impact of those losses was overlooked with Nash dangling in front of the eyes of Rangers management:
When the Rangers parted ways with heart and soul guys like Brandon Dubinsky, Artem Anisimov, Brandon Prust, Ruslan Fedotenko and John Mitchell, I think management miscalculated how integral those guys were to the success of the team. Their hard nose style was the essence of Tortorella's brand of hockey. Unfortunately, the players who were brought in don't seem to fit the mold and there's a real identity crisis with the 2013 version of the Rangers.
The Blue Jackets are now relying on a total team effort instead of asking Nash to be everything for them and it is working out way better than anticipated. Harrison Mooney of Puck Daddy even questions whether or not they should buy or sell at the trade deadline and try to make the playoffs this year.
The Blue Jackets are currently two points out of a playoff spot; the Rangers are three. The Blue Jackets are on a ten-game point streak (6-0-4); the Rangers have lost four out of five and only twice this season have they gone more than two consecutive games earning a point. It just goes to show character and depth are just as, if not more, important than superstar skill and big names.
In the grand scheme of things, it's still too early to tell who won the trade. A few smart free agent signings and the Rangers will once again have a team that is incredibly difficult to play against, and though the Blue Jackets are surprising many right now, they are still a long way from being a true contender.
But trades are made to improve teams and that is exactly what happened to the Blue Jackets while the Rangers, for now at least, are stuck in neutral.
[php snippet=1]