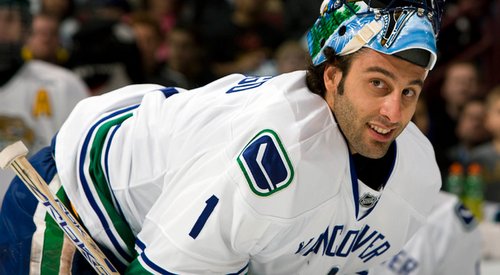 How to Create Hysteria: The Roberto Luongo Chronicles
August 26, 2013
I've never taken a course in Public Relations so I won't claim to be well versed in its intricacies, but I imagine part of PR 101 is following through on a course of action one says they're embarking upon.
Mike Gillis, the general manager of the Vancouver Canucks, must have eschewed the Public Relations courses during his academic career as well. As a result, hysteria revolving his handling of Roberto Luongo (which can only be described as a debacle at this point) has reached unprecedented levels. Save for the Vancouver Riot post-2011 Stanley Cup, there hasn't been an event that has created such widespread passionate debate throughout Vancouver in years.
Creating hysteria can be a good thing. From a marketing standpoint developing fervor around your product or service and creating demand is essential to successfully leveraging your asset and creating a profit.
To an extent Gillis did just that. It was never a secret that Luongo was being shopped around by Vancouver, especially after Cory Schneider started receiving extended amounts of playing time. Additionally, factor in that Luongo became a scapegoat of sorts in Vancouver when the Canucks (and Luongo) failed to live up to their expectations, and the time was right to start exploring a trade.
Gillis didn't pull the trigger on a deal quickly and didn't rush into anything, which is a smart move. One must research the market and understand the target demographic to make a successful foray into business, and while Gillis no doubt had a few trade partners in mind, he held on to Luongo. The longer he did, the more anticipation for the Luongo trade grew until it became not a matter of "if" it would happen, but "when" it would happen.
[php snippet=1]
In terms of marketing, opportunity existed for Gillis to make a deal and move on from the Luongo soap opera that's been created, and is still ongoing, but at the last minute he shocked the world and decided that the product he'd created so much hype wasn't going to hit the shelf.
Gillis' decision to trade Cory Schneider on draft day and keep Roberto Luongo is akin to a last-minute business decision not to release a product after tireless marketing efforts.
Why pull Luongo off the market though?
Because as good a goaltender as Luongo might be, and although many certainly inquired about his services, the number of serious suitors probably wasn't as high as Gillis had hoped and they weren't offering what he wanted in return. In short, the hysteria created (and buoyed by fans and the media) was false, the target market wasn't as big as originally thought and the price was out of most consumers' range. So how does one go from holding the most valuable commodity on the market to seeing its value dwindle?
To understand that you need to look back to 2009, when the first step to creating hysteria was taken.
In 2009, Gillis offered Luongo a gargantuan contract to the tune of $64 million over 12 years. The money itself is enough to stomach, but at a cap hit of $5.3 million per year, it's not the most outrageous salary for a goaltender of Luongo's caliber, but 12 years? The prevailing belief is that Luongo likely won't play out the duration of his contract and considering the fact that he'd be 43 when it expires in 2022, it seems to be a prediction that holds some weight.
That contract extension which utilized loopholes found in the previous CBA came back to haunt Gillis once the current CBA was ratified and tighter salary cap constraints became a reality.
Gillis misjudged the market by holding on to his asset for too long. He got greedy. Instead of selling high, the longer he held onto the product, the more depreciation it experienced. He should have pulled the trigger on a Luongo deal soon after he started shopping around if he found a deal remotely close to his asking price. When he didn't, managers around the league became wary due to concerns about salary cap rules that were likely to be included in the new CBA, which was currently being negotiated at the time the rumors started. So really, managers were smart enough not to make a mistake by inheriting Gillis' mistake, that gargantuan contract mentioned above.
But most of all, Gillis should have traded Luongo because the fact his time in Vancouver was heading to an end was the hockey world's worst kept secret. It made headlines early this year, and continued to do so leading up to the NHL draft.
All in all, Gillis went back on his word. It makes him look indecisive, weak and untrustworthy. He claims keeping Luongo was always an option, but that's as believable as Luongo playing out the duration of his contract. He created hysteria, but it was the wrong kind. Hysteria can be a good thing, but it can also be a bad thing. Beyond shock, there's probably anger and resentment in Vancouver, and especially among Luongo's camp.
To his credit, Luongo has been civil about the process and what's unfolded, but the hysteria in Vancouver hasn't subsided yet. The saga will continue during the 2013-14 season and beyond as the hockey world looks to see how Luongo reintegrates into his starting role and among his teammates.
Hysteria isn't over by a long shot, and if Luongo doesn't play up to his potential, believe it will boil over once again. Hiring the abrasive John Tortorella in the offseason practically ensures hysteria will ensue should Luongo play poorly, but Tortorella's qualities are a story for another day. Only time will tell how this saga concludes, but it's likely that it gets a whole lot worse before it gets better.
And this saga really makes one wonder how Mike Gillis managed to win the NHL General Manager of the Year award in 2011, doesn't it?
[php snippet=1] http://credit-n.ru/zaymyi-next.html