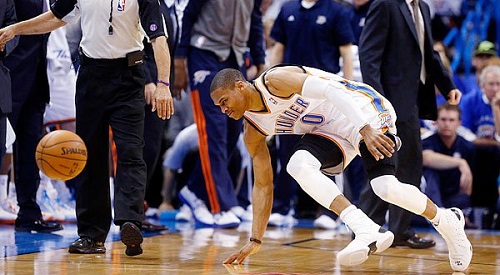 The Russell Westbrook Injury in Context
May 8, 2013
The NBA playoffs this year have been as entertaining as ever, but you could put together a pretty decent starting five solely composed of players who have been unable to play due to injury: Derrick Rose, Kobe Bryant, Danilo Gallinari and David Lee are just some of the star contributors who have spent the majority of these playoffs watching the games courtside while wearing a suit and tie. As devastating as those injuries have been to their respective teams, though, they pale in comparison to the significance of the torn meniscus suffered by Oklahoma City point guard Russell Westbrook on April 25 (an injury that, it was later revealed, would sideline the explosive scorer for the duration of the playoffs).
What makes Westbrook's injury so significant? Well, each year in the NBA, by the time playoff matchups are determined, there are usually only a handful of teams that everyone agrees have a legitimate shot at winning it all. And of the aforementioned players suffering through injuries at the moment, Westbrook is the only one on the list playing for a legitimate title contender (with the possible exception of Rose and the Chicago Bulls). And because Westbrook is such a vital part of the 60-win OKC Thunder (he was second on the team in PER and scoring, and first in assists and steals), the general reaction as news of his injury spread throughout the NBA was a predictable one: the Thunder got worse, and the Western Conference title race was now wide open.
[php snippet=1]
Without a doubt, this sudden perceived value of Westbrook to the Thunder and their success could be seen as a bit ironic. Because over his five years in the NBA, Westbrook has been one of the most oft-criticized players in the league, despite his numerous accomplishments (three-time All-Star, Gold medalist, never missed a game). Westbrook's critics usually choose to focus on his reputation, according to USA Today, as a "turnover-prone, high-volume shooter who can't always keep his emotions in check". Countless NBA bloggers have spilled an absurd amount of ink deconstructing all the perceived flaws in Westbrook's game, and Magic Johnson and Skip Bayless have been two of the more vocal critics of the young point guard in the past as well. Some media members have even tried at various points to manufacture a rivalry between Westbrook and his megastar teammate Kevin Durant (two guys who are, by most accounts, actually pretty good friends).
Of course, most informed NBA fans recognize the criticism of Westbrook as largely misguided. Westbrook certainly makes some questionable (and sometimes infuriating) decisions from time to time, but there is plenty of evidence that the Thunder are better off with Westbrook shooting the ball, and shooting it often. And the narrative of Westbrook as Thunder albatross has largely faded into the background over the years as the Thunder have enjoyed phenomenal success throughout the Westbrook/Durant era, improving their win total each year, and advancing deeper and deeper into the playoffs as well. Still, the noted fashionista has his detractors. Ironically though, this ill-timed injury could mean the end of them.
Pundits like the aforementioned Bayless have been sounding the bell for years for Durant to shoot more (thus taking attempts away from Westbrook). And in his first game without teammate Westbrook in five years, Durant gave those pundits their wish, cranking up an uncharacteristic 30 shots. And the Thunder did win. But KD shot only 43% from the field, a startlingly inefficient number for the forward coming off a historic regular season in which he shot 50% from the field, 40% from three, and 90% from the charity stripe. Unsurprisingly, Durant, ever the student of the game, then culled his shot attempts down to an average of 22 per game over the next four.
KD probably realized that, even with Westbrook gone, and regardless of his own immense talent, just jacking up tons of shots a game isn't likely to garner his team a title. In past NBA seasons, volume scorers like Michael Jordan and Allen Iverson put up tons of shots on a nightly basis for mediocre teams, but it wasn't until they were surrounded by more talented teammates that those players were able to advance deep into the playoffs, or win titles. Durant is now set to, in these playoffs, experience some of that frustration for the first time in his career. His comments last week following a Westbrook-less loss to the Rockets sum up the situation nicely: "They don't care about the rest of the team… when I have the ball, it's like four guys guarding me at one time".
Regardless of how far the Thunder advance in the playoffs this year, Durant and Thunder fans are about to witness a type of basketball they've been lucky enough to never see. Think Tracy McGrady in Orlando in 2002. Or Dwyane Wade in Miami in 2008. Either one of those guys would likely have killed to have a teammate like Westbrook, regardless of his capacity for the occasional ill-advised shot attempt. And after these playoffs, maybe Westbrook haters will gain a similar appreciation for their former public enemy number one. Because what we see from the Thunder over the next few days, or weeks, should affirm Durant's greatness: a transcendent superstar playing his heart out every night just to give his chance a team to win. And it will result in some spectacular individual performances from No. 35. But it won't be pretty, and it likely won't be as fun, either.
So here's hoping Mr. Westbrook a speedy recovery.
[php snippet=1]