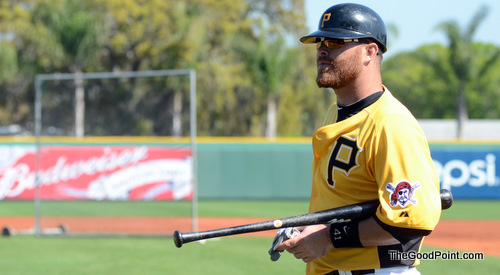 Ryan Doumit, captain among Pirates
April 13, 2011
Few teams have liquidated their rosters the way the Pittsburgh Pirates did during the 2009 season. After shipping out five of their eight Opening Day position players, a member of their starting rotation, and over half of their bullpen, few players remained from the original group. Had Ryan Doumit not suffered a wrist injury that season, he too would have likely been dealt.
Doumit is the only player from the 2009 Opening Day lineup that remains on the team today. The Pirates have seen an infusion of youth to their roster and now Doumit, 30, is one of Pittsburgh's oldest players and, whether he likes it or not, has been somewhat forced into providing a veteran presence in the clubhouse.
He's not considered a veteran on a young Pirates team only by age, as he's one of just two Pirate players that have played for the team since 2005. Even though the length of his tenure with the Pirates has changed his role on the team this season, Doumit doesn't plan on changing how he prepares every day.
"I've been here a lot longer than a lot of people but I don't feel like I need to go out of my way to be 'that guy'," Doumit said. "I am who I am. Some guys will come up and they'll ask me certain questions and I embrace that, but as far as changing who I am, I'm not going to do that."
[php snippet=1]
While Doumit won't be changing anything to his game this season, he's definitely noticed other changes to the team that go beyond just highly-touted prospects. Not only did the Pirates bring in some veteran free agents, they overhauled their coaching staff, most notably in new manager Clint Hurdle. The result has been a refreshing start to the season compared to years past.
"The energy that [Hurdle] brings, he's not afraid to get his hands dirty," Doumit told The Good Point. "We also got some additions like [Lyle] Overbay and [Matt] Diaz. They're [all] cool and have been fitting in nicely, so things have been going really well so far."
The Pirates' recent roster restructuring has also extended into their bullpen and starting rotation, and for Doumit – the team's starting catcher – that has meant even more work behind the scenes getting acquainted with his pitchers to ensure they are on the same page come game time.
It's certainly no small task, and the Washington native is frank about how he's been able to do it over the years.
"I came up with a lot of the guys; [Paul] Maholm, [Ross] Ohlendorf, a couple of those guys, and it's just by catching them," said Doumit. "Taking them off to the side and watching video with them after a start, or after they throw; on the sideline ask them 'how did you feel,' 'What did you feel like you were doing,' 'How can we apply this to the game' and just talking to them really."
A catcher at heart, Doumit has also dabbled in right field and first base over his career. He has more experience at catcher, but he has never been concerned about what position he plays. As long as he gets to contribute every day, he's happy, and that will never change.
"Wherever it is that I'm playing, it doesn't really matter to me as long as I'm in the lineup."
[php snippet=1]