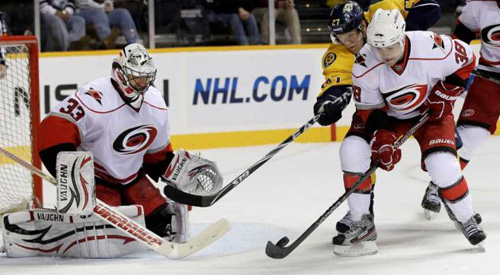 After NHL taste, Ryan Murphy storms back to Kitchener
October 18, 2011
Don Cherry mentioned on more than one occasion that Ryan Murphy would be the first-overall pick in the NHL Entry Draft last year. Not many thought he would fall out of the top 10.
He fell to 12th where the Carolina Hurricanes selected their second Kitchener Ranger in as many years. Much has been said about the size, or lack thereof, of the Aurora, Ontario native. He's heard it his entire career and doesn't expect it to stop in the NHL.
"Paul Maurice spoke to me a number of times to tell me that they picked me for a reason and I have some abilities that not a lot of defensemen have," said Murphy. "He said he wasn't concerned with my height or weight and said that if I can do what I do in Junior, in the NHL, I'm going to be a good fit for the Hurricanes."
After spending training camp with the NHL team, Carolina sent Murphy back to his OHL home for some more seasoning.
"I'm obviously a little upset being sent back to Kitchener. But it's a great place to play so I'm happy," Murphy told The Good Point. "Coach Maurice said that he was pleased with the way that I was playing and that it was a tough line-up to crack this year. There were a lot of good defensemen and to just get better, faster, stronger and that he'd see me next year."
After being one of the last cut from the Hurricanes final roster this year, Murphy came close to proving his critics wrong once again. He got some advice heading into camp from a good friend: former teammate-turned-NHL Rookie of the Year, Jeff Skinner, who isn't exactly Zdeno Chara, listed generously at 5'11, 193 pounds.
[php snippet=1]
"I remember him just telling me, going into the Traverse City Tournament, to play my game and leave it all out there and that I have nothing to lose. I'm a young guy and to just give it all I had and that's what I did," said Murphy.
It was after his play at that tournament that he was rewarded with a three-year entry-level deal. But that wasn't enough. He's a proud kid and went into camp expecting to crack the opening day roster and why not? He's succeeded at every level of hockey he's ever played. It wasn't until last year at the Canadian World Junior camp that he experienced heart-break, something Murphy doesn't want to go through again this year.
"Last year I was one of the younger invites to the camp and I was happy with my game, but in the end they were going with an older squad," said Murphy. "But obviously I want to play on Team Canada, and was disappointed last year and I'm going to do everything I can this year to make the team and win a gold medal."
As previously mentioned, it's back to "The Aud" in Kitchener in front of the blue-shirt faithful and doing the little things each and every day, because there is always someone watching.
"It's a little different this year because I'm not battling for a draft position but I have a lot of goals I want to achieve in Junior. Obviously I want to win a championship in the OHL and it would be amazing to do it in Kitchener. I think we have a young team but I think we can do a lot of damage in the playoffs."
Which brings up the question of how long he will be wearing that "blue shirt." Murphy can conduct a power play better than Tchaikovsky a musical. He goes end-to-end in a way that resembles that of another former Ranger, Paul Coffey. He sees the ice better than Walter White on Breaking Bad.
Every team making a run for an OHL championship will be contacting Ranger GM and head coach, Steve Spott, inquiring about No. 24's services. But will the Ranger organization want Spott to pull the trigger and build a team to make a push next year, because simply put, Ryan Murphy is worth the price of admission alone.
In the past couple of years, many parts of the world have had to deal with severe Hurricanes, some destructive. Despite being a Ranger, Murphy is like a Hurricane, and this year, the OHL is under a warning.
[php snippet=1]