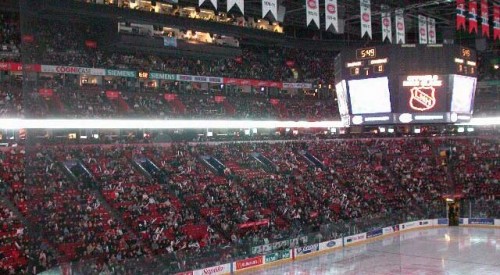 No Bail for O'Byrne
December 1, 2008
If you are not a fan of the Montreal Canadiens, it is quite likely that you have never heard of the name Ryan O'Byrne – prior to last Monday that is. Thanks to a regrettable slip-up Monday night against the New York Islanders, hockey fans have become much better acquainted with him, for all the wrong reasons.
In a tight-checking contest and in front of a rocking Bell Centre crowd, the Habs were hanging on to a one-goal lead with time winding down in the third period. With the clock ticking just inside of five minutes, Alex Kovalev was tripped up in the neutral zone which prompted one of the officials to raise his arm, signifying a delayed tripping call to New York. Montreal forward Andrei Kostitsyn attempted to make a pass back to defenseman Andrei Markov, but he too lost an edge and the puck caromed off the boards just inside the Canadien blue line. O'Byrne, the Habs' sophomore defenseman, attempted to retrieve the puck but was pressured by Islander veteran Doug Weight.
What happened next will be played over and over on highlight reels for years to come – not because the Montreal faithful were witness to a superb showing of athleticism, but because O'Byrne, well, he screwed up. Feeling the pressure from Weight, O'Byrne wanted to get rid of the puck quickly, so he fed it back toward his net – which is a problem when you don't have anyone tending that net. Young Montreal netminder Carey Price did what any goalie should have and had headed to the bench in favour of an extra attacker on the delayed penalty call. O'Byrne, along with 21,000 avid Montreal fans, watched in sheer horror as the puck carelessly slid past the goal line and into the yawning net. 
[php snippet=1]
The 24-year old O'Byrne immediately threw his hands over his head in a moment of utter disbelief. With 4:47 showing on the clock, the boys from Long Island joyously celebrated as O'Byrne took part in what likely felt like the longest skate to the bench of his young career. Assistant coach Kirk Muller looked up at the scoreboard as if he needed confirmation as to what he had just witnessed. Head coach Guy Carbonneau did his best to keep his demeanour composed, but you knew his gut was telling him that this one was going to come back to haunt his hockey club. Even O'Byrne's teammates were wondering if their eyes were playing tricks on them – the bench appearing collectively dejected.
O'Byrne sat on the bench hanging his head as low as low can be and you knew he felt considerably smaller than his 6'6″, 230-pound frame. The Victoria, BC native had plenty of time to think about what he had done as he did not return to the ice for the remainder of regulation nor the five minute overtime frame – and rightfully so, as it's hard to argue that it was anything but a dumb play. After the game O'Byrne claimed he didn't know that there was a delayed penalty and was trying to make a pass to his goaltender. Even so, to feed the puck blindly in front of your own goal with heavy pressure from the opposition is not exactly the wisest decision. But whether Carbonneau's intent was to punish his young blue-liner is unknown, as he could have just as easily been trying to protect him from the unforgiving Montreal "boo-birds" who were in full effect.
Was O'Byrne's gaffe a poor decision on his part? Absolutely. However, it begs the question: Is all well that ends well? Montreal went on to lose the game 4-3 in a shootout, which awards a reluctant O'Byrne the unwelcome burden of having the loss pinned squarely on his shoulders. But is that burden justified? Had Montreal gone on to win the game, undoubtedly O'Byrne's foul-up wouldn't have been as big of a deal as it has been made out to be. Surely there are other factors to consider as contributors to Montreal's losing effort Monday night.
For starters, let's look at the five other players in red jerseys who were on the ice at the time of the tying goal. Any one of them could have shouted to his teammates in an effort to ensure all were aware of the delayed penalty call. Heck, even the announcers wondered why a penalty was being called as Kovalev seemed to merely slip on the puck as opposed to an Islander's stick. What about Montreal's dismal power play that could have easily regained the lead on the ensuing man-advantage? No one seems to be pointing any fingers at a power play unit that was first in the league two years running, but boasts a lacklustre 15 per cent success rate this season. Oh, and not to mention the fact that that same power play unit failed to convert yet again on a later man-advantage that carried over from regulation into the sudden death period.
The game would ultimately be decided by the wonderful lottery known as the shootout, where not a single Montreal shooter was able to find the back of the net. How many chances does a team need to win a hockey game? Clearly, the blame could easily lie just as much on Montreal's lack of finish as it could on O'Byrne's miscue. After all, do you really think his intent was to put the puck in his own net? Quite obviously not. Yet, because his teammates failed to bail him out, young Ryan O'Byrne will serve as Montreal's notorious scapegoat for a long time to come.
[php snippet=1]