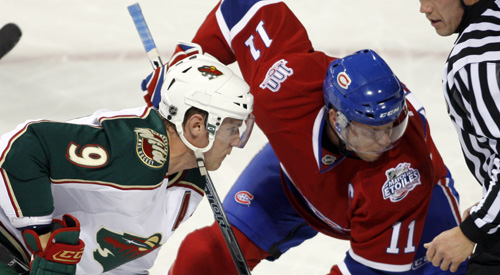 My brother, my keeper
December 31, 2008
During the opening month of this season's NHL campaign, there happened to be an inter-conference battle between the Minnesota Wild and the Montreal Canadiens. The contest carried with it a wonderful aura inherent only when East meets West. Besides being the one and only Montreal-Minnesota clash of the season, there was an additional element of exclusivity that this, and only this, particular match up entailed: Captain Saku Koivu versus Captain Mikko Koivu; brother against brother; mano a mano.
The game saw defense and goaltending at the forefront, as the Canadiens found themselves holding on for dear life to a very narrow 2-1 lead. Approaching the final minute of play, the Wild pulled their goaltender as they frantically searched for the tying goal. Canadien goalkeeper Carey Price stood on his head as he continually denied the Minnesota onslaught. With about half a minute to play, a frenzied goal mouth scramble saw Price cover up for a stoppage, while a melee overtook his goal crease.
Here is where the story gets interesting.
Both Koivus were on the ice at the time, and older brother Saku looked up to see younger brother Mikko front and centre in the scrum. In that precise moment – it was probably only a mere fraction of a second – Saku looked directly at his brother, before opting to find a dance partner in a Wild defenseman.
[php snippet=1]
As a neutral observer, one can't help but wonder what went through Saku's head during that split second where he realized that it was his brother who was causing havoc in his goaltender's crease. Did he think to himself, "That little jerk; I'm gonna kill him!"? Conversely, did he feel that because it was indeed his own blood that a conflict of interest was present and that he'd be better off letting his teammates deal with young Mikko? Only Saku knows for sure.
Montreal was able to hold on for the 2-1 victory, but that's neither here nor there.
After the game, do you think that Saku called up his brother to gloat over his team's victory? Or instead, perhaps he phoned his sibling merely to catch up. Of course, it is quite possible that everything was business as usual and the brothers simply hopped on the bus and headed to the next city, saving the ribbing and/or reminiscing for Thanksgiving dinner.
Wait, is Thanksgiving even celebrated in Finland?
It kind of makes you wonder, doesn't it… about the brothers, not the Thanksgiving.
Do you think that when New York Ranger defenseman Marc Staal sees brother Eric dangling his way over the blue line that he decides to put a little extra crunch into his check? Or when he sees other brother Jordan crashing the net that the situation warrants a friendly cross-check to clear the way? As New York, Pittsburgh and Carolina are all intra-conference opponents, these questions warrant attention as the frequency is much higher than say Minnesota-Montreal.
Sibling rivalries aside, there are also brothers who have the wonderful pleasure of playing as teammates, such as the Sedins in Vancouver, the Niedermayers in Anaheim, or the Kostitsyns in Montreal.
Not much is to be said for the Sedins, as it is a seemingly rare event that either shows much in the way of emotion. For Daniel and Henrik, it's just another day at the office.
Scott and Rob Niedermayer, however, have had the privilege of not only playing as teammates, but winning the Stanley Cup together in 2007. It wasn't all a bowl full of cherries though. In the 2003 Stanley Cup Finals, the brothers went head-to-head, as Rob was a Mighty Duck of Anaheim, while Scott a New Jersey Devil. When asked in an interview which team she was rooting for, Mrs. Niedermayer did what any good mother would by not playing favourites – either way, the Niedermayer family would come out as winners. She did however hint to the fact that, since Scott already owned a Stanley Cup ring, it wouldn't hurt if the Ducks came out victorious so Rob could have one as well.
As for the Kostitsyns, one might recall an incident in a game against Phoenix where older brother Andrei was hit hard (a borderline head shot) and went down to the ice like a sack of potatoes. When he was finally helped off the ice, a huge bruise was visible under his eye and he seemed to wonder whether he was at the Bell Centre in Montreal or back home in Belarus. Shortly after, the camera caught a visibly shaken little brother Sergei being consoled by captain Saku Koivu. Maybe the Habs' skipper was telling him how much he loves his own brother – you know, Mikko the pest. Then again, maybe not.
There is just something about the bond between brothers, so special and unique. An older brother generally feels it is his duty to make his younger kin's life as miserable as he can. But when it comes down to it, he also knows it his duty to defend his brother's honour.
For decades this sibling dynamic has added to the drama of the NHL and will continue to do so long into the future.
[php snippet=1]