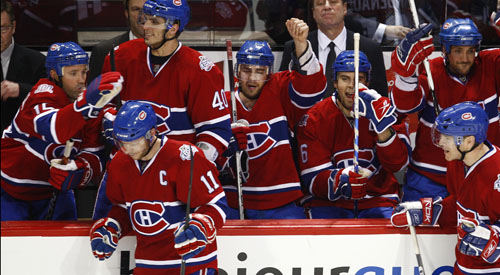 Saku Koivu's debatable tenure in Montreal
August 7, 2009
In the summer of 1993, the city of Montreal was busy celebrating their hockey club's 24th Stanley Cup championship. That same summer, the team drafted 18-year-old Saku Koivu, a promising young Finnish prospect playing for TPS in Finland's SM-Liiga.
After a couple more successful seasons in Europe, the Montreal faithful began to lick their proverbial chops with hopes that their new acquisition would help the Canadiens reach the Promised Land upon his arrival in the western world.
The 1995-96 season saw Koivu make his NHL debut and the quiet centreman did not disappoint, amassing 45 points and finishing fourth amongst NHL rookies in scoring. The following season, he was among the NHL leaders in points until a knee injury took him out of the race.
This would be a sign of things to come.
While his production was generally consistent when he was healthy, the problem for the native of Turku, Finland was his inability to stay healthy, as his 13-year career in the NHL has been plagued by various injuries.
At 5'10" 185 pounds, perhaps it is Koivu's small stature that has made him so susceptible to injury; or perhaps it is simply bad luck. Whatever the cause however, Koivu has always found a way to fight the good fight, taking the Montreal Canadiens under his wing and assuming the role of team captain for nine of his 13 seasons with the club.
Mike Boone of the Montreal Gazette sums up Koivu's career in one word.
[php snippet=1]
"Survival. He's a small man who has excelled at a big man's game and he has comported himself, under difficult circumstances, with great dignity and class."
As a franchise with as much history as the Canadiens, Koivu was indeed put in a tough spot when given the role of team captain. With perhaps the league's most demanding hockey fans, how would the Montreal faithful react to the team's first-ever European-born captain?
"I think he's been a fan favourite," said Boone. "The league was changing and Montrealers are sophisticated hockey fans. His nationality was no big deal. Koivu was the team's best player so he became captain. It made sense."
The low-point of Koivu's career – or high point, depending on one's vantage point – came in 2001 when he was diagnosed with Non-Hodgkin's lymphoma. After undergoing treatment for six months, Koivu made a remarkable recovery, returning to action for Montreal's final three games of the 2001-2002 regular season. Koivu's return came on April 9, 2002, when he received an eight-minute standing ovation.
The Finnish forward returned with a vengeance, tallying two assists in those final three games, helping the Canadiens secure the eighth and final playoff spot. With Koivu's return, team morale went through the roof and carried Montreal to an upset victory over top-seeded Boston in the first round of the playoffs.
"Montreal is special to Koivu for many reasons, the most important of which is the medical treatment and fan support he got when he was ill," said Boone. "They say what doesn't kill you makes you stronger. He's a man and a half."
While it is evident that the fans in Montreal appreciate Koivu for his leadership, class and sportsmanship, perhaps some form of resentment exists for his failure to bring them a Stanley Cup.
As the franchise's second-longest serving captain, should the lack of success lie wholly on Koivu's shoulders? Similarly, is it Mats Sundin's fault that the Toronto Maple Leafs were unable to claim a championship under his reign? On the flip side of the coin, would the Detroit Red Wings have won three Stanley Cups without Steve Yzerman as their captain?
Think about it.
Suppose Koivu and Yzerman had swapped teams during their tenures as captain. Would Montreal have been the ones hosting three Stanley Cup parades? With hockey being much more of a team game than an individual one, logic seems to dictate that the Red Wings would still have been more successful than Montreal.
"He's played on some rather poor teams; and while he's a very good player, I don't think Koivu is the type of player who can carry a team on his back to glory," said Boone. "Check out the supporting casts he's had to work with. Jean Beliveau wouldn't have won any Cups with those (players)."
While working with a lacklustre supporting cast, Koivu has also had to face the many pressures that come with being in the limelight of a hockey-mad city like Montreal.
"The rough ride has come in the media, where he's a convenient whipping boy for political agenda mongers," said Boone. "He has been unfailingly cooperative with the press, keeping his cool under difficult circumstances."
Hockey aside, Koivu has had to deal with the media pointing fingers at him for his limited ability to speak the French language.
"The Canadiens should have sent Koivu to Berlitz to learn French as soon as he became captain, if not before," said Boone.
Regardless of how fluent Koivu has become in his ability to speak French, 13 seasons have come and gone and his tenure in Quebec has reached an end. He became an unrestricted free agent last month, and, after being told by general manager Bob Gainey that the team is looking to go in a "new direction," he then signed a one-year $3.25 million contract with the Anaheim Ducks.
The appeal of playing in Anaheim: countryman Teemu Selanne, who Koivu has been linemates with for numerous years on the Finnish national team.
What now lies ahead for the 34-year-old centreman? Will he find elsewhere the coveted Cup that has eluded him during his thirteen seasons in Montreal?
"I think Koivu can excel as a second- or third-line centre in Anaheim. He has always played well with Selanne," said Boone. "There are a lot of miles on the engine and he has maybe two more productive seasons."
Whether he finds success in Anaheim remains to be seen, but the fact of the matter is that Koivu failed to reach the ultimate prize during his time in Montreal. Just as Sundin, Markus Naslund and Daniel Alfredsson – all European captains for Canadian teams – have failed to do, Koivu was unable to deliver the Stanley Cup to his hockey club. It is this unfortunate stigma that will likely remain with him for the rest of his career.
That is to say it will if one is keeping score; and believe me, in Montreal, where winning is the only form of acceptance, the score will undoubtedly be forever kept.
[php snippet=1]