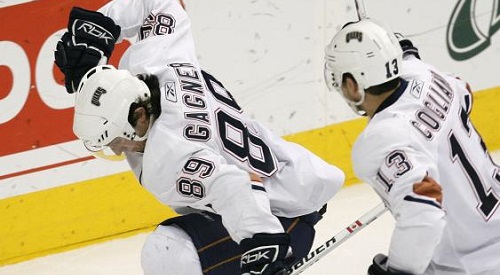 Gagner West: Sam Gagner's Ascent in Edmonton
March 5, 2013
Toronto's Nazem Kadri has finally found his niche in the NHL and Chicago is being led by the new-and-improved Patrick Kane, but Edmonton Oilers center Sam Gagner may have made the biggest strides as a player this season.
Gagner was selected by Edmonton sixth overall in 2007 with the intent of becoming a leader on offense for the rebuilding club. He impressed Oilers management during his first training camp and played 79 games as a rookie, putting up 49 points to finish third on the team and fifth among rookies in scoring. While he was able to maintain a consistent points-per-game average in the seasons since, he was never able to build on the year before. Take away his eight-point performance against Chicago last season and he only put up 39 points in 74 games.
The kids on the team received all the press leading up to the season, but Gagner has been their best player. Of course it's easy to forget he is still just 23 with this being his sixth season already and his nearing 400 career games.
He has 20 points in 21 games thanks to a display of remarkable consistency rather than a few high-scoring games to boost his average. Gagner only has three multiple-point games, but has also been held off the scoresheet just four times and never in consecutive contests.
Similar to what happened to Ilya Kovalchuk of New Jersey when he was handed more responsibilities, Gagner has improved as a player in every area, ultimately allowing him to become a reliable point-producer. Coach Ralph Krueger was forced to put Gagner on the penalty kill due to injury, but the move has paid off. Gagner is averaging 1:46 shorthanded a game and has already played more minutes a man down than any other season in his career and the Oilers have improved from a 76.9 percent success rate (29th overall) last season to 85.9 percent (sixth overall) this year.
[php snippet=1]
His time on ice per game is 19:15 this season, 1:31 more than his career high set in 2010-11. With a little more selfishness in his game this season, Gagner has taken an average of 2.76 shots per game, way ahead of the 2.01 shots he took over the past two seasons, allowing him to put up a pace that would net him 20 goals for the first time during a full-length season. Just about the only aspect that hasn't improved for Gagner this season is faceoffs; he has a 41.4 percent success rate, down from his career average of 46.3 percent.
If Oilers management is able to have the same type of patience filling out the team as they did allowing Gagner to come into his own, there's no reason they can't be a top team in four or five seasons. John MacKinnon of The Edmonton Journal wrote about Gagner's performance earlier this season:
"Watch him play and it's no surprise the points are coming. For starters, Gagner is quick to pucks, decisive with his plays, most of the time. He told me in the brief training camp that playing in Europe (in Austria) during the lockout underscored the importance of keeping his feet moving."
Coaches repeat this mantra all the time; Gagner has made a point of adding this element to his game this season, with obvious results.
He played for Klagenfurt AC of Austria's Erste Bank League, positing 10-10-20 in 21 games and unlike some bigger names out there, was able to keep up his pace once the curtain rose against tougher competition. He is on a one-year, $3.2 million contract and will be a restricted free agent this summer. Some have suggested trading the center, but the Oilers may want to look into signing him. If there is any way to keep him and save enough cap space when it comes time to sign Nail Yakupov, Ryan Nugent-Hopkins and Justin Schultz in a couple of seasons, they should do so.
They currently have just four players and $18.4 million on the books for 2014-15 with the max hit coming down to $64.3 million as of now. Yakupov, Nugent-Hopkins and Schultz will likely get similar deals to the deals given to Taylor Hall and Jordan Eberle worth $6 million a year for seven and six seasons respectively, leaving $28 million to fill out the rest of the team once Shawn Horcoff's $5.5 million cap hit expires after 2014-15. There should be enough room, adding Gagner at $5 million would bring the Oilers' top six cap hits equal to the Blackhawks and they have been able to add a solid support group around their star players.
The Oilers are making strides as a team and have begun what looks to be a steady ascent to the upper echelon of the NHL and Gagner may have had more of an impact on that this season than any other player on the roster.
[php snippet=1]