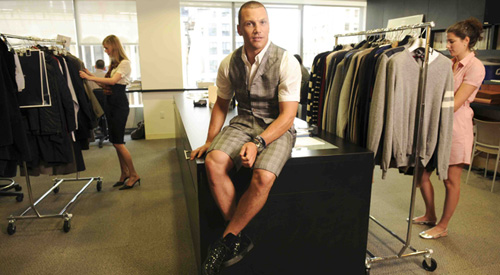 Avery dealt first suspension of questionable career
December 5, 2008
He finally did it. Sean Avery finally crossed the line.
With Avery always pushing the limits and tip-toeing on the agitation line, he finally lost his balance and fell on the wrong side.
At the Dallas Stars morning skate prior to their game against the Calgary Flames on Tuesday, Avery called for all present media to turn on their cameras as he had something to say. He strategically waited until all eyes were watching when he said, "…I just want to comment on how it's become like a common thing in the NHL for guys to fall in love with my sloppy seconds."
Avery was talking about his ex-girlfriend, Elisha Cuthbert, now dating Calgary Flames defenseman Dion Phaneuf. In his time as a Los Angeles King, Avery was also linked to Rachael Hunter, who is now dating current Kings center, Jarrod Stoll.
With his comments Tuesday morning, Avery earned his first suspension handed down from the NHL. That's right. Avery had never been suspended by the league before. 
[php snippet=1]
Not for his numerous dirty hits. Not for giving the finger to a New York camera man. Not for his numerous public outbursts about players, the NHL and its commissioner, Gary Bettman. Not for the pre-game fight with Darcy Tucker and the Toronto Maple Leafs. Not for one of the numerous times he has intentionally run the opposing goaltender. Not for his racial slurs against the French and Georges Laraque. Not for screaming obscenities at fans during a game. Not for turning his back to the play and directly waving his hands in front of Martin Brodeur's face. Not even for allegedly making fun of Maple Leaf Jason Blake for having cancer.
There were a lot of mixed emotions from the Dallas Stars fans, media and players when the Stars signed the super-pest in the off-season. However, there was a small belief that the veteran leaders on the team, Brendan Morrow, Mike Modano and Marty Turco, would all talk to Avery and make sure that his attitude was that of a team-first nature.
Obviously that didn't work. Avery has been more of a distraction to the team than an attraction for the fans. It seems that the Stars players want nothing to do with Avery and wish he wasn't on their team.
Stars goaltender Marty Turco said that dealing with Avery has been a struggle for him and his teammates all year long.
"We expect that out of him like we have all year. The show continues," said Turco. "…But when it continues over time, things certainly can be (distracting)."
During a phone interview, Avery's former roommate in Detroit and current Stars co-General Manager, Brett Hull even hinted to TSN that a psychiatric evaluation might be the best thing for Avery.
In the game of hockey, there is plenty of trash-talk on the ice but there is no excuse for a player to come out in public and make a derogatory statement towards another player's personal life. The NHL used to be a gentleman's league run by the players but has turned into a league that permits its players to handle themselves in this immature and inexcusable manner both on and off the ice.
When Avery and Hull meet with Bettman, Bettman has the chance to inflict that respect back into the game. He has the chance to make the NHL respected again. Gary Bettman has a chance that he cannot pass up on. He should lift Avery's suspension and insert an injunction on the schmuck and ban him from the NHL and let him move back to Hollywood where he can worry about his fashion and Vogue magazine.
[php snippet=1]