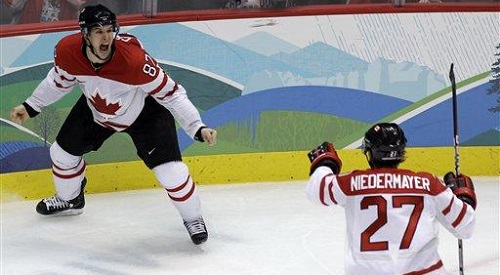 An Early Look at Team Canada: Part 2 – Forwards
February 9, 2013
With goaltending and defensive predictions made just over two weeks ago, today my predictions for Team Canada's 13-man forward unit are revealed.
With the depth of talent Canada possesses, there will no doubt be surprises and controversy with some exceptional players finding themselves on the outside looking in once the final roster is announced.
With a potent mix of speed, offensive instincts and defensive awareness, here is who I see donning the red and white for Canada in the forward ranks.
[php snippet=1]
Sidney Crosby
This is a no-brainer if there ever was one. The de facto star of Team Canada will center the team's top line and see a plethora of power play time. The only thing that would prevent Crosby from making the team is an injury, but given the way he's played since returning from a lengthy battle with concussion-like symptoms he's as healthy as ever.
There will be plenty of talent on Team Canada, but everything will run through "The Kid". The only real question that remains is which two players will be lucky enough to play alongside him?
Steven Stamkos
"Stammer" has become the NHL's most elite goal scorer over the past three seasons. His offseason workouts with Gary Roberts have allowed him to become an explosive player with great speed, quickness and agility.
On Team Canada, Stamkos will be counted on for offense and his quick release along with his vaunted one-timer should ensure he lights the lamp with regularity. One of the league's premier snipers, Stamkos may see a move to the wing in Sochi and could find himself playing alongside the likes of Crosby creating what could be a dynamic duo on the top line.
Claude Giroux
The ascension of Claude Giroux has been a joy to behold over the past few seasons as he developed into one of the league's most dynamic offensive catalysts. If there was any question about his ability to show up in big games, look no further than Game 7 of the first round against hated rival Pittsburgh during the 2012 playoffs. Giroux's big hit on Crosby set the tone for the game and his quick goal ensured Philly would maintain momentum.
Giroux is another candidate to see a move to the wing rather than have him lineup down the middle. His playmaking ability would be an asset on the half-boards and his offensive creativity will be on full display on the larger ice surface.
Rick Nash
A member of the 2010 goal medal squad, Nash brings the size and physical element to Canada's forward unit. While he's obviously gifted offensively and has proven to be a capable goal scorer, Nash will be useful on the cycle and in front of the net where his big body will wear down the opposition and wreak havoc.
Having had experience playing alongside Crosby in previous international play, Nash could once again find himself skating on the top line, at least to begin the tournament. His power forward style of play would be a great compliment to players like Crosby.
Jonathan Toews
The recipient of the "Best Forward" distinction at the 2010 Olympics, Toews will bring an exceptional two-way game to the table for Canada. While his offensive contributions have been well noted in the NHL, Toews will be leaned on for his defensive acumen in Sochi.
An astute player with great awareness, Toews should anchor the team's "shutdown" line and will likely play against the opposition's top unit and he will be a fixture on the penalty kill. Although, as he proved in 2010, he can score timely goals, as his only marker of the tournament was the first goal of the gold medal game. As big-game player throughout his career thus far, Toews is as clutch as they come.
Patrice Bergeron
Much like Toews, Bergeron will be leaned on for his defensive play and will likely pair with Toews on a checking line and the top penalty kill unit. Bergeron's faceoff ability will also be an asset with Canada likely having Bergeron (who is right-handed) take important draws in the defensive end when draws are to the right of the goalie. Toews will take over faceoff duty when the draw is to the left of the goalie.
The idea of having multiple faceoff men to take draws in certain situations is that winning a draw with one's backhand to the corner, instead of between one's legs or the front of net, keeps the puck out of scoring areas while allowing Canada to maintain possession. This strategizing is what led to Bergeron's inclusion on the 2010 Olympic squad, and with a larger ice surface, defensive breakdowns will prove costly, meaning heady players such as Bergeron become even more important.
Ryan Getzlaf
The past season was a trying one for Getzlaf who posted career-low 11 goals and 57 points. Early indications this season are that Getzlaf is back as he's playing at a point-per-game pace thus far. Getzlaf provides size and physicality down the middle and his chemistry with teammate Corey Perry means he'll likely make the squad.
Despite his playmaking ability and deft passing skills, Getzlaf will need to eliminate the lazy play that has sometimes plagued him throughout his career. On a larger ice surface his penchant for stick penalties could become apparent as well, and if so, could prove costly in a short tournament filled with so many talented teams.
Corey Perry
One year removed from a Rocket Richard-winning campaign in which he potted 50 goals and 98 points, Perry regressed posting only 60 points in 2011-12. Although Perry only accumulated 60 points, he did manage to net 37 goals and has become one of the league's best goal-scoring wingers, and his scoring instincts will earn him a spot on the team.
As a big winger who can battle down low and play in high-traffic areas without being pushed around, Perry's unique skill-set should result in him providing secondary scoring for Canada. His trash talk has also be known to get under the skin of opponent's and his agitating style will make the team more difficult to play against.
Eric Staal
Staal has proven to be as consistent as they come over the past seven seasons amassing a 100-point campaign and never posting a point total lower than 70. His size, skill and versatility will once again be coveted by Team Canada, and he will likely see a move to the wing like he did during the 2010 tournament.
Playing alongside Ryan Getzlaf and Corey Perry for much of the 2010 Olympics, Staal has developed chemistry with them and that line should remain intact. With a rare blend of size and skill on such a line, Staal should once again provide offense for Canada in a complementary role.
Jordan Staal
Eric's younger brother Jordan hasn't exploded out of the gate in Carolina during his first campaign as a top-line center, but as evidenced by his time in Pittsburgh he's a valuable player to have and his defensive play ensures he always has an impact on the game.
Jordan will likely be the team's fourth line center or thirteenth forward and will see time on the penalty kill and in late-game situations where his defensive awareness will be key. As a player who can fill in on a scoring line, as well as anchor a checking line, Staal's versatility will be valued in Sochi.
Jarome Iginla
He's starting to show signs of wear and tear, and his age (36 at the time of the 2014 Olympics) is beginning to become apparent, but Iginla will suit up for his fourth Olympic games nonetheless. His veteran leadership and experience in international play will be a valued asset should Canada find itself behind the eight ball.
Despite his recent regression, he's still able to score with the best of them having posted 30 or more goals for the past 11 seasons. While Iginla may not have as many offensive opportunities in Sochi with a new wave of offensive stars suiting up for Canada, he has raised his level of play in important games before and still possesses the ability to break a game open.
John Tavares
He may not get as much hype as he should playing in lowly Long Island, but Tavares is the real deal. Although he hasn't had a premier offensive player alongside him in his young career, he has raised the level of play of those around him while becoming a dynamic offensive threat (he was tied for seventh in league scoring with 81 points in 2011-12).
Now imagine what Tavares can do alongside players of an elite caliber on a team like Canada. He's a preternatural goal scorer with a wicked release that catches goaltenders by surprise and his senior international play has seen him compile 16 goals in just 22 games. Concerns about his skating have been mitigated as he's improved in that respect greatly since entering the league. With extra ice equating to more time and space for Tavares in the international game, he can be a deadly offensive weapon.
Jordan Eberle
No player has captured the hearts of Canadian hockey fans in recent years quite like Eberle has. His clutch heroics for Team Canada at the junior level are well documented and although he'll only be in his fourth big-league season when the 2014 Olympics roll around, he has become as dangerous an offensive threat as anyone in the league.
For all his hype however, Eberle will not make the team based on sentimentality. Instead, his offensive instincts, his speed and his creativity will earn him a spot. While he won't see as many opportunities to score the big goals with players like Crosby, Stamkos and Giroux on the team, Eberle is a player that simply can't be forgotten about. Some players wilt under pressure, but Eberle thrives, which is exactly what a team needs in such a pressure-packed tournament.
Dark Horses: Jeff Carter, Mike Richards, Jamie Benn, Tyler Seguin, Taylor Hall, Patrick Sharp
[php snippet=1] http://credit-n.ru/zaymyi-next.html