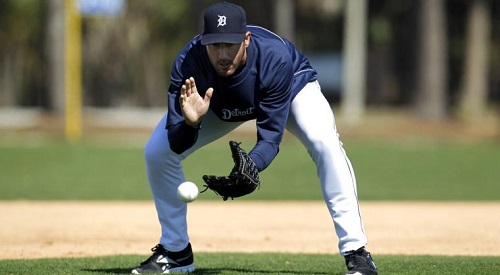 Spring Training: The Escape from Winter
February 18, 2013
Spring training began last week and it made me smile.
Watching players in the Florida (or Arizona) sun stretch, sprint and work on their skills creates a sense of optimism. Everyone's team looks good and no one is worried about where they will ultimately finish in the standings.
I wish I was there.
I've never had a chance to visit a spring training site. If I ever made a bucket list, that would be near the top. So I sit at my home in Toronto, looking at the remnants from a huge snowstorm that hit the east coast this month. Despite the weather, I'm thinking about baseball.
There are some things on my mind as preparation for the MLB season commences.
I'm thinking about the Blue Jays. The 2012 regular season ended with such vileness and anger. Manager John Farrell capped a year of inconsistency and injuries by leaving for Boston. There was little to cheer about.
But in the blink of an eye, general manager Alex Anthopoulos revamped his team with blockbuster trades and acquisitions.
[php snippet=1]
I'm thinking about the Los Angeles Angels of Anaheim. They failed to make the playoffs, despite having Albert Pujols in the lineup, C.J. Wilson joining the rotation and Mike Trout emerging as a premier player. Now they've added Josh Hamilton.
Just imagine three hitters with 30 or more home runs.
I'm thinking about the Yankees. They were embarrassed by the Tigers in the ALCS. Alex Rodriguez was benched and Derek Jeter wrecked his ankle. Now they're about to embark on a new season and there are plenty of questions marks.
Admit it! You love seeing the Yanks in disarray! You wouldn't be the only one.
I'm thinking about the Orioles and Nationals. Nobody expected them to perform as well as they did. The Nats have potential, led by Stephen Strasburg and Bryce Harper. The Orioles remind me of unexpected quality contestants on talent reality shows; think of Susan Boyle and Paul Potts. They look talentless, but somehow exceed expectations.
I'm thinking about the Astros. April 2 will be the first day of the rest of their lives. They spent 50 years in the National League and now, they'll be part of the American League. Not everyone is happy about it, but at least they'll have nice new uniforms.
I'm thinking about the Tigers. They were mediocre in the first half, but woke up post All-Star break. In addition, Miguel Cabrera had a magical season, grabbing the first triple crown since 1967.
With Cabrera, Prince Fielder and Justin Verlander, Detroit's still safe pick for the AL Central title.
I'm thinking about the Giants, Dodgers and the Athletics. Will San Francisco repeat? Will Magic Johnson's influence yield great reward for LA? Will Oakland prove 2012 was no fluke?
Maybe it's the sunshine or the fact we haven't seen those familiar faces for a few months. Maybe it's because spring training reminds us that the warmer months are approaching. Maybe it's because we hate the winter. Come on! Winter isn't baseball weather!
Spring training always presents a list of questions to consider. Sure, we can take guesses and make assumptions. But no one will know the answers until the final pitch is thrown in October.
That's what makes it so thrilling. That's why I'm grinning.
[php snippet=1]