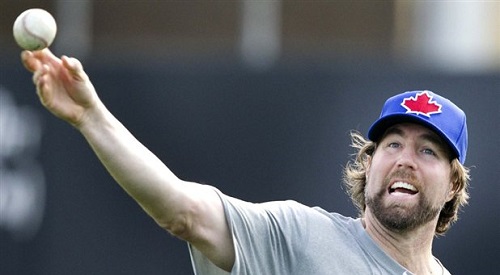 Spring Training Reality Check
February 15, 2013
It's the first day of spring training. Pitchers' and catchers' jock straps have been flicked, gear has been sweated into, hamstrings pulled, fastballs zipped, players yelled at, and coaches feel hopeful.
The days are so clear that if you stand on the top step of a grandstand in Florida, you can see the ballparks in Arizona.
And somewhere, in some diner or in his office kitchen, someone is thinking that spring training stats matter. Someone is thinking that they can snag a fantasy sleeper because this particular player put together a few Ruth-like games. Someone is thinking that his team has finally found that missing part. Who knew that a veteran minor leaguer of four teams was going to be the difference in the playoffs? Sure he hasn't performed at any other time in his career, but this is the year. Right?
Let this be the only warning you read. Spring training stats are trouble.
Let's consider:
The average batting average (say that 20 times) of the top 10 hitters during spring training last season was .412.
The regular season average of those same 10 hitters? .265.
The average batting average during the 2012 season was .254 (blame Houston). So while the same 10 hitters combined became an above-average hitter, they were still well-below their spring training stats.
Munenori Kawasaki was a spring training stud, leading the league with a .455 average. He was a spring training invite from Japan ready to take his shot. Then he hit .192 in the regular season and has since been released.
[php snippet=1]
Here's the same average measure applied to pitchers' ERAs:
The average ERA of the top 10 pitchers during spring training was 1.40.
The same 10 pitchers' average ERA during the regular season? 4.37.
The average ERA during the 2012 season was 4.01. So while the 10 earlier hitters at least outperformed the league average, the pitchers were unable to do the same.
So why do we let spring training statistics get to us? What is it about a spring training game that tricks us into thinking spring stars are the real deal? One argument is that real stars (Pujols, Butler, Verlander, Wainwright) appear amongst the statistical leaders in spring training so we should treat all stats with respect. After all, why are the statistics of the real stars more legitimate than the stats of the pseudo-stars (Kawasaki)?
In 2013, if Albert Pujols hit .100 in spring training, and this year's Kawasaki hit .450 with six home runs, who would you trust more in the regular season? You can put faith in Pujols because he's shown you a body of work that extends over multiple seasons at an excellent pace. Sure, a Kawasaki showed you a month's worth of good times, but Pujols has a career's worth.
Remember, the big-league hitters are playing their spring training against the big-league pitchers. Then, toward the end of the game and toward the end of the season, the hopefuls are put in. And that's where the flaw in the data appears. If you swapped the roles, and hopeful-hitters were pitted against big-league pitchers, and hopeful-pitchers were pitted against big-league hitters, whom do you think would dominate?
Now if you're watching a guy go against Verlander three times in a game and he takes him deep each time, pay attention. But if he's hitting bombs against a 29-year-old car salesman, put a holster on that excitement.
There will always be players who time their tear for spring training. Even the hopefuls can have a few good games against the big-leaguers, but they don't have the body of work that veterans do. They can't be trusted. And unless they're stud prospects, or previously-accomplished players returning from injury, there's very little point in getting your hopes up.
[php snippet=1]