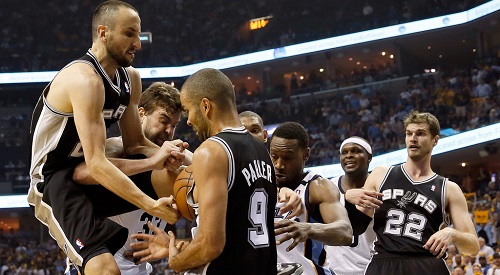 Inside the Spurs Dynasty
June 4, 2013
Dynasty is defined as a powerful group or family that maintains its position for a considerable time.
It is seemingly difficult to argue against the fact that these San Antonio Spurs are, and should be considered, a dynasty. Over the past 15 years, San Antonio has compiled an 832-350 (.704) record.
Sure, it may not feel right anointing the ho-hum Spurs as dynastic; after all, the Los Angeles Lakers did win five NBA titles through the same time period, accompanied by seven Finals appearances since 1998, but there is a clear difference. For one, the same team that won three consecutive titles in Los Angeles is nowhere close to the Lakers of today, as only Kobe Bryant remains from the 2002 championship team. Veterans such as Rick Fox, Glen Rice, Derek Fisher, Brian Shaw, Robert Horry and most notably, Shaquille O'Neal are long gone – most retired
That Lakers team was a dynasty, the operative word being was. This Spurs team is.
After drafting Tim Duncan first overall in the 1997 NBA Draft, the fortunes of the Spurs changed. He wasn't the sole reason for the turnaround. The season prior, coach Bob Hill was replaced after losing 15 of the first 18 games to start the 1996-97 season after David Robinson went down with an injury. Gregg Popovich replaced Hill and posted a win-loss record of 17-47. That team featured unproven young players, role players, and veterans past their prime, like Dominique Wilkins.
[php snippet=1]
Under Popovich's first full season, The Spurs posted a 56-26 record, en route to the Western Conference semifinals. They were the league's stingiest defense, giving up a meager 88.5 Opp PTS/G. They would never miss the postseason again.
During the lockout-shortened 1999 season, San Antonio won 37 out of 50 games and coasted to their first NBA Finals appearance after sweeping the Portland Trailblazers in the conference finals. This was just the second year of the Twin Towers pairing between Tim Duncan and David Robinson. It was Popovich's second season at the helm.
The Spurs would go on to win three more NBA titles, their second coming in Robinson's last year. It was also Manu Ginobili's rookie season and Tony Parker's second.
The fact that the San Antonio Spurs have obtained continued success since 1999 is a tribute to how the organization has developed throughout. Hampered by a smaller market than their Hollywood rivals, San Antonio has built from the inside, a model seldom used by other teams. Coach Pop and Co. weren't about the big free agent splashes either, their biggest offseason signings throughout his tenure have been the likes of Robert Horry, Glenn Robinson, Bruce Bowen, Brent Barry and Nick Van Exel – not by any means team-altering talent. Yet, the Spurs continued to trek along their merry, winning way.
Unlike some large market teams, think the Knicks in the Starbury days; the Spurs never built their teams through free agency, but instead, through the NBA Draft by way of solid scouting and development. They didn't consistently lose and constantly win the lottery either. Apart from Duncan, San Antonio hasn't had a first round pick earlier than 15th, which was Kawhi Leonard in 2011.
Tony Parker was drafted 28th overall in 2001 and Ginobili was drafted in the second round. Throughout these playoffs, nine Spurs average at least 15 minutes per game on the floor. The depth they possess, especially at this time of year when benches typically get shorter is to be marvelled at. Out of their top six scorers this postseason, only Danny Green wasn't drafted by the Spurs, instead claimed on waivers after being dumped by the Cavaliers.
The formula is very simple, but at the same time very difficult. It requires something that most players, coaches, GMs, owners and fan bases alike hate to offer; patience. It requires a level of consistency in both personnel and philosophy. ESPN analyst Bill Polian, who knows a thing or two about building a team, echoed that sentiment:
"It's a function of a great organization and great scouting. You do have to have a little bit of luck. The franchise guy has to come along when you're in a position to get him. But the bottom line is those kinds of players become the standard for your franchise and everybody else falls in line."
Spurs owner Peter Holt admits that working together, for all these years, with the same team is to credit for their success.
Popovich has been head coach since 1996, making him the longest tenured coach in major North American pro sports. Prior to that he served as GM. Pop has, for a long time had his fingerprints on this organization. Those who have been around him have taken to his astute basketball IQ. Players who played for him like Avery Johnson, Vinny Del Negro and Monty Williams have fallen into coaching. Danny Ferry, for one, is the general manager in Atlanta. The Spurs have been building and developing talent on and off the court for longer than 15 years.
They're just finally receiving the respect they so rightfully deserve.
[php snippet=1]