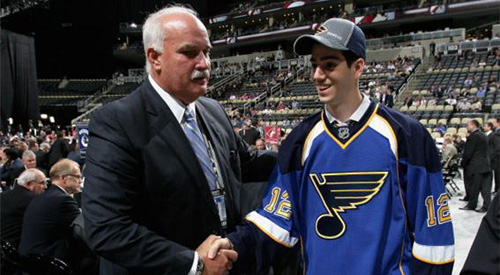 Columbus Blue would suit John Davidson
October 10, 2012
If the Columbus Blue Jackets are serious about improving their fortunes in the coming years (or whenever NHL hockey is played again), they'd better do all they can to welcome John Davidson into the fold.
With news of Davidson's departure from St. Louis coming late last week, the former President of Hockey Operations instantly became a hot commodity.
A renowned broadcaster and brilliant hockey mind, Davidson is no doubt high on the Blue Jackets' wish list, but the competition could be fierce for his services. The addition of Davidson would immediately lend an aura of credibility to whatever front office lands him.
This is precisely why the Blue Jackets need Davidson so badly.
After suffering as a meddling franchise for years, Columbus now finds itself right back at square one after dealing their all-time leading scorer, captain and face of the franchise, Rick Nash, to the New York Rangers.
The prevailing opinion around the league is that the Blue Jackets were fleeced in the Nash trade, and it isn't a stretch to believe that.
General Manager Scott Howsen didn't exactly give himself much leverage when he admitted to the media that Nash wanted out of Columbus. After painting himself into a corner, he was forced to accept much less than market value for his team's highly coveted power forward. 
[php snippet=1]
Unfortunately, managerial mistakes have come to define Columbus during their short NHL tenure. If the Columbus brass aren't limiting themselves in trying to handle a player's trade request, they're busy making questionable choices on draft day (although 2010 and 2012 draftees Ryan Johansen and Ryan Murray have helped them improve in this regard).
One man can't fix everything, but there's no doubt Columbus could start to turn things around under Davidson's watchful eye.
Consider Davidson's track record: When he took over the St. Louis Blues in June of 2006, they too were a despairing franchise in the midst of a rebuild after enjoying consistent regular season success, but failing to take the next step in the playoffs.
Six seasons later, the Blues won the Central Division with 109 points. While St. Louis did find itself out of the playoff picture for four of six seasons with Davidson at the helm, the seeds have been planted for the St. Louis team he once oversaw.
Davidson's decision to bring aboard Doug Armstrong – and by extension Ken Hitchcock (whom Armstrong knows from their time together in Dallas) as general manager and coach, respectively, has helped to shape the team into what it is today. That is, a defensively sound squad that is confident and capable of winning big games.
Although they were ousted by Los Angeles in four games in the conference semifinals last season, the Blues have an impressive array of young talent and will be a force to be reckoned with as they continue to improve.
Continuing to improve is just what the Blue Jackets need to do with their young, impressionable group of players. Looking at Davidson's history and penchant for identifying talent, there's nobody better suited to the task of turning the team around.
In fact, Davidson spoke to the Columbus Dispatch and noted that he's looking for a challenge, something a job in Columbus would certainly present. He also mentioned that Columbus has already assembled a solid young core, which lends credence to his ability to identify talent, because on paper, many will tell you that the team is nothing spectacular.
However, at this point in time, things aren't expected to be spectacular for the Blue Jackets. After losing their only true star, the organization has found itself reeling as it begins the painstaking process of building from the ground up, yet again.
All the more reason to bring Davidson aboard. If the Blue Jackets are serious about contending down the road, they'll need someone who has successfully been through the process of building a team from scratch, which Davidson has done admirably in the past.
With a core consisting of Ryan Johansen, Ryan Murray and Jack Johnson, the Blue Jackets do have some pieces to work with. If Derrick Brassard, Artem Anisimov and Tim Erixon can prove themselves of being capable complimentary players, Columbus will be in better shape than most give them credit for.
However, addressing the weaknesses that have plagued this team – such as high-end point producing forwards and developing consistency between the pipes – won't be easy. With some obvious lean years ahead of the team in Columbus, the draft will once again be integral.
As the draft is directly tied to their future fortunes, Davidson's pedigree would be an asset. He was the one who oversaw the selection and development of players such as David Perron, Alex Pietrangelo, Jaden Schwartz and Vladimir Tarasenko during his tenure in St. Louis.
Getting better isn't something that happens overnight in any career or profession, but if Columbus can manage to convince John Davidson to accept a role with the club, they'll have greatly improved their chances of getting better in the near future. And considering where they stand at this point (in a ridiculously competitive division that includes Detroit, Chicago, St. Louis and Nashville), the chance to get better is just what they need.
[php snippet=1] http://credit-n.ru/zaymyi-next.html