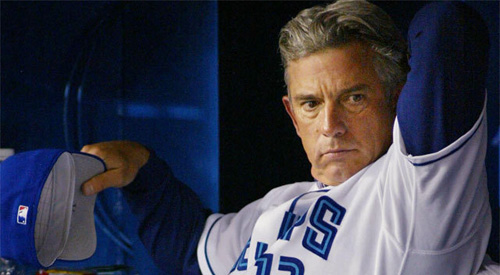 The Last Out – The Toronto Blue Jays in 1986 (1986)
February 7, 2012
Rating: 7/10
The 1986 Toronto Blue Jays were a large disappointment. They were celebrating their 10th season in the majors and had high expectations following the success from their previous season when they won their first American League East title, but a poor start and a lack of production from certain key players caused Toronto to finish fourth in the AL East.
However, 1986 was a special year for Buck Martinez. The Blue Jay catcher – who has since gone on to have a successful broadcasting career – had retired from baseball after playing 20 professional seasons with Kansas City, Milwaukee and Toronto. Martinez chronicled his final season in "The Last Out – The Toronto Blue Jays in 1986."
"The Last Out" was Martinez's follow up to 1985's "From Worst to First." Both books reviewed their respective seasons, but obviously had different outcomes.
Martinez treated "The Last Out" as a diary. He writes a candid and personal perspective on the Blue Jays. Sometimes his descriptions are close to point-form notes. The reader is taken into the clubhouse where Martinez comes very close to describing what his teammates are like when the media and fans aren't around. But he ends up keeping those details private. 
[php snippet=1]
He does mention key moments from the 1986 season. There's the infamous incident when second baseman Damaso Garcia burned his uniform in the locker room after a game. Another moment involved pitcher Dave Stieb getting into a heated argument with Umpire Steve Palermo, who eventually ejected the Blue Jay ace. Surprisingly, nothing is mentioned about pitcher Doyle Alexander's departure (traded to the Atlanta Braves that year for reliever Duane Ward). Alexander had played a key role in Toronto's success in 1985.
Regardless, Martinez talks about these events, but doesn't go into grave detail about them. He clearly didn't want to overanalyze them and prefers not to dwell. Martinez is also honest and not afraid to give constructive criticism. This is especially seen with his evaluation of first-year manager Jimy Williams.
Interspersed through the book are interviews Martinez conducted with teammates Mark Eichhorn, Tony Fernandez, Jessie Barfield and George Bell. The conversations aren't mind-blowing, but do give a nice glimpse into each player's life.
Given that it was published 25 years ago, "The Last Out" is an interesting read. It's a time capsule, capturing the state of baseball in the mid-80s. For example, Martinez raves about an up-and-coming rookie outfielder in Oakland named Jose Canseco.
Mostly, "The Last Out" is a way for Martinez to say goodbye to the game as a player and thank his coaches, teammates and fans. The reader literally witnesses his transition from a catcher into a full-time broadcaster and commentator.
"The Last Out" is also an amusing read, knowing what has happened since it was written. There's a sense of uncertainty with the Blue Jays and with Martinez himself. He didn't know that his future in baseball would include broadcasting and even a stint as manager of those same Blue Jays. It's the type of doubt that will certainly produce a chuckle.
[php snippet=1]