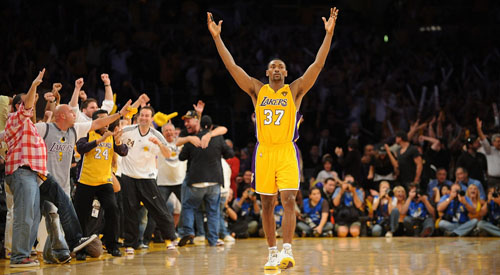 TheGP's Athletes of the Year (2010)
January 3, 2011
The year 2010 was a memorable one in professional and amateur sports; a constant flow of emotion and excitement. Whether it was the Saints bringing joy back to New Orleans with their Super Bowl victory, Sidney Crosby scoring the golden goal in Vancouver or Spain capturing their first World Cup, fans were captivated throughout the year.
Now comes the time when media outlets select their top athletic performers of the year. The Good Point is no exception. However, we wanted to do something different.
Sure we could've easily picked Kobe or Sydney, but we wanted to highlight a different kind of athlete (or athletes as it turned out).
These athletes aren't all typical household names. You won't find them on cereal boxes or in expensive commercials for energy drinks or footwear. Some aren't even the best at what they do. But they are a unique breed that symbolizes the true nature of competitive sport.
These athletes represent the power of the body and the mind. They have overcome adversity in order to turn in their finest performance. They define commitment. Yes, they are not all perfect people, but their output in 2010 is worthy of mention.
And now, as selected by GP writers, here are The Good Point's 2010 Athletes of The Year.
[php snippet=1]
Wesley Sneijder – Midfielder with Inter Milan (Serie A) and Holland's national soccer team
Selected by Anthony Lopopolo
In Anthony's words:
In 2010, Inter Milan and Netherlands midfielder Wesley Sneijder played in six finals out of seven competitions entered, including the World Cup. Despite eventually losing to Spain in extra time, Sneijder was Holland's star player with five goals and one assist in seven games.
He was also Inter's maestro in the middle of pitch, conducting a team that won the Italian Cup, Italian league and Champions League – the first time in history an Italian team captured all three major trophies in a calendar year. Then he and Inter went on to win the Italian SuperCup and recently, the FIFA Club World Cup for good measure.
In other words, Sneijder travelled the world without taking a vacation. Between January and December, he's spent a bit more than 84 hours on fields across Europe, South Africa, and the Middle East. An NHLer who averages 30 minutes of ice time per game can skate no more than 41 hours on the ice in a season, less than half of Sneijder's total.
Sneijder was shockingly omitted from the short list of candidates for FIFA's World Player of the Year award, but that shouldn't prevent him from being nominated as one of The Good Point's Athletes of the Year. Any athlete who collapses midgame, is subsequently diagnosed with anaemia for playing too much and makes a speedy return to action deserves at least a vote; if not for his achievements than for his dedication.
***
Joannie Rochette – Olympic Figure Skater
Selected by John Matisz
In John's words:
During an Olympic Games that brewed a plateful of unforgettable moments, Joannie Rochette – a 24-year-old figure skater from Ile Dupas, Quebec – singlehandedly represented the incredible beauty and influence of sport with her truly inspiring efforts in Vancouver.
The bronze medalist endured tremendous emotional pain following her mother's sudden passing prior to her short program. Although she is not an Olympic champion, Rochette will remain a national hero for years to come due to her resilience and unfathomable ability to perform her best during tragic times. In recognition of her immense competitive spirit and willingness to continue on, the Canadian Olympic Committee granted her flag bearer status for the closing ceremonies as well as the first recipient of the Terry Fox Award. No World Series, World Championship, Stanley Cup, Superbowl ring or even Olympic gold medal measures up to Rochette's accomplishment on the ice. Her remarkable grace under pressure will be remembered forever.
***
Jonathan Duhamel – Professional Poker Player
Selected by Mark Milner
In Mark's words:
It could be that no activity comes as close to being a sport without actually becoming one as poker does, especially at the professional levels. Yes, there isn't a lot of physical exertion, but it's hardly alone in that sense. The hard part about poker is the intuitive parts of the game: knowing how to bid, figuring out how to read people, making the right moves to play off of the other competitors.
Indeed, it's a tough racket: over 7,300 people entered this year's World Series of Poker Main Event, second-most in the competition's history. So consider me impressed when Jonathan Duhamel won the 2010 Main Event, collecting nearly $9 million in prize money. Not a bad haul for somebody just two years removed from dropping out of college to play poker professionally.
But what I found most impressive about his win was what he did afterwards, when he donated $100,000 of his winnings to the Montreal Canadiens children's foundation, the largest single donation received by the charity.
In a sports year where greed and selfishness shadowed over everything – Brett Farve sending illicit photos, Tiger Woods' dalliances with extramarital activities, Cam Newton and alleged payoffs, et al. – it's refreshing to see somebody giving back, especially to that extent.
Anthony Calvillo – Quarterback with the Montreal Alouettes (CFL)
Selected by Andrew Bucholtz
In Andrew's words:
No, the CFL isn't as prestigious as some of the other sports leagues out there, but Anthony Calvillo's performance this year was the most memorable.
He played half the season knowing that he had a potentially cancerous lesion in his throat that was going to require surgery, but still put up an MVP-caliber performance – 67.2 per cent completion, 32/7 TD/INT, 4,839 yards – while leading the Montreal Alouettes to their third straight Grey Cup appearance. Calvillo turned in a great showing as Montreal became the first team since the 1996-97 Toronto Argonauts to win back-to-back Grey Cups.
Doing all that while keeping his condition secret from the public is amazing enough, but it's even more so when you consider that his wife recently had a tough struggle with cancer. Calvillo somehow locked everything out but football and delivered a great performance.
He's since had two surgeries, one of which confirmed the presence of cancerous cells and one which removed his thyroid. But he is still expected to return for next season. If 2010 taught us anything, it's that one shouldn't bet against him.
***
Jon Montgomery – Olympic Skeleton Racer
Selected by Eric Rosenhek
In Eric's words:
You can't help but enjoy Jon Montgomery's energy. The man has enough electricity to light a small city.
Montgomery's gold-medal victory in Vancouver was a crowning achievement for his career and amateur sports in Canada.
Being a Canadian amateur athlete is far from glamorous. There is very little money; the majority of which goes to "medal hopefuls". For a number of years, Montgomery worked as a sales consultant and automobile auctioneer just to finance his craft and sustain a living.
By capturing the men's skeleton event, Montgomery has inspired many amateur athletes to continue their journey and hopefully encouraged fans and sponsors to invest more interest and support for amateur sports.
In addition, Montgomery's gold was a crucial jump-start for Canadian athletes competing in Vancouver and Whistler. At the time, Canada had a low medal count. But it seems the victory carved a path to a significant medal haul during the final week of the winter games.
***
Michael Vick – Quarterback with the Philadelphia Eagles (NFL)
Selected by Mark Farmer
In Mark's words:
What he did was disgusting, inexcusable and inhumane. But what he has done on the field this season is not humanly possible. How could someone who was regressing as a quarterback in his final year as an Atlanta Falcon, be away from elite competition while serving a prison term for almost two years and then comeback with the Eagles as an MVP candidate in his first full season?
The cliche of turning over a new leaf is used too often in sports. But Michael Vick has flipped a tree. He morphed from a running quarterback who could throw, to a throwing quarterback that can run. Think Randall Cunningham with the accuracy of Dan Marino. Aside from the unreal numbers being put up by Tom Brady, Vick would be a runaway MVP winner.
A saying used to follow a certain man around Cleveland: "We are all witness". The Eagles (or whoever backs up the Brinks truck to Mr. Vick's house this offseason) might want to adopt that phrase.
***
Ron Artest – Small Forward with the Los Angeles Lakers (NBA)
Selected by Austin Kent
In Austin's words:
Ron Artest isn't the best player on his team – he might not even crack the top three – but last I checked this wasn't The Good Point's list of Best Athletes of the Year. To me, and to many NBA fans who have witnessed Artest over the years, 2010 was such a pleasant leap forward that it's hard not to give the man credit.
I'm not going to say championships heal all wounds, but they sure do help athletes redefine themselves on a grand scale. Where Artest had previously been considered damaged goods, a locker-room cancer or just plain unworkable, the 31-year-old is now one of the most compelling examples of how mental health can affect professional sports.
Although Artest's transformation has been years in the making, the fact that he and the Lakers were able to win the 2010 NBA championship is a symbolic culmination of all the work that he and his personal team have put in under the excruciating heat of the professional athlete limelight. When he immediately plugged his aptly-titled single "Champion" moments after the Game 7 win, it was proof that it didn't take becoming a robot to get him there.
[php snippet=1]