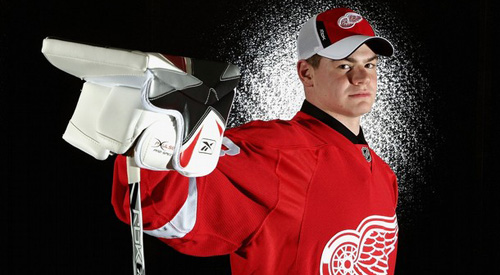 The Future Behind the Winged Wheel
December 19, 2008
While the Detroit Red Wings goaltending may look bleak at the moment, the future exudes excitement.
The Wings brass will have the opportunity to observe their top goaltending prospect, Thomas McCollum, in the upcoming weeks against the best players in the world – outside the NHL – under the age of 20 at this year's World Junior Hockey Championship.
McCollum, the current goaltender of the Ontario Hockey League's Guelph Storm, was one of two players selected to backstop the United States team in Ottawa starting on Boxing Day against Germany. The marquee matchup takes place on New Year's Eve as Canada will face-off against McCollum and the United States.
"It's a huge honour to be recognized for something like that and I'm extremely excited to represent my country," said McCollum. "Having people at USA hockey think that I'm one of the two best goalies in my age group is just an unbelievable feeling."
McCollum grew up in the small town of Sanburn, New York where during a minor league hockey game, not too far from the always popular Schimschack's Restaurant that his life changed forever. He was playing defence for his team when they got hammered in one game and the goaltender, Jeremy Dill, quit. Enter a young McCollum to save the day and in the end quite a few pucks. 
[php snippet=1]
When it came down to choosing between playing for the Storm or a Jr. A team near Sanburn, McCollum liked the challenges of playing in the OHL and was lured in by the Storm fans. He traveled to Guelph with his parents to watch a Storm playoff game and the general manager at the time, Dave Barr, suggested snatching something to eat at Wimpy's Diner. Their waitress noticed that his father had tickets to the game and found out that McCollum was a Storm prospect. Before they knew it they had 10 different people coming to their table wanting to get a glimpse at the future of their team and wishing the youngster the best.
In his first season in "The O" he was named an All-Star and nominated for the OHL Goaltender of the year. The following year, McCollum showed that he didn't just stop rubber, earning Guelph's Academic Player of the Year award. Currently he has the second most shutouts (3) and the second lowest Goals Against Average (2.13), and Save Percentage (0.928) in the league.
The London Knights, Brampton Battalion, Belleville Bulls and the Windsor Spitfires are all making a serious push to win the OHL Championship this year and move on to the Memorial Cup. All of these teams are making, or have already made, massive moves to find a player to put them ahead of the rest. Naturally, eyes have turned to the 19-year-old McCollum, specifically from Brampton and Windsor.
"I'm not really too worried about [being traded], I don't have a no-trade clause so I don't really get a say in it what-so-ever. I just keep it out of my mind and go out there and play," said McCollum. "From my talks with [head coach and general manager Jason Brooks] I don't think I will [get traded]. I certainly hope not, I really enjoy it here in Guelph, but if he thinks it's best for the team to have me move on then I'll leave and go about my business wherever that may be."
Before too long McCollum will be doing his business in Hockeytown, USA. This past June he was drafted 30th overall by the defending Stanley Cup Champions, the Detroit Red Wings. Just the second goalie to go in the draft, the Wings solidified their goaltending for years to come.
Detroit has always been known for advancing their draft picks at their own pace and not rushing them and that won't change with McCollum, but Wings fans will be waiting for his much anticipated action at Joe Louis Arena. With Chris Osgood showing his age even more as every game passes and prospect Jimmy Howard not blossoming into the stud the Wings expected, all eyes turn to the small town kid.
"I have thought about it a bit," said McCollum. "It's extremely encouraging to know that there is some depth there but it's not a ton. It definitely shows me that there is a spot [in Detroit] if I work hard enough."
McCollum, whose main goal this year is to win an OHL Championship, is hoping to play for the Wings affiliate the Grand Rapids Griffins next year, splitting playing time or being the starter. As for the remainder of the his career.
"Hopefully I just go out a winner," said McCollum.
Sounds like a Red Wing already.
[php snippet=1]