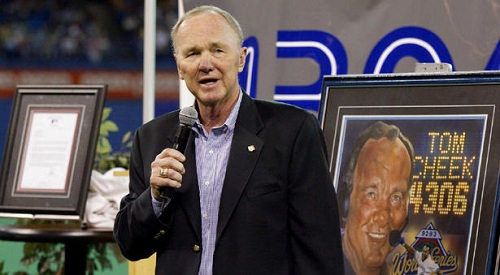 This one's for you, Tom
December 11, 2012
Finally… Tom Cheek is going to Cooperstown.
Last week, the National Baseball Hall of Fame and Museum announced the 2013 Ford C. Frick Award would be the given to the late Toronto Blue Jay broadcaster. Fans and current broadcasters of the Jays were elated. After years of voting and praying, Tom will be given the recognition he deserves next summer.
Entering the Broadcasters' Wing of the hall of fame is a fitting achievement.
After being an alternate broadcaster for the Montreal Expos in the mid '70s, Tom Cheek called 4,036 straight Blue Jay games between 1977 and 2004. He was there for all the "firsts," all the historical moments; and he took us along for the ride.
[php snippet=1]
As a child, bed time for me usually occurred before the end of a Jays game. I would climb in and turn on the radio. Cheek (along with partner Jerry Howarth) introduced me to baseball on the radio. His voice was authoritative yet comforting. There was never a condescending tone. He was a storyteller, painter and teacher.
Sure, I can mention his famous call from Game 6 of the 1993 World Series: "Touch 'em all, Joe! You'll never hit a bigger home run in your life!"
But my favorite memory of Tom Cheek happened well after the Blue Jays's playoff runs of the early '90s. In fact, it was a moment that occurred in total darkness.
It was August 14, 2003 – the day of the Northeast Blackout. Ontario and a number of US states suffered a widespread power outage. Many homes, including my own, had no electricity. That night, there was no computer, no TV and no light.
I sat on my bed, barley able to see anything. Close by was a battery operated radio. Unaware of the time, I turned it on just as the Blue Jays were about to begin a game against the Mariners in Seattle.
There was Tom's voice. He welcomed me to the broadcast as he had done for many years. He updated the situation back in Toronto, told us to be safe and wished everyone back home the best of luck. Then, like a caring grandparent, Tom told us to sit back and relax. He would take it from there.
The first pitch was thrown and I had an instant escape.
Suddenly, I was no longer worried about what I could do to avoid boredom or when the power was going to come back on. There was baseball on the radio. And at that specific moment, it was more important than anything else.
Tom Cheek passed away in 2005, after battling cancer. I cried when I read the news. I'm sure I wasn't the only one. As I wrote on my blog that day, "perhaps it was because of this man that I fell in love with sports and radio… Now he is gone and although I never met him, I feel a great sense of loss."
There won't be a dry eye when Tom is inducted this summer. He was more than just the voice of the Blue Jays. He was a companion and – as Sportsnet's Mike Wilner perfectly declared – "the voice of summer across Canada."
Congratulations Tom! You've rightfully earned your place in Cooperstown.
[php snippet=1]