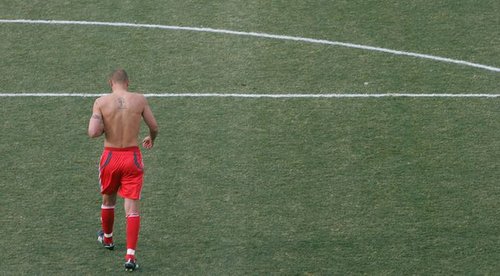 Masters in Futility: Toronto FC
August 9, 2013
During a chance trip to Toronto this March, I went to Toronto FC's home opener with my uncle. He'd taken a friend and I into his home for the weekend; somehow, crashing on his couch turned into a pair of free tickets. He's a diehard fan, a season ticket holder that came to this game with his young son, the two of them dressed in matching shirts and hats, proudly donning home red.
We stood in the south end of the Rogers Centre, chanting in unison with 20,000 boisterous fans, many merrily inebriated by early afternoon, in the home of the recently crowned CFL champion Toronto Argonauts and the suddenly promising Blue Jays (back when such promise was justified), rooting on a team who'd never had a winning season, whose fifth and sixth years of existence somehow turned out worse than its expansion campaign. Home red, everywhere.
What were we to expect? I'd attended one TFC game with my uncle a couple years before, a 1-1 draw with Columbus, highlighted by a dazzling goal from the home side and an immediate yellow card, the scorer cautioned for removing his jersey in celebration. It was mediocre, yet oddly enthralling. That's what Toronto FC seemed to be: a fun sideshow, beloved by a hardened cast of devotees, forever resigned to the depths of local sporting consciousness. For a casual fan, observing perennial letdown from afar, what expectations can there be?
[php snippet=1]
But this was TFC's seventh season, and under the dome of their temporary home, championship banners in other sports swaying overhead, we waited for the snow to clear at outdoor BMO Field and hoped for new results. In Toronto, the end usually signifies disappointment or frustration – but beginnings are always new.
Another fresh slate awaited Toronto FC in 2013, though whether they'd take advantage was another story. They have the dishonorable distinction of featuring more all-time managers than seasons played; eight men have led Toronto to varying notches of failure through seven MLS campaigns.The most recent, Englishman Paul Mariner, lasted less than one season, inheriting a winless team partway through 2012 and failing to earn enough points from there to keep his job.
This year, Ryan Nelsen's at the helm, stepping right off the pitch and into the coaching box. (He played his final professional game with Queens Park Rangers in late January, just three days before debuting as TFC's manager). No Toronto coach has ever boasted a winning percentage of over 38%, and though it's a small sample size, Nelsen's is currently worst of all – four wins in 22 league games, good for ninth place of 10 in MLS' Eastern Conference, another putrid showing in a history defined by putridity.
Seven years in, the team is essentially back at square one. The honeymoon expansion period was followed by decent showings in 2009 and 2010, finishing just points out of the postseason each year. Toronto proceeded to hemorrhage any measure of growth, conceding 59 and 62 goals in 2011 and 2012, respectively, worst in the league and confirming a straight downward trajectory.
Toronto hasn't necessarily lacked for talent – countless times, the club and celebrated players have intersected at the wrong time in the player's career, or talent has been siphoned off at management's whim. Former captain Torsten Frings excelled for 15 seasons in his native Germany, mustering two years stateside with Toronto before a hip injury forced him to retire. Darren O'Dea, Frings' replacement as captain, was released last month while sporting the skipper's armband. Scarborough native Dwayne De Rosario, Toronto's all-time leading scorer, was traded to New York in 2011 for Tony Tchani, Danleigh Borman and a first-round draft pick; none lasted even two years with TFC. De Rosario, meanwhile, was that season's MVP.
Faced with a revolving door of players, managers and whipping boys, the fans have held strong. Toronto's annual attendance compares favorably with the Vancouver Whitecaps and Montreal Impact, clubs both still in relative MLS infancy that have already enjoyed greater league success. TFC is something of an institution in Toronto, Canada's cultural epicenter. It's a melting pot of soccer-crazy communities, divided by international allegiance but united by those damned home reds. They've sang in defeat and made a folk hero of Danny Dichio, acting as the lone constant for a franchise forever in flux.
Dichio scored Toronto's first-ever goal back in 2007; six years later, here at the Rogers Centre, another new striker was set to announce his arrival. Zambian-born Robert Earnshaw opened the 2013 home opener with a goal just three minutes in, spurring the crowd into early frenzy. In the 21st minute, he converted a penalty kick for his second score of the game. The slate was fresh, the lead 2-0.
In Toronto on other business, my friend and I were forced to leave the game at halftime, thanking my uncle profusely for bringing us to such a spectacle. Looking up the result later, we learned that the opponent, Sporting Kansas City, had threatened throughout the second half, but were held to one goal by newly acquired keeper Joe Bendik. The home opener was won, Earnshaw the hero, and the trajectory of a franchise was pointing up.
Naturally, they've won just three times since, 13 points from the playoffs, a seven-year old team forever lost on and off the pitch. What were we to expect?
[php snippet=1]