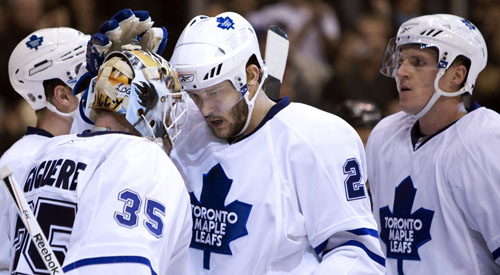 The Toronto Maple Leafs are a glitch in the matrix
February 3, 2010
Over the course of the past 100 or so years, sports fans have been really quite fortunate. Considering there are only so many potential outcomes of a given league, it would seem likely that repeats are eventually bound to occur.
We've seen underdogs slay giants and all-time greats retire on top. We've seen emotional comeback success stories and the unfortunate comeback failures. Although each rendition of a particular plot-line is customized ever slightly to represent the teams and players acting them out, the general premise remains the same.
These subtle differences are what keep sports worth watching. In combination with team changes, varying locales and personalities, the constant clichs that would otherwise occur are infused by the cultural differences and attitudes of a given era, time stamped and forever locked away in the minds of fans as a unique, cherishable memory.
Last weekend the Toronto Maple Leafs ruined this.
They ruined this just as they have ruined all that has ever been.
Trinity: "A dj vu is usually a glitch in the matrix. It happens when they change something."
In the summer of 2007, Danny Ainge was a highly respected man, but perhaps more for his careers as a baseball and basketball player than his unimpressive tenure as the general manager of a struggling Boston Celtics franchise.
[php snippet=1]
His team, both then and now, was ripe with tradition. They were loved by many and despised all the same. They were classic, iconic and recognized worldwide. They were also the biggest punch line in the NBA.
The Celtics were never the least respected franchise in the NBA, nor were they the absolute worse, but their relative fall from grace is what punctuated their futility. For reasons, in large part out of their control, the Celtics were lousy. They would have easily qualified for sympathy had they not previously dominated with such unrelenting authority, championship after championship, year after year.
When the Toronto Maple Leafs dealt a third of their struggling roster to the Calgary Flames and Anaheim Ducks for Dion Phaneuf and J.S. Giguere it wasn't exactly like when the Celtics dealt for Ray Allen and Kevin Garnett, but the similarity is alarming.
Each team, previously bestowed with rich success and an even richer following, loved by some and hated by many, acted in desperation. The embarrassment had gone on long enough.
The Maple Leafs, championshipless since 1967 but overwhelmingly dominant before then, had decided that their current method of business wasn't working. They decided that fast, dramatic action was required. What better way to pursue excellence than go about the most obvious way of getting it?
Previously, the Maple Leafs had done their best to ride the grim potential of far-from-spectacular journeymen to moderate success. It had became their MO. By turning such an uncharacteristic about-face, Brian Burke effectively applied the same managing process that teenagers use when managing their dynasties in Madden or MLB 2K9 (Danny Ainge is excellent at MLB 2K9).
It just so happens that this has given the Leafs their greatest chance at success in years.
The biggest knock on hastily acquiring superstars in professional sports is that it might have a negative effect on existing team chemistry, or derail the current core's progression as a unit on and off the ice.
Let's assume the Maple Leafs had none of that to lose.
Earlier this year when the Toronto Maple Leafs traded a bevy of draft picks for Boston Bruins forward Phil Kessel it struck many as odd and all as risk but it did give them a promising offensive star. It was a tangible step forward for a team that, more than all others, needed it.
Now, as history tells us, Kessel, like Paul Pierce before him, could have gone on for another season or two putting up decent numbers for a terrible team in front of thousands of obsessive and painfully loyal fans, but why stop there when a proven escape plan has already been established?
If the beloved Celtics could return to respectability, then why not the Toronto Maple Leafs?
Instead of sitting idly with Kessel, Burke sought to acquire his own Ray Allen and Kevin Garnett to join Kessel in a quest to storm out of the Eastern Conference basement. Last Sunday, he got exactly that.
Regardless of how the rest of the 2009-10 campaign unfolds in the NHL, the damage is done. In a bizarre twist of reality the Toronto Maple Leafs have become the Boston Celtics in both mind and spirit. Given the C's recent success, the consequences for hockey fans that loathe the Blue and White are grave.
If the Toronto Maple Leafs go on to succeed in the aftermath of these historic trades it means two things, equally apocalyptic. Either suffer the obnoxious wrath of countless Maple Leafs fans until some other band of hockey playing heroes restores the natural justice of the world by stopping their reign or admit that human civilization is being farmed by robots as a source of energy.
Obviously the former would sting a little bit more.
[php snippet=1]