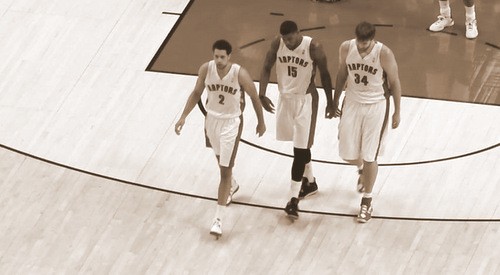 The Toronto Raptors: Yesterday and Tomorrow
January 17, 2014
Toronto Raptors fans have been here before. We don't mean literally, in the sense that they're the seemingly most competent of a motley crew of toothless, struggling, or simply just dysfunctional teams barreling through the 2013-14 campaign with their eyes on the Atlantic Division title (although they have done that, too*), but figuratively.
The entire fan base is all too familiar with the concept of their squad rallying to grind out success in the wake of an absent, or in this case relocated, star.
*2007, anyone?
When history repeats itself
In 2002 it was Vince Carter, or specifically Vince Carter's departure, that triggered a triumphant streak that not only salvaged a 2001-02 season that was going from bad to worse after the franchise's first two playoff appearances, but launched them into the postseason yet again when even the most optimistic of oddsmakers had all but shut the door.
What happens next is unimportant – although, fun fact, the team of non-stars subsequently pushed a formidable Detroit Pistons team to a decisive Game 5 in the weeks that followed their run.
The point is that in the NBA, and in Toronto in particular, there is evidence that when a marquee player is removed from the picture, good things can – emphasis on can – happen. Call it luck, call it motivation, call it addition by subtraction. Heck, take a page out of Bill Simmons' book and call it the Patrick Ewing Theory.
This December, first-year Raptors general manager Masai Ujiri – the same architect who built the suspiciously dominant Denver Nuggets of yesteryear – wheeled Rudy Gay and Quincy Acy across the continent in exchange for Patrick Patterson, Greivis Vasquez, John Salmons and Chuck Hayes from the Sacramento Kings.
Raps fans will be quick to point out Patterson's emergence as a particularly prolific reserve big man or the sheer veteran wisdom emanating out of Salmons' pores whenever he checks in at the scorer's table, but for the purposes of this article, let's take one step back.
A necessary post-mortem
NBA stat geeks Legitimate basketball analysts are quick to point out one specific advanced NBA metric that was about as kind to the outgoing 27-year-old forward during his stint north of the border as a feral raccoon: his usage rate. In other words, the figure that measures, in a percentage, how many of a team's given possessions are eaten up by an individual player.
Although Gay's usage rate has since returned to a more reasonable 23.4% since becoming a King, it flirted with the 30% mark during his tenure in Toronto. In other words, as a Raptor, Gay dominated the team's offensive scheme more so than LeBron James with the Heat, Stephen Curry with the Warriors or LaMarcus Aldridge with the Blazers.
The results weren't exactly Miami-esque.
Whether Torontonians watching the early season unfold favor traditional numbers or more aggressive and new-fangled ones, there was never any denying that Gay's tendency to dominate the ball was more of a burden than anything else. His .468 true-shooting percentage during his 18 games with the Raptors would rank 286th out of all NBA players today. In more familiar terms, his .388 and .373 field-goal and three-point percentage numbers, respectively, left much to be desired.
James (.668 TS%), Curry (.570) and Aldridge (.517), needless to say, were and are considerably more productive with their touches.
But what did that all mean to the Raptors left behind in T.O., on a wayward team suddenly lacking its "best player"? Opportunity.
Not unlike Charles Darwin's theories of evolution come to life on the plains of Africa, in the weeks following the deal, the Raptors saw the strength of their herd flourish without Gay holding them back. Consider Gay's playing style the genetic runt of Toronto's pack. Supporting and tending to his on-court needs the Raps, as a whole, could only accomplish so much.
These days that liability is gone and more resources are available to the surviving members who've proven that they can generate more with with them.
Players like DeMar DeRozan, Kyle Lowry and Amir Johnson may not boast the obvious physical advantages or elusive potential that a 6'8″ athlete like Gay might, but they're more productive when they take possession of the ball and can do so more often – or in more auspicious conditions – now that they're on a team that doesn't feature Gay.
Lowry's .581 and Johnson's .594 true-shooting percentages have each been featured more prominently and in a bigger role with the Raptors on account of 30% of the team's touches not being spent on an individual who couldn't even crack .500 last season either. Inherently their usage rates – as well as DeRozan's – have slowly started to climb.
Eric Koreen of the National Post wisely points out that the subtraction of Gay from Toronto's system has allowed Lowry to thrive in the pick-and-roll. It's also opened opportunities for reserve wing Terrence Ross to step in and emerge as a three-point threat.
Perhaps the most obvious trend, though, is that Toronto's assist numbers are way up following the deal. With Gay, 49% of the team's baskets came off of assists. Since the deal, it's been closer to 60%, indicative of an offense that isn't so much concerned with who's shooting, but what shot is being taken.
In brief, there are only so many touches available to a basketball team on any given night, the more efficient a team is with them, the more successful they tend to be. What Ujiri and any stat head had come to terms with was that Gay's inefficiencies were a reckless waste of precious resources.
Life in the days that follow
As much as we can glean from statistics and advanced metrics, there's a certain element of the game that algorithms simply can't account for: the personal element. The human spirit can be a powerful thing, simultaneously capable of fuelling great success and undermining it at the drop of a hat.
Although his actual stint in Toronto didn't even last a full calendar year (he was traded from Memphis in late January and dealt to Sacramento in December), a player like Gay naturally inherits much of the leadership role that comes with being the so-called star – not to mention highest-paid player – of a basketball team.
While one could dig up just as many positive articles citing Gay's leadership with the club, there also exists the more bizarre.
While a player's apprehension to statistics in the clubhouse can only be interpreted as perhaps misappropriated good intentions, considering that Gay is a vocal leader which many clubs genuinely need, the fact that the cold, inevitable truth even had to be hidden in the first place was a tell-tale sign that things had gone south.
When the smoke cleared and Gay had settled in with Sacramento, the onus of leadership organically defaulted back to a plethora of individuals who'd grown and developed with the team since long before the initial Memphis trade was even a glimmer in then-GM Bryan Colangelo's eye.
Players like Lowry, sure, but especially DeRozan and Johnson, each in their fifth year with the club and now the default elder statesmen in a locker room that no longer included the likes of Andrea Bargnani or even Jose Calderon from the previous regime alongside with them.
Young DeRozan had been a leader in the making for some time, but now shares a history with Johnson that will serve the pair well into the future.
The future and those who will lead us
"I've been the same pretty much for the five years that I've been here, just trying to be an energy player," Johnson tells me prior to tip-off. Soon he'll take the court for one of the many wins that the Raptors will rattle off in early January. He surveys the locker room, his locker room.
"For us it's just about competing and playing hard every game. We've played some of the top teams – and we've beaten some of the top teams – it's just about competing, playing hard and winning as many of those games as possible."
He banters with Terrence Ross as the 22-year-old comes and goes from the clubhouse, stopping to confirm his defensive assignment for the next three hours.
We refocus and I question him about the recent success, the environment off the court in the weeks and now months following the trade. Equal parts inquisitive journalist hungry for a satisfying quote and Canadian-born hoops head who desperately wants to, but just can't, buy into a potential Raptors postseason run so soon.
It's hard to stay on point with so many questions. Is a playoff berth inevitable? Did the rebuild already happen? Whatever happened to Andrew Wiggins? Is their really a section in the upper bowl named after Drake?
The line between carefully probing an individual about unexpected success and annoying them altogether is thin. I admittedly fear that I ought to quit while ahead.
The questions, though, they burn. They burn in my head and the head of anybody who sat patiently through the Mike James Era. They burn every time I remember that this franchise hasn't even toyed with the idea of substantial playoff success since Jorge Garbajosa broke his leg in the spring of 2007, essentially neutering Colangelo's only indisputably effective attempt at recreating his triumph with the Seven Seconds of Less Phoenix Suns.
Are the players in the locker room as surprised to find themselves where they are as those of us outside of it? Is it third-seed or bust given the current state of the Eastern Conference? Might it be better in the long-term to rein things in a little and, erm, accept a 2014 lottery pick**? Really, Drake? Like Drake, Drake?
I settled on a watered down version of all of the above.
"My goal has always been the playoff goal, so I guess we can start with that […] That's pretty much where our mindset is right now, I don't know what anybody else is saying."
In doing so, he gives me everything I need. Maybe not the sheer volume of characters to balance out the written diarrhea on the wall of text before you, but enough to satiate the bitterness that's slowly grown in me since the days of Rob Babcock and pandemic discontent.
He goes on to detail the lessons a young team can learn from tough games against conference powerhouses Miami and Indiana. How critical it is to study film and make a special effort to clean up mistakes as they're identified.
In the NBA, like life in general, sometimes it makes the most sense to just slow down and see where things go. Johnson, Ujiri and the Raptors have done a masterful job of creating for themselves the opportunity to win. Now it's just a matter of waiting and watching it happen.
The Raptors are 12-6 since Dec. 8, when the Gay-to-Sacramento deal was announced and Gay himself – not the cancerous blight I've made him out to be above – is, too, benefiting from the change of scenery.
For that reason, while the Raptors bid for supremacy in the Atlantic Division may in some respects be little more than a personal victory over lousy competition, it also means and represents so much more, harkening back to the most memorable days in franchise history.
Now, for the first time in a long time, fans have no idea what to expect, even if the surprises that come are surprises we've already seen before.
**Rhymes with shmank