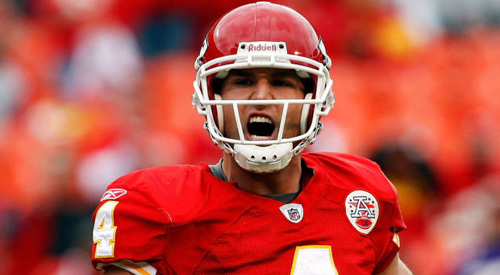 Tyler Thigpen and Buffalo's quarterback carousal
August 3, 2011
When it comes to the Buffalo Bills, it's often almost as important to keep track of their backup quarterback as it is to keep track of which player is starting at the position. The reason for this is simple. Since Jim Kelly retired after the 1996 season, no fewer than 14 different players have seen in-game action at quarterback for the Bills, many – if not most – of them backups or even third-stringers.
Even in the franchise's early-1990s heyday, when they infamously reached (and lost) four straight Super Bowls, it was backup Frank Reich who rallied them from a 38-3 deficit in a 1993 playoff game against the Houston Oilers.
Given the history involved, who the Bills have holding Ryan Fitzpatrick's clipboard can seem almost as important as the question of whether Fitzpatrick is ready for his first full season as a No. 1 QB – and if he's the answer for a team struggling to regain relevance in a competitive AFC East.
With the signing of Tyler Thigpen, the Bills have a quarterback who has more professional experience than recent backups Brian Brohm and Levi Brown.
But if Thigpen's that good, why is he still a career backup? And what, if anything besides his past experience with Buffalo head coach Chan Gailey, does Thigpen bring to the Bills? Many of the answers may lie in Thigpen's time with the Kansas City Chiefs.
When Thigpen played his first NFL game with Kansas City in 2007, he was already slightly exceeding expectations. After all, most quarterbacks drafted as low as 217th overall (in the seventh round) rarely see game action anyhow. Moreover, the team that drafted Thigpen, Minnesota, had already let him go.
[php snippet=1]
On the other hand, this wasn't a powerhouse Thigpen was joining. By the time he took the field for the Chiefs, they were already well on their way to a 4-12 season. Their record would go on to decline to 2-14 in Thigpen's first full season with the team.
Joel Thorman, who covers the NFL for SB Nation and writes about the Chiefs specifically atArrowhead Pride, said Thigpen made things somewhat interesting despite the team being abysmal.
"The thing about Thigpen's career in KC is that it came at a time when everything around him was very, very poor," Thorman said. "The Chiefs weren't a very good team and he made them exciting."
In fact, despite the Chiefs' poor finish in the standings in 2008 when Thigpen played in 14 games, he still managed to throw for 2,608 yards and 18 touchdowns. A lot of what made Thigpen exciting came from his mobility.
"He didn't have the best arm and he wasn't the most accurate, but he could scramble," Thorman said. "If used correctly, that can be an asset. [He brings] a little bit of excitement with his ability to run and keep plays alive."
As good at scrambling as Thigpen is though, he's never been able to make the jump to being named a permanent starter. That may be because, like former Bills' quarterback J.P. Losman, he's as challenged with his accuracy as he is gifted with his mobility.
"Accuracy is his biggest issue," Thorman said. "He's a career 54 percent passer, and that generally isn't a great number."
Both Thorman and Bills' blogger Matt Warren, who covers the team for Buffalo Rumblings, believe that Thigpen should be a good fit with his former Kansas City offensive coordinator, Chan Gailey.
However, Warren notes that this is partly because at this stage of the Bills' development, Gailey isn't really trying to be picky about what style of quarterbacks he has on the roster. He's more interested in their ability to deliver results.
"I'm not sure I'm willing to say that Chan Gailey prefers any type of quarterback other than the winning kind," Warren said.
For all of his ability to move around the field and his inability to get the ball to his receivers consistently enough to win the starting job, Thigpen's greatest value for the Bills may be the fact that no one will confuse him with the team's quarterback of the future. As Warren pointed out, Buffalo is much more likely to find the heir to Jim Kelly in the draft in years to come.
"[Bills GM] Buddy Nix helped draft Eli Manning and Drew Brees while in San Diego and traded Manning for Phillip Rivers," Warren said. "I'll trust him on QBs."
[php snippet=1]