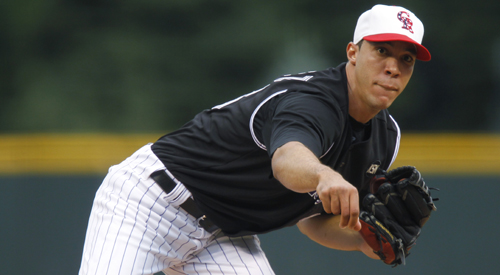 Ubaldo Jimenez deserving of extra attention
July 12, 2010
Thanks to a number of remarkable single-game pitching performances thus far in the Major League Baseball season, there is a smidgen of acceptance for the lack of attention Colorado Rockies pitcher Ubaldo Jimenez has received for his execution of the National League.
The levels of perfection reached by young Athletic Dallas Braden, and constant Cy Young threat Roy Halladay, were not small feats by any means. Additionally, Stephen Strasburg's emergence as a force to reckon with in a Nationals uniform also deserves honorable mention.
Nonetheless, many have overlooked Jimenez's first-half explosion.
Through 18 stints on the mound in 2010, the right-handed hurler has recorded 113 strikeouts while posting a very respectable 2.20 ERA in the process. His ERA may not rank first in the Majors but a current fifth-place showing is a tremendous feat for a pitcher who calls a perennial hitter's ballpark, Coors Field, home.
April 17, 2010 will be a benchmark outing for Jimenez unless he manages to throw another no-hitter. His ability to retire 27 Atlanta Brave batters suffers a slight stain as he surrendered six walks en route to the no-hit show. The walk-a-thon was not a complete surprise as his frequently-clocked 98 mph fastball has been known to take a ride on its way to the plate.
[php snippet=1]
Control issues or not, his incredible 15-1 record has baseball experts mesmerized as he is on pace for a 28-2 final record. The latter total is improbable as Jimenez's five consecutive starts from June 11 to July 3 were characteristic of a journeyman finally making it to the show, not a budding luminary. At any rate, if his season was suddenly cut short, his fourth year in the bigs would stand as his landmark campaign.
The turning point in his career presented itself when the 26-year old was designated as one of two go-to starters for the Rockies staff in 2009 as management hoped that Jimenez could help fill in for a rehabilitating Jeff Francis.
Jimenez did not excel in his new role as he put together a mediocre campaign, with a slight improvement on his previous year's performance. In fact, his statistics in 2009 were comparable to Joel Pineiro's – the number three gunner in the St. Louis Cardinals rotation last year – something both players would love to put behind them.
Nowadays, he is one of only two players headed to the All-Star game in Anaheim from the 49-39 Colorado ball club because of his ability to come out as the victor and hold opponents to less than 2.21 earned runs per game.
The one pressing criticism of Jimenez's success has been the fact that his teammates have managed to crush the ball when his number comes up in the rotation. There have been 13 occasions where the Rockies' bats have been absolutely booming, producing at least eight runs for their confident righty to work with.
In May, a month where Jimenez won his second NL Pitcher of the Month award in a row, his teammates chipped in 57 runs while allowing only 24 on the field with Jimenez pitching.
When you do the math, that is about 2.4 times more runs for Colorado.
So, the guy gets run support, so what? He has already exceeded his career numbers for complete games in one season with three – one more than what he accomplished in his previous 84 career starts.
No matter how well his teammates play when he's sitting on the bench waiting for the next three outs, Jimenez can flat-out play. The amount of tallies in a pitcher's win column may not be the definitive indication of who is a proven winner and who is just another MLB starter, but when the discrepancy is to the magnitude of 15-1, an exception is born.
Ubaldo Jimenez is the real deal. The kid is only 26 and still has control problems but, without a doubt, has finally found his form and, more importantly, his place in America's favorite pastime.
His place on July 13 will be on the NL mound and then the superstar-filled dugout of his first of several All-Star Games to come.
[php snippet=1]