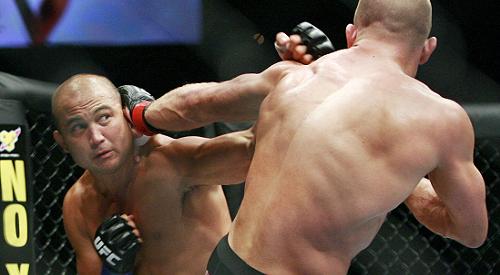 UFC's hype lacks substance
February 16, 2009
There's no doubt in my mind that the Ultimate Fighting Championship has one clear advantage over its main competition in the world of combat sports: Promotion. UFC President Dana White has the vast majority of the top talent in the sport of mixed martial arts, knows how to properly match that talent up with opponents, and knows how to make a run-of-the-mill matchup seem important. This makes it tough for any form of organized fighting to keep up with the UFC. The UFC's latest new venture, however, was a rare departure from form, and one that showed that the property still has a lot to do before it goes further into the mainstream.
I've written previously about HBO's 24/7 series, a show which has gone through four "seasons", with each volume tracking two fighters' training camps in the weeks prior to a major match. Not only has each run of the show been wonderfully produced and offered fantastic insight into the coming fight, but they legitimately helped to sell pay-per-views, which was the whole objective of the series. The show gave fans belief that the underdog in a fight could come through, or at least make it interesting, and quelled the fears of fans who were considering not ordering a fight due to its potential one-sided nature. 24/7 made the public believe that Oscar De La Hoya and Ricky Hatton could beat the world's top fighter, Floyd Mayweather Jr.; that an aging Roy Jones Jr. had one great fight left in him against a dominant Joe Calzaghe; and that "undersized" Manny Pacquiao could stay in a fight against the much larger De La Hoya.
When Pacquiao thoroughly destroyed De La Hoya, 24/7 was given a new level of legitimacy. With a 5th season, previewing Pacquiao and Hatton's May 2nd light welterweight championship fight, likely to appear this spring, the show has clearly helped to raise boxing's oft-struggling profile.
As with any greatly successful idea, 24/7 would clearly see some copycats coming. However, it was certainly surprising to see the UFC churning out the most prominent imitation. With welterweight champion Georges St. Pierre scheduled to take on lightweight champ BJ Penn on the last night of January, a fight dubbed as the biggest fight in the UFC's history by Dana White, the organization felt that the match deserved a level of promotion never before given by the outfit. This led to the creation of UFC Primetime, a three-part, weekly series which followed the two fighters at their training camps leading up to the fight.
Does that sound slightly familiar?
[php snippet=1]
Truthfully, if the UFC were to execute this idea, Penn and St. Pierre are the two fighters (outside of The Ultimate Fighter 7 rivals Quinton Jackson and Forrest Griffin) who you would want to showcase. Penn is a legitimately funny, quirky character who has been working towards this type of career for his whole life. His nickname, The Prodigy, might be the most truthful in all of sports. St. Pierre, meanwhile, is an incredibly humble fighter who is deadly serious about all of the disciplines in his craft. He is also one of the best talkers in the UFC, which is a must for starring in a show like Primetime.
Before looking at how the series ultimately turned out, it should be said that more should have been expected of Dana White. If he was undoubtedly utilizing a series to hype up the Penn-St. Pierre fight, an identical copycat of 24/7 does little for the UFC's typical image of being an innovator. Given the UFC's penchant for placing fights on basic cable, White could have created a show that chronicled the training camps, but also delved into the UFC's extensive video library, showing the full first match between Penn and St. Pierre, or showing both fighters' matches with common opponent, and UFC legend, Matt Hughes. Instead, fans were treated to a poor attempt at a 24/7 replica, replete with a deep-voiced narrator and an attempt at a catchy new theme song.
Even in trying to be exactly like 24/7, the show misses one major fundamental: The fight has to be presented as one that either combatant could win. After the first half-hour, it was dead obvious that St. Pierre, who was already favoured, would dominate this face-off. While St. Pierre was deadly focused on each separate aspect of his game while training in frigid Montreal, Penn went on a weekend vacation in Hawaii just weeks prior to the biggest fight of his life. While St. Pierre's promise was shown in his training, the only promises coming out of Penn's camp were those delivered through trash talk. A look at the two fighters' training partners continued to show that the two men were on different levels. While Penn trained with UFC retreads Kendall Grove, Justin McCully, and Troy Mandaloniz, the St. Pierre camp featured fighters with experience in legitimate UFC main events, including light heavyweight contender Keith Jardine, former middleweight title challenger Nate Marquardt, and, biggest of all, current UFC light heavyweight champion Rashad Evans.
Though Penn's talent was clearly made unquestionable by the show, his heart became a bigger question mark on the series, which isn't how the UFC should be portraying the man if they were hoping to sell pay-per-views. Facing the equally talented St. Pierre, determination was to be the deciding factor in the fight, and the UFC should not have been revealing who had the major edge in that department more than two weeks prior to the fight taking place.
This is what HBO did right with 24/7. They made the viewer think that disarray in the Mayweather camp would put De La Hoya right back into the mix to pull out a win. They portrayed Ricky Hatton as a boxing god that could rival Mayweather's total package. They claimed that a born-again Roy Jones Jr. had one great performance left in him. They boasted that Manny Pacquiao's skill transcended weight classes. They made each of their profiled fights seem like they would be genuinely competitive. UFC Primetime did not provide any similar image for Penn and St. Pierre.
When it came down to the actual combat, 24/7's fights actually proved the claims made in the series. Mayweather, off of a fractious training camp, struggled with De La Hoya at points, eking out a split decision win. Hatton refused to back down on Mayweather, despite ultimately getting knocked out and beaten for the first time in his career. Jones, attempting to claim one last great moment, sent Calzaghe to the mat before the Welshman later became too much to handle. As for Pacquiao and De La Hoya, Manny actually was good enough to transcend weight classes.
What happened between Penn and St. Pierre? The Canadian came out more aggressive, fighting for takedowns that Penn defended for the majority of the dull first round. Moments later, St. Pierre's desire took over, with Penn never truly having a great moment in the fight, quitting on his stool prior to the start of the final round. The lackluster series was followed by a truly lackluster fight.
UFC Primetime could still go on to be a great show in future editions. Dana White's made more from less in the past. However, the execution of the show's first go-round should be enough to silence those touting the organization as the king of the world of combat sports. In terms of knowing how to put on a big fight, boxing's still comfortably on its throne, with little competition in sight.
[php snippet=1]