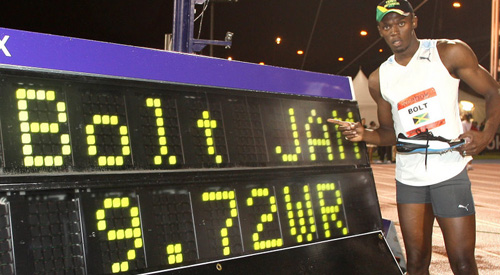 Usain in the Membrane
December 11, 2008
It only took 9.69 seconds, but Usain Bolt managed to steal Michael Phelps' thunder at the Beijing Olympics. Despite Phelps winning a staggering eight gold medals (five more than Bolt), none of them were individually more spectacular than Bolt's pulsating sprint in the 100-meter dash.
Memories are built on moments, not numbers.
In the primest of prime times, Bolt put on a show to give the Olympics blue-ribbon event its deserved platform. The men's 100 meters is the one race that every Olympic fan waits patiently for and hopes for a special moment that they'll be able to talk about forever. Usain Bolt delivered.
In doing so he returned the initials 'WR' next to the numbers 9.69. This is one event that should always have its best result at an Olympic meet. It just seems right.
Phelps, possibly the greatest swimmer ever, is certainly the most prolific Olympic Gold medal winner in history. With a personal tally of 14, at only 23 years of age, he'll likely add to his haul at the London Games in 2012, should he choose to compete then.
However, apart from the jubilation and splashing of fists into the water after he captured his seventh gold by the very tip of his fingernails from Serbian-American swimmer Milorad Cavic, Phelps will be remembered for the total amount of medals he won more so than any of his individual races.
Usain was like a bolt of lightning, yet he struck twice. 
[php snippet=1]
Just days after his electrifying run in the 100m, Bolt came out for the 200m in front of 100,000 fans at the Bird's Nest stadium. With millions more watching on TV around the world and everyone expecting to see another record, once again Bolt delivered.
Bolt rounded the bend, roared down the straight and flashed across the finish line just 19.30 seconds after exploding out of the blocks. He smashed Michael Johnson's world record time of 19.32 set 12 years ago in Atlanta.
It took him two races which combined, totaled less than 30 seconds, but Bolt had done the unthinkable … he'd upstaged the Baltimore superfish.
Bolt's run in the 100 was astonishing. In an event where hundredths of a second can make all the difference, he even left a few on the clock. If you didn't know what the term "scary-good" meant before, if you thought it was just one of those sayings of kids these days, then go on YouTube and watch Bolt's race.
Watch it again and again, and then you'll understand.
Despite annihilating his own record by four-tenths of a second, Bolt could have crossed the line sooner, had he not begun his celebration about 15 meters out.
Perhaps it was arrogance or perhaps it was immaturity from the then 21-year-old speedster, or maybe Bolt is just an old-fashioned showman, whatever it was it, he left everyone who watched his run salivating, screaming for more.
Rather than be overawed by the expectation, Bolt turned in another scintillating performance in the 200m.
This time, he didn't let up either. When it was obvious he wasn't going to be overtaken, Bolt was only chasing the record and he got it. Throwing his arms out triumphantly as he crossed the line, Bolt then went over to the crowd, found his family and draped himself in the Jamaican flag again.
Bolt's feats in the 100m and 200m means that he is the only man ever to break the world record in both sprints in the same Olympics.
His body and frame were supposedly too big for 100m, but perfect for the 200m. You can throw that reasoning out the door now, he's just perfect for running … and fast.
Furthermore, the 100m wasn't even his pet event, he only started seriously running it in March. Imagine if LeBron James decided a few months prior to the games, that he was going to try his hand at a diving and came out and piked his way to a gold medal! Okay, maybe that's an exaggeration, but you get my point.
Bolt starts his races the same way all sprinters do, hunched over in the starting blocks. It's in that moment only when his opponents are on equal footing with him.
At the sound of the starter's gun, Bolt begins his charge, before unfurling into a perfect running machine. His long, lanky legs search out the track and gobble it up; sprinting like a gazelle, his golden trainers seem to barely touch the surface.
For so long, this event had been dominated by stocky, nuggety men with tightly packed muscles. The final stretch for the finish line is usually close with a photo the only way to determine who crossed first. Bolt was so laughably ahead that Buzz Aldrin even scoffed that he was closer to Neil Armstrong than the other plodders were to Usain.
Bolt was so electrifying, that his glorious run has finally given us an image to supersede Ben Johnson's controversial one fingered salute when he dashed home in the Seoul games of 1988.
In that talent-laden field which included 1980's golden child Carl Lewis, the race became infamous. We now know that Johnson was a cheat, but he was unlikely the only drug-fueled runner on that notorious day 20 years ago.
Bolt has now confined that image to history and replaced it with his own.
[php snippet=1]