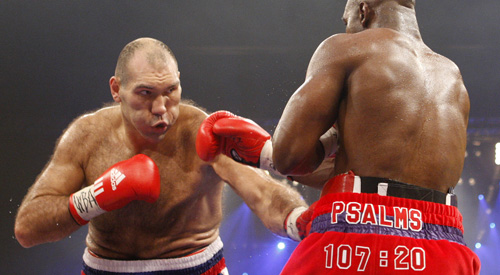 Valuev-Holyfield, what boxing has come to?
December 20, 2008
Boxing certainly is not a perfect sport. Mismatches often happen, thanks to promoters looking to build up their fighters' records. The results of matches being left in the hands of opinionated, inconsistent judges is also a much-too-frequent occurrence. What might be the sport's absolute worst aspect, however, is shown case-in-point by this Saturday's Nikolay Valuev-Evander Holyfield fight.
It's bad enough that the 7'0″, 320-pound Valuev has been artificially boosted into the echelon of top-flight heavyweights by virtue of lacklustre wins over the undersized likes of Monte Barrett and Larry Donald (who I still maintain won the fight). What makes things worse is that Valuev, who is one of the most discussed heavyweights based sheerly on his size, has not only taken a meaningless mismatch of a defense of his WBA Interim Heavyweight title to fight Holyfield, but that Holyfield is, in some strange dimension, still considered "marketable". This means that Valuev, whose awkward jab will likely get good action on Saturday, will receive a nice payout for a no-risk fight.
This is no knock against Valuev. One doesn't pick their size and what they're good at. If Valuev's size is used as an asset to win boxing matches, all the best to him. If Valuev's management, however, wants their fighter to be known as anything but a semi-successful sideshow in the annals of boxing history, there are only two names they should be going after: Vitali and Wladimir Klitschko. While Valuev's team has shown interest in a fight with Wladimir, a fight with Holyfield is not a step towards that fight. It is simply a step towards the ATM. 
[php snippet=1]
Since Valuev's entry into the title picture with his debatable October 2005 decision over Donald, his resume hasn't truly sparkled. His eight fights since Donald consist of proverbial never-was boxers Owen Beck and Jean Francois Bergeron, non-threatening name brands Jameel McCline and Monte Barrett, soft-touch titlist John Ruiz (twice), extremely faded ex-titlist Serguei Lyakhovich, and the talented Ruslan Chagaev. The one Valuev loss in those eight fights was at the hands of Chagaev, the only threatening fighter on that list. In retrospect, Valuev's lack of top-notch talent should have been evident when Chagaev chose to fight him, as the Uzbek's career path since that fight has been characterized by a multitude of injuries and soft touches, a group in which Valuev could certainly be characterized by a heavyweight with actual talent.
Though, barring one of the most shocking upsets in boxing history, Valuev will walk away with a victory on Saturday, his reputation will surely take a hit simply by his doing battle with Holyfield. The Real Deal was, at one point, a great boxer. He'd made a name for himself in the cruiserweight division by the mid-1980s, and bordered on becoming a heavyweight legend after that.
His 1993 fight with Riddick Bowe and his 1997 match with Mike Tyson are two of the most talked-about events in boxing history. Additional wins over George Foreman, Larry Holmes and Michael Moorer have cemented his greatness. Regardless, Holyfield should have long ago retired. Following a September 1998 win over Vaughn Bean, Evander won only two of his next nine fights, a span which probably should have included the end of his career at some point. Holyfield decided to keep grinding, winning four fights in a row over an assortment of tomato cans and faded veterans before, on name alone, receiving a title shot against Sultan Ibragimov. The fight was an easy Ibragimov win, which the Russian followed by losing a decision to Wladimir Klitschko in one of the worst fights of 2008.
Why does Holyfield keep going with nothing left to prove at the age of 46? It might not be by choice. A myriad number of legal issues appear to have left Holyfield with close to nothing. Sadly, his name is what's keeping him afloat.
Just as one can't blame Valuev for fighting in this match, the finger also cannot be pointed towards Holyfield. If somebody's willing to pay him to fight in title fights solely because of his name, The Real Deal should not be criticized for accepting the paycheque.
The sport of boxing generally gets a bad rap, with a small minority of ridiculous fights and incidents holding responsibility. This fight certainly contributes to it. Do yourself a favour and take a pass on this one, as your time and money should be saved for the sport's brighter days ahead.
[php snippet=1]