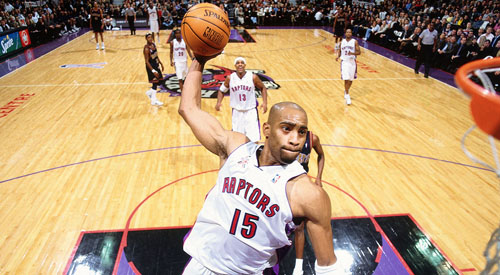 Where now for Vince Carter
October 7, 2008
Vince Carter has always been a wanted man. Though selected by the Golden State Warriors with the fifth pick in the 1998 Draft, the Toronto Raptors had already organized a pre-draft deal to bring him to Canada making it clear to him that he was the guy they were after.
Still a new team on the NBA horizon, the Raptors were struggling. Few kids ever grew up with hopes of playing in the NBA for a Canadian team. Only one of the more glamorous basketball cities such as LA, New York or Chicago is where most budding stars imagine their dreams will be realized.
Though the Raptors had been able to sign some talented players in their short existence, most had bolted back to a US-based team at their earliest opportunity. Toronto then turned to Vince Carter, ever hopeful that he would be the guy who could help the team shed its uncool image.
When Carter arrived in Toronto, the perceptions about Canada and the Raptors started to change. He said all the right things and didn't appear to be in a rush to get back to his homeland either. Unlike some of his predecessors, Carter seemed to be more than happy to ply his trade across the border, anywhere that he was welcome and wanted.
The early years of the relationship went well. Not only was the kid out of North Carolina living up to the hype surrounding him, he was also turning the Raptors into a playoff contender. On top of that, the city loved him. In a city crazy for hockey, all of sudden Toronto was buzzing about its basketball team and its superstar. 
[php snippet=1]
Unfortunately though, the love-in didn't last. Soon after Carter signed a long-term contract in the summer of 2001 to stay with the team, his falling out with Raptors management ensued.
For all of the man's athletic abilities, the one area of his game that was lacking was his leadership. The game itself came easily enough to him, but as Toronto looked to him to carry them to the next level, he appeared uncomfortable with the added responsibility and wanted to carry on playing without the burden of responsibility.
In short, he didn't want to grow up.
As the relationship soured and deteriorated, the man affectionately known as Air Canada pouted his way out of Toronto. He stopped playing and stopped trying. In the end he quit on his team and on himself. The Raptors had no choice but to trade him.
There was no shortage of suitors lining up to try and land one of the NBA's biggest draw cards. There were those who felt that Carter deserved a grander stage anyway, one which was worthy of showcasing his vast array of skills and talents. For some, it was a waste, him being in Canada at all.
Carter finally got his wish in December 2004 when the Raptors traded him to the New Jersey Nets. To make things worse, the Raptors didn't get much more than a few draft picks and loose change in return. Carter left a bitter taste in the mouths of Raptors fans and team officials that wouldn't go away quickly.
When Carter then joined the Nets, they were just over one short season removed from making back-to-back trips to the NBA Finals, in 2002 and 2003. They'd come up short both times but to little disgrace as they were simply beaten by a better team on each occasion.
In both Finals losses, it seemed that New Jersey was just missing that one crucial ingredient, that intangible that nobody could quite put their finger on. Carter, it was hoped, was that missing piece and the one who would be the difference between the Nets winning it all and finishing in second place again.
As it was with the Raptors, things began well between Carter and the Nets. They made the playoffs in his first season, though they were swept in the first round. That was okay though, the team hadn't been together for a full season and were still getting used to each other. In the following seasons, things would surely be different.
But, as it was also with Toronto, Carter wasn't able to take the Nets to that "next level" and now it appears as though the party is over, at least for VC15 in New Jersey anyway.
When the Nets traded away Richard Jefferson to the Milwaukee Bucks for Yi Jianlian and Bobby Simmons, it was a clear signal that their intention is to begin rebuilding once again. They'd already made one major move at the trade deadline last year when they traded away Carter's other running buddy – Jason Kidd to the Dallas Mavericks – and now the Nets appear to be closing the chapter on what was a promising start to this decade.
Carter now finds himself lost. For the first time in his life, he's on a team that doesn't really want him. Nets' GM Rod Thorn will never come out and actually say it, but as New Jersey has already sent his two closest teammates packing, Carter surely knows that it is only a matter of time before he goes too.
Ironically it appears as though the Nets have quit on Carter, just as he quit on the Raptors a few years ago, but that is not necessarily the case. The Nets themselves haven't quit, in fact it's quite the opposite as they now have a young and exciting team with big plans for a bright future, only Carter isn't a part of those plans.
Few have made the game look as easy as Vince Carter has. At times, he is almost impossible to defend. With a smooth jump shot and a sometimes unlimited range from three-point land, it can be a pointless exercise to try to defend him. Get up tight in his face and he'll simply step back further, get too close however and he can be in the lane in a flash, drawing panicking defenders from everywhere.
Carter also had that something special about him, that extra talent that is hard to define and only a few possess. That unpredictability that makes fans watch every night, knowing that on any given night something special, one of those once-in-a-career moments just might happen.
The nickname "half-man, half-amazing" came about early on when it was obvious that Carter possessed extraordinary athletic ability. Not only that, he also displayed the timing of a high-priced showman as he marked his arrival to basketball's biggest stage perfectly. Michael Jordan had just retired – again – but this time he meant it and the NBA was heading to a period of uncertainty.
Many players had been given "The Next Jordan" tag, but Carter seemed more suited than most to inherit the title. Ironically, he'd already attended the same college as Jordan – the University of North Carolina, so Vince had heard the comparisons to UNC's most famous alumni already and they were nothing new.
Carter could not only showcase all the offensive repertoire required of a Jordan apprentice, he also displayed another of MJ's famous trademark pieces with his leaping ability which allowed for him to hang in the air – just like Mike did. The only difference between the two being Carter's tendancy to keep his tongue in his mouth.
The main problem with Carter though, is that for someone so blessed with talent, it's far too often that his team is on the losing side of the score sheet especially when their leader looks like he's still a got a bit left over in the tank. Many NBA players and athletes in general talk about how it feels to say that they "left it out on the floor" at the end of each game. Losing is acceptable, as long as you gave it your all.
With Carter, you feel that he tries hard most of the time, but he's not desperate to win.
Lately, Carter has no doubt been casting an envious eye towards fellow 1998 draft mate, Paul Pierce who recently celebrated his first NBA championship. Prior to this season, the careers of Pierce and Carter had followed similar paths. Both had been high scorers and All-Stars but neither had been able to taste the ultimate success.
Now one sits atop the NBA world as a champion with a Finals MVP trophy to boot, the other still has nothing but frustration and emptiness. Seeing how quickly things turned around for Pierce might encourage Carter that it could happen for him too, but in truth, he knows that it is unlikely.
It's not too late for Vince Carter to save his career, and technically he still can get his hands on an NBA championship. He'll always draw crowds too, as there will never be a shortage of fans hoping to see one more of his monstrous dunks. But unfortunately now for the Heir to Air, it will be as more of a side-show than the main event on basketball's biggest stage.
[php snippet=1]