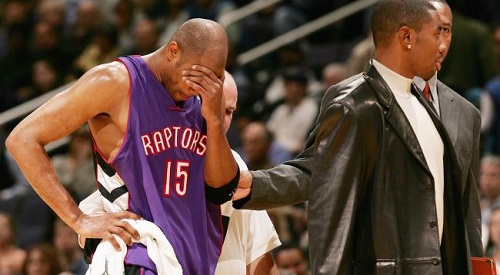 Toronto doesn't need Vince, not now or ever
December 4, 2012
"Introducing first, a 6'6" guard, from the University of North Carolina, number 15, Vince Carter!"
Imagine those words being uttered by the Raptors PA Announcer at next season's home opener.
Carter, once heralded as one of the top five talents in the game when he was at his peak, considers Toronto as a possible resting place to finish his career. Hold on a second – a free agent, after this season, wants to play for the Raptors? This warrants some serious consideration, doesn't it? After all, they have been sniffing around Mickael Pietrus since late August, before finally biting the proverbial bullet, at an additional cost of course.
Isn't that how it has always been for this team? They overpay athletes just to get them. They handed $40 million combined to Hakeem Olajuwon and Rasho Nesterovic; we all remember those days. Toronto fans still grind their teeth over it. It's the case with all of their sports teams. For whatever reason, Toronto is either perceived as a stepping stone to somewhere else or the team where second-rate players who are past their prime go to play in hopes of landing their last lucrative contracts. Red Sox manager John Farrell thanked Toronto for allowing him to learn on the fly and be ready for his "dream" job in Boston. Farrell, Chris Bosh, Carter and Tracy McGrady all had one thing in common, they all wanted to leave.
[php snippet=1]
Some will argue that Vince Carter is by far the best Toronto Raptor to ever step foot on the hardwood. Many will say he put Raptors basketball on the map and elevated the team to relevancy in the late '90s and early aughts. That's all undeniable; I'm sure every diehard Raptors fan remembers the high flying dunks and game winning buzzer beaters. That does not mean Carter should have his name above a locker in the home dressing room at the ACC or get his number retired, ever.
For starters, the Raptors just signed DeMar DeRozan to a four year extension, undoubtedly as a franchise cornerstone. The team also drafted shooting guard Terrence Ross, signed Landry Fields this past offseason, and still have Linas Kleiza. That doesn't leave much room for Carter; all four players are under contract next season and can all play each position. Adding another wing incapable of starting and contributing in a major way at the three-spot would stunt the development of Terrence Ross; his play and confidence have soared over the last few weeks and he is in a dog fight for minutes as it is.
Even coming off the bench this season for Dallas, Carter ranks 11th in the league in three pointers attempted. That only takes shots away from guys more efficient from long range, like Calderon and Bargnani, and doesn't turn the tide from the team being a jump shooting squad. Vince also ranks 14th in the NBA per 48 minutes in field goal attempts per game. If the Raps were to lose someone to an injury, that's approximately 23 shots per game at a 40 percent clip. Not what this team needs when Carter has attempted more threes than he's made free throws this year.
Since the team's inception in 1995, the Raptors have been known as a less than defensive, jump shooting team. For whatever reasons, they are unwilling or unable to get to the free throw line at will or make that key stop at the end of the game. Coach Dwane Casey has worked immensely toward changing the culture of this team as well as the defensive makeup, or lack thereof. The team has bought into the "Pound the Rock" mantra, based on hard work, dedication and determination. This means hard work in practice, hard work in games – hard work 100 percent of the time.
Does this team, struggling to find their way, need to wonder whether or not one of their guys is giving his all in the midst of battle? Carter is a guy who flat out said there were times where he did not put forth a complete effort during games. There was never an issue picking up cheques for a couple hundred grand every two weeks, but giving 100 percent was; the proof is in the numbers too.
Through Carter's seven rollercoaster seasons in Toronto, he played in an average of 59 games per season, not including the lockout shortened season. His numbers as a Raptor include 22.1 PPG, 4.9 RPG and 3.7 APG. During his six seasons with the New Jersey Nets, Carter played in an average of 74 games per season with 23.9 PPG, 5.6 RPG and 4.6 APG. Carter also made and attempted nearly 600 more free throws during his time with the Nets compared to his time in Toronto, and he did it in one less season.
Did Vince Carter become a superstar after he was traded from the Raptors? Hardly, he was already a star. He was only the third player in history, preceded by Julius Irving and Michael Jordan, to lead the All-Star ballot three years consecutively, and did so as a Toronto Raptor. In his first All-Star appearance, he treated the world to one of the greatest slam dunk competitions since Jordan. Vinsanity followed, as he leapt over 7'2" Frederick Weis in the 2000 Sydney Olympics and set the world ablaze.
He was never as feared as he was in a Raptor uniform as he was elsewhere, yet the numbers tell you something different, or do they? These numbers tell Raptors fans what they already know; Carter didn't give 100 percent night in and night out. That's a problem, not a solution.
Men and women lie, numbers don't.
[php snippet=1]