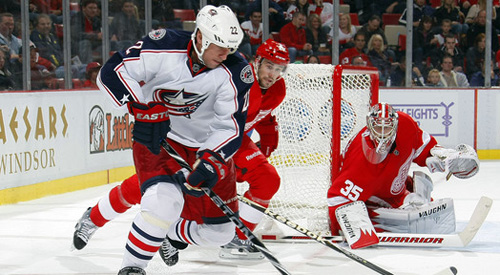 Vinny Prospal: Resurgence in Obscurity
January 13, 2012
Amidst the struggles of Blue Jackets captain Rick Nash, the unfortunate injuries that have plagued Jeff Carter's season, and the recent firing of head coach Scott Arniel, there is still at least one positive story coming out of Columbus: the exceptional play of veteran forward Vaclav "Vinny" Prospal.
Signed as an unrestricted free agent by the Jackets this past July, Prospal has played above and beyond his and team expectations. He has contributed more than any other Blue Jackets player to the firing of the cannon at Nationwide Arena as he leads the team in scoring with nine goals, 21 assists for 30 points in 42 games.
Although he is only one point ahead of Nash, who currently boasts 14 goals and 29 points, Prospal's minus-11 rating (believe it or not) is much better than most of the team's top minute munchers – including Nash – who carries a team-worst minus-22.
For Prospal, who played just 29 games for the New York Rangers in 2010-11 after undergoing surgery on his right knee, a healthy start on a new team seems to have put him right back on track, as the 36-year-old winger is on pace for a 17-goal, 57-point season on the struggling squad. 
[php snippet=1]
Although Prospal has played the majority of the season on the second line alongside Antoine Vermette and rookie Ryan Johansen, he has managed to become a fixture on the Jackets' top power play unit, racking up two goals and five assists with the man advantage – second only to Nash, who currently boasts a total of nine power play points.
With the combination of injuries that have kept a similar player in Kristian Huselius out of the line up for all but two games this season, the acquisition of Prospal couldn't have come at a better time.
As an experienced player whose best season totals (79 and 80 points) came while working alongside skilled players as a member of the Tampa Bay Lightning, Prospal has also served as a mentor to youngsters like Johansen, who is quietly having an exceptional rookie season with seven goals, 15 points and a plus-3 rating.
With the recent string of injuries, the Jackets' line combinations have been juggled around causing Prospal to occasionally see time on the third line, but nonetheless, he has still managed a goal and three points in the past five games.
Now, the play of Prospal obviously isn't enough to help Columbus out of its downwards spiral that has the team placed dead last in the league standings (which could in turn land the club its first first-overall pick since Nash in 2002), but the one-year deal the Jackets signed him to has be recognized as one of the most successful free-agent acquisitions of the year.
After all, if Prospal weren't on the team, Rick Nash would currently be the only player to have over 20 points on the season – a frightening notion for the Columbus faithful.
[php snippet=1]