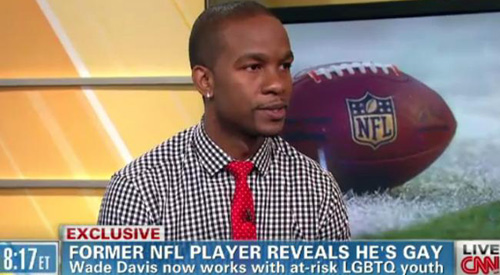 The insignificant relationship between sexual orientation and sports
July 24, 2012
Do you recognize the man in that picture? Perhaps you don't. Perhaps, too, I should ask whether you know him before asking whether you've recognized him – I know that I didn't know him. It's been about six weeks since Wade Davis made the news and so, chances are that if you didn't know him then, you probably still don't know him now.
It's unfortunate if that's the case.
For now, let's see Wade Davis as the former NFL player that he is. Davis played college football in the NCAA at Weber State, then spent some time with the Tennessee Titans in 2000 and 2002, trying to crack their 53-man roster. But both times the Titans let him go before the start of the regular season.
This isn't to say that Wade Davis wasn't a great football player. Oh, he was good enough when he played to be invited to an NFL training camp, but he never made it past that. Players like Davis usually aren't household names. That's why it's not a surprise if you didn't know his. It's players like Drew Brees or Ray Lewis that usually make the news, not the Wade Davis's of the NFL.
Davis doesn't play football anymore. He's working at the Hetrick Martin Institute, which aims to create "a safe and supportive environment" for lesbian, gay, bisexual, transgender and questioning (LGBTQ) youths aged 12 to 24. The Institute wants to help all young people achieve their full potential and have a sense of family and community, Wade Davis should be celebrated for his role within the Institute.
Another reason that he should be is that he has decided to publicly come out as the homosexual man that he is for the first time in early June. 
[php snippet=1]
Our society remains prejudiced against such stories, but there may be hope as Davis's announcement didn't really dominate the headlines. It hasn't now, obviously, but it didn't even six weeks ago when he first made his decision – and rightly so, because it shouldn't.
It changes absolutely nothing that a man like Wade Davis is a homosexual. If you knew him before the announcement, well, that's just another layer to add to his personality, but Wade Davis the man is still the same. Who cares, and why would you? It's just so inconsequential. That's how it should be, but of course, too often that's not the case. Too often a man like Wade Davis will be victimized if and when he decides to let his sexual orientation be known.
In the case of a football player, such victimization may be all the more difficult because the stereotype persists in football that homosexuals aren't as manly, potent or masculine as others. It's false, obviously, but let's only insist on what Davis himself has to say on the topic.
"You just want to be one of the guys, and you don't want to lose that sense of family," Davis told OutSports.com. "Your biggest fear is that you'll lose that camaraderie and family. I think about how close I was with Jevon (Kearse) and Samari (Rolle). It's not like they'd like me less, it's that they have to protect their brand."
In Davis's mind, it's so tough to win a roster spot in the NFL that a player shouldn't do anything that might compromise what little chance he has to begin with. Yet while it may be true that playing in the NFL is important for most football players, this shouldn't in any way be more important than their capacity to live an authentic life. More than anything else, that's the message of Wade Davis.
Perhaps one day a football player will let it be known that he's a homosexual man during his playing days. Perhaps that player will be the star receiver of the team, a necessary linebacker, or even the backup safety. Regardless of who he is, let's hope that this decision won't affect his odds of enjoying a successful and fulfilling career in the NFL.
"I want anyone, whether you're the first man, the 25th-man or the last man, or even someone on the practice squad, to come out and say, 'You know what? I'm gay," Davis says. "(But) I'm still a great athlete, and I'm an even better human being.'"
That said, I can't help but wonder why this is even so relevant. A man like Wade Davis making this announcement shouldn't be a story, and it says more about our society that it is than it does about him.
Why must there finally be, at all costs, a professional hockey, baseball, basketball or football player (i.e. the four major North American sports) who identifies himself publicly as a homosexual man? In other words, why is it so important for most that there finally be a first? Fundamentally, an athlete's sexual orientation has absolutely no bearing on his performances, on whether he can catch a fly ball or he can pressure the opposing quarterback. It's nothing more than a footnote, or at least it should be – unfortunately it's something that matters so little but that, too often, is made to matter so much.
Davis doesn't play football anymore but he's still relevant. He explains to SB Nation's Amy K. Nelson what it was like to come out for the first time, to a female coworker.
"(It was) liberating in a way but at the same time, awful," he says. "Awful means taking a scab off my entire body as aggressively, as physically and as horribly as I can. I bleed in the best kind of way but also in the worst kind of way because I bleed alone without anyone able to offer me any type of antiseptic or bandage. It was just awful."
Davis describes his short time in the NFL and an instance when a teammate had told him that he would probably be chosen for one of the final roster spots – all he needed to do was avoid doing anything that could cast doubt on his dedication to being the member of an NFL team. Football players play football, and they should make that obvious, but should they keep hidden anything that isn't directly related to that?
Perhaps that's why Davis never told anyone publicly when he played football in the NFL. The irony, of course, is that Davis never made the 53-player roster of a team despite having kept this secret hidden for so long.
But he's a better man today.
[php snippet=1]