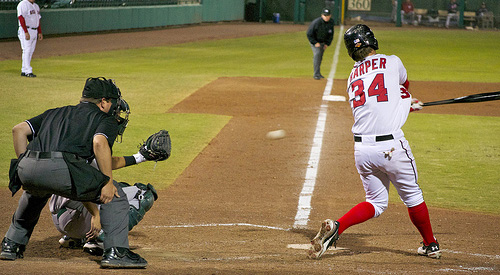 Of Bryce and Men
December 21, 2011
Bryce Harper should start the 2012 season in the minors.
He is one of the most exciting prospects in years. A scout's dream; the kind of player any would give up their firstborn sons to sign. Tremendous bat speed, a don't-argue arm and the work ethic to match means baseball has a player that could generate a level of buzz not experienced since the era of pharmaceutically-assisted super sluggers. Every one of Harper's at-bats will receive national attention. And they should. He is as good as they say. But Bryce Harper should start the 2012 season in the minors.
Let me preface what I'm about to say with this: Harper will one day be a Hall of Famer.
Growing up, Harper's father pitched sunflower seeds to him to hone his eye, much in the same way Dominican kids hit bottle caps with broom handles. At three, Harper played on his six-year-old brother's tee-ball team. At 16 he hit the longest recorded home run in Tropicana Field history. Then, after a short stint at the College of Southern Nevada, Harper was selected first-overall by the Washington Nationals. He was 17.
Now 19, Harper has just completed his first full year of professional baseball. He tore up A-Ball, producing a .423 OBP with 14 home runs in 300 at-bats before struggling somewhat in Double-A with a .329 OBP and only three home runs in 147 at-bats.
A hamstring injury cut short his Double-A season but he was given the opportunity to compete against other top prospects in the Arizona Fall League. There he started slow, but was able to make adjustments (the kind big league hitters make) and rebounded to hit .333 with a .400 OBP, adding six home runs. His performance in the AFL and his pedigree as a top prospect led Nationals' GM Mike Rizzo to announce that Harper would have the opportunity to start the season with the big league club. While there is little doubt Harper will at some point debut as a teenager – joining players like Ken Griffey Jr., fellow prospect Mike Trout and Harper's idol, Mickey Mantle (Harper wears 34 because those numbers add up to Mantle's iconic "7") – it is in the Nationals' best interest to delay that debut, at least a little while.
[php snippet=1]
Why should the Nationals delay Harper? It's not because he won't perform. Yogi Berra said baseball is 90 percent mental, the other half is physical. And while Harper is physically ready – with unreal power and the tools big league teams covet – he still is developing mentally. Harper is a fiery competitor with a solid work ethic who shows his love for the game every time he plays. He also has been the recipient of a mound of praise. Scouts, coaches, media, fans and fellow players have all sung his merits, announcing him as the best positional prospect in a generation; the Lebron James of baseball. Any young player would have difficulties keeping a small head when showered with such admiration. Has Harper been able to play it off and remain humble? No. The one true criticism to surface of Harper is his arrogance.
If Harper's going to succeed in the bigs he needs to acknowledge that neither his opponents nor his teammates will care about how much success he's had up to that point. If you put the work in and perform, you'll earn respect. If you blow kisses to the opponent's pitcher (as Harper did in the minors) you'll need to learn how to dodge fastballs. The Nationals should wait. Let Harper play Triple-A. Let him go through the grind of playing minors baseball. Let him fall into a slump and see if he can get himself out. Let him make a crucial error on an easy play. Let him feel the frustration of a tough loss as he argues with a teammate.
The redeeming factor in his personality could be that his arrogance is born of youthfulness. Once he's had time to mature and develop in the minors it's an arrogance which will hopefully change into steady confidence. The Nationals need to let him grow a little more in order to enable him to meet his full potential. Especially because their best baseball is at least another season away.
Washington's line-up is weak. Outside of Ryan Zimmerman they have little protection for Harper. Jayson Werth struggled away from Philly, Michael Morse is a 29-year-old with only one bright season, Danny Espinosa has power but makes too many outs and unless the Nationals can add an impact bat or frontline arm before the season, they'll have little chance of keeping up in the National League East.
Philadelphia is still strong. The Braves' youth movement should begin to pay dividends and the Miami Marlins just got a whole lot better. If Harper starts the season with the big league club he'll be expected to produce at a high level immediately. And despite his competitive spirit and vast potential, it's too much to ask of a teenager.
When Trout was called up last season he faced a similar situation, a weak lineup with no protection in which he was expected to provide a spark. The whole baseball community was watching and when he struggled, it was magnified because there was no one else in the lineup to take the weight.
When Andruw Jones debuted for the Braves as a 19-year-old, it was in a low-pressure environment. The Braves already had solid outfielders. A poor performance from Jones meant little to the overall picture.
Harper won't receive the same luxury. There hasn't been a prospect up to this point that has been as closely monitored. Where previously top prospects would be known within the baseball community and by the smartest fans, the internet has meant every aspect of a prospect's development is available instantly to a vast fan base. And when Harper makes it to the majors the attention will increase.
Even if he plays well, anything less than a repeat of Albert Pujols' otherworldly rookie year in which he produced a 7.7 WAR would be considered a disappointment. The pressure will increase every time he has a hitless game. The country will notice when he strikes out, pops up or grounds back to the picture. With each failure the whispers (or rather tweets) will grow louder.
Overrated.          Too young.         A waste of a pick.             Diva.      Overpaid.
The Nationals' best years will be from 2013 on, when they'll have two once-in-a-generation players on the same roster with Ryan Zimmerman still in his prime and a number of current prospects beginning to crack the club. They should be patient with Harper.
I expect Harper's debut will be bigger than that of Stephen Strasburg. Very few players carry the expectations of a team like Harper. By delaying his arrival, the Nationals will relieve some of the pressure he'll face. But how long should the Nationals wait?
I see this question being answered when two sets of criteria are met:
First, the Nationals must have fallen far enough behind in the playoff race that Harper won't be expected to be the difference maker. This Nationals' team isn't the 2010 San Francisco Giants. A super rookie will not be the difference in making the playoffs. They have too many question marks in the rotation to currently make a run.
Second, they must be able to avoid having Harper categorised as a Super Two player. This will delay Harper's free agency by a full year, meaning they extend their competitive window when they truly will have a shot at winning a World Series.
I firmly believe Bryce Harper will one day be a Hall of Famer. Teenage major leaguers don't come along often and when they do arrive it's usually because they're something special. More often than not they start slow, no surprise there, but ultimately – as was the case with Ken Griffey Jr., Ty Cobb, and Mickey Mantle – they go on to greatness. Harper will debut at some point next season, and if the Nationals are smart, they'll be patient before unleashing him on opposing pitchers.
[php snippet=1]