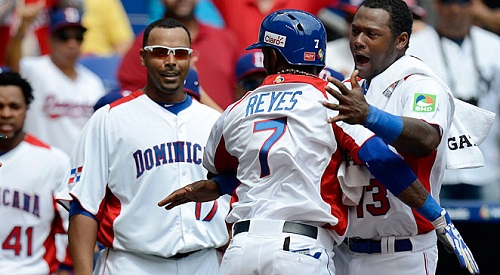 Reclassifying the Classic: The WBC Explained
March 20, 2013
It takes a massive brawl.
Canadian and Mexican players rushing out of the dugout and hurling themselves at each other. It takes a death stare from Alfredo Aceves and Larry Walker playing mediator and showing why he belongs on the all-time class team. Only then does the World Baseball Classic (WBC) begin to make noise. The video is shared on Twitter and Facebook. It runs on ESPN (even here, in Australia).
Then it's over. And everyone goes back to not watching. Even baseball fans in this country, who are normally the most diehard and hardy dying, aren't paying much attention. Yes, the Australian team went 0 for 3, but there are plenty of great storylines left. There's plenty of great baseball to be played. But no one's watching.
The first issue is the talent. Big league clubs aren't eager to watch their multi-million dollar assets go off and injure themselves. After Dice-K helped Japan win the 2009 Baseball WBC, he pitched atrociously for Boston and landed on the disabled list several times. It was later revealed that Dice-K injured himself training for the WBC.
There's less fear around positional players, but the act of pitching is one of sport's most strenuous activities, and teams fear that just a couple of extra starts could be the difference between a healthy season and an injured plagued season.
[php snippet=1]
If the U.S. Olympic basketball team didn't have LeBron James, Kevin Durant or Kobe Bryant, would anyone really care? Probably not. Plus, if the star players don't show up then the U.S. can turn around and say, well if they had, you wouldn't stand a chance. No other country poses a threat big enough to wake the giants. The level of competition in the U.S. is so high, that there's an assumption that the quality of their national team (when full-strength) would reflect the quality of their league. But there's so many talented players who come from around the world. It's almost insulting that the U.S. won't field its strongest team (Willie Bloomquist made the bloody roster) while players like Miguel Cabrera gladly suit up for their country. It comes down to pride.
For countries outside of the U.S., winning the WBC is a major achievement. But within the U.S. it's a non-issue. Baseball is a feudal operation where kings (general managers) look to dominate their region (division), and then the country. It's a long campaign, filled with hundreds of battles. And the victor at the end of this marathon is unquestionably the greatest. Whereas the WBC is a minor occurrence that happens over only a few weeks, baseball is about the long haul, why should we care about something that's resolved in only a few weeks?
Winning the World Series is the greatest triumph so that's where the greatest efforts must be made.
So what if the stakes were raised?
The WBC won't get attention until star players show up, and star player won't show up unless there's a reason to. And remember these are guys getting paid millions, a cash prize won't entice them.
Why do NBAer like James and Durant show up for Team USA? Legacy. The idea that their contributions will be remembered with the contributions of the great teams of the past. Look at how much buzz there was around the comparison between the latest dream team and the 1992 dream team.
So how can we build that legacy for the WBC? There's no clear answer. One great event would be for a rivalry to explode. For someone to not only kick the United States' ass, but also make a big deal out of it. Maybe if the best players in the world were called out, they'd turn up. But honestly, when the guy signing their checks tells them he'd rather they stay indoors, they probably will.
The WBC leaves us wanting – and there's really no clear solution. There's no great river of competition that teams join midstream (Ken Burns documentary). There's a kiddy pool in a multicultural part of town, and no one really wants to get wet anyway.
[php snippet=1]