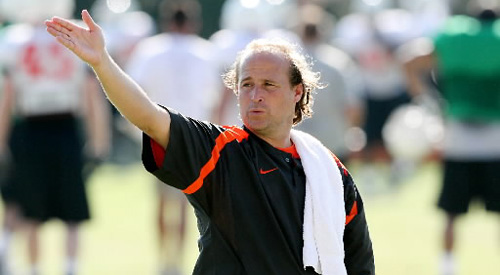 Under-the-radar West Virginia has title shot
August 30, 2012
Much of the buzz heading into the college football season revolves around the consensus favorites, and for good reason; while underdogs always have their day and knock some teams out, it's still usually a team that was highly ranked initially that winds up claiming the BCS title. As Bryan Fischer points out at CBS' Eye On College Football, only five teams ranked outside the top 10 in preseason polls have claimed a national title in the BCS era (since 1998), and only one of those teams (2010 Auburn) was outside the top 20.
Still, those are five teams few saw coming, and that could happen again this year. Fischer lists three teams outside the preseason top 10 he could see making a title run, and one of those teams in particular, the West Virginia Mountaineers, has a case well worth exploring in further depth.
West Virginia, ranked 11th in both the AP and the coaches' polls, is in an intriguing situation, as the Mountaineers have paid through the nose to leave the Big East and join the Big 12 this year. Generally, teams heading to a new conference are at a bit of a disadvantage, as they don't have a lot of previous background on most of their conference opponents, making each week an intense scramble to catch up. (Meanwhile, West Virginia may be new to their opponents as well, but their opponents also have plenty of familiar foes, so some research on and preparation for the Mountaineers can perhaps be done in advance.)
Things get even tougher when you're heading to a conference that's generally regarded as a step up from your previous one, and when you're doing so with only a second-year head coach in Dana Holgorsen. 
[php snippet=1]
When you move beyond the generic to the specific though, things look better for West Virginia. For one thing, Holgorsen's incredibly familiar with many of the Big 12 teams, as he made his reputation as an offensive whiz with Texas Tech and then Oklahoma State. For another thing, Holgorsen's brand of aerial mayhem has been notoriously effective in the Big 12; he and Mike Leach used it to allow the Red Raiders to compete with the big teams, and his implementation of it with Oklahoma State not only led the Cowboys to solid 2010 success, but paved the way for their Fiesta Bowl-winning 2011 after he left for Virginia Tech. It's a conference that's been more known for offense than defense in recent years, particularly aerial offense, and that could make the Mountaineers a real threat.
Moreover, the conference's traditional powers are down a bit at the moment; No. 4 Oklahoma's the only Big 12 team ranked ahead of West Virginia (and that's well below their first-overall preseason ranking last season), while 2011 conference champion Oklahoma State has slipped to No. 19 in both polls following the departures of star QB Brandon Weeden and top receiver Justin Blackmon. The only other Big 12 teams in the AP Top 25 are No. 15 Texas, No. 20 TCU and No. 22 Kansas State. Baylor, Iowa State, Texas Tech and Kansas are all unranked. Yet, the Big 12 still has a reputation as a stronger conference than the Big East, and its teams still look tough enough that the conference champion will be well-regarded.
The Mountaineers' roster also looks solid. They have a returning quarterback in Geno Smith who blew people away last year, putting up 4,385 yards and 31 touchdowns in the passing game with a 65.8 per cent completion rate. He's getting a substantial amount of Heisman buzz, and has two amazing returning receivers to throw to. If he was that good last year in his first year in Holgorsen's system, what's he going to do now he's familiar with it? They also have a pretty decent cast of running backs, an impressive offensive line and a solid linebacking corps. Sure. the receiving depth beyond the top two is a bit iffy, and overall defense may still be a question, but this is a team with a lot of potential, especially in the passing game. If they can live up to that, "Holgo the Barbarian" might just lay waste to the Big 12.
West Virginia's schedule could line up perfectly for a title run too. The Mountaineers' non-conference games are against relative lightweights Marshall, James Madison and Maryland, and they get Oklahoma and TCU at home. That Oklahoma game in particular will be a challenging one, as will road clashes against Texas and Oklahoma State, but those are all potentially winnable games for West Virginia.
If this team manages to go 12-0, they'll be awfully tough to keep out of the title game. Getting there would require a lot of things to go right, but there's a real chance the Mountaineers could pull it off. If they do make it to the championship, we might just see the sixth-ever BCS champion from outside the Top 10.
[php snippet=1]