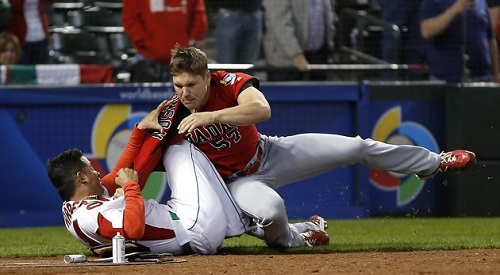 Weighing in on the World Baseball Classic
March 14, 2013
The World Baseball Classic is a terrific idea, a competitive tournament, and a fine showcase of baseball's global reach. Sadly, there are three key factors holding it back:
Pitch Counts. There are a ton of things that make baseball great, but seeing at least four relievers in every game is not one of them. With the danger of pitching injury, though, especially with the fear that countries might overwork their pitchers in order to win, the rule was instituted to limit each hurler to 65 pitches in opening pool play, 80 pitches in Round 2, and 95 pitches afterward. Because of this, even the finest early-round starting performances lasted only through the fifth inning or so, spurring a bullpen parade immediately thereafter. Game 7 of the 1991 World Series isn't remembered because the Twins went bullpen-by-committee; Jack Morris fired all 10 shutout innings. Even in the current Major League postseason, a starter like Justin Verlander or David Price will pitch as long as he can, aiming for a complete game victory. In the WBC, every game boils down to relievers, particularly middle relievers. But, hey, it's not like Justin Verlander or David Price is a true option, because…
The Best Players Aren't All Taking Part. Verlander and Price aren't on Team USA, and neither are Andrew McCutchen, Mike Trout or Josh Hamilton. Sure, the team is still loaded – Jimmy Rollins, Brandon Phillips, Joe Mauer, Ryan Braun and David Wright comprise a solid offensive force – but the absences are still notable. The American starting pitchers thus far are R.A. Dickey, Ryan Vogelsong, Derek Holland and Gio Gonzalez. That's not bad at all, but consider a quartet of, say, Verlander, Price, Clayton Kershaw and Stephen Strasburg. Ask yourself how seriously you would take a Team USA basketball team without the participation of LeBron James and Kevin Durant. Similarly, Team USA is missing some of the finest talent in the world. How much stake, then, can we place in the team's competitive performance when the team isn't all-in? Worse, there's a lingering shadow because…
It's Easy to Scapegoat. Every single injury suffered by a player in the WBC is pretty clearly the tournament's fault, but it goes beyond this. The scheduling of the World Baseball Classic has tossed a monkey wrench into early-season preparation, causing camps to open earlier than usual and taking players away from their Major League teams and workouts. The Milwaukee Brewers, for instance, had 12 different players spread out over WBC rosters, with their troubles in fielding spring training lineups detailed by Fox Sports Wisconsin. Come the start of the season, it would not be the least bit of a surprise if the Classic were blamed for any surprising early season struggles and heaven forbid a WBC-participating pitcher comes down with an injury come midseason! The sky might very well come down.
[php snippet=1]
And yet it's all worth it. All of it. Because…
The Players Care. This cannot be understated.
The heart of the reason why All-Star Games in every single sport have lost their luster is not because of fan apathy; it's because of player apathy. We yearn for the days of Pete Rose running over Ray Fosse because these were days when National League fans cheered in full throat for the NL squad to triumph, American League fans went crazy for an AL victory – and here was Pete Rose giving his all in order to win. You don't get that same emotional must-win feeling from the Major League All-Star Game anymore, even if World Series home-field advantage is on the line.
But we do get that feeling from the World Baseball Classic. Even with the aforementioned absences, the WBC features All-Star talents playing together – Canada's Justin Morneau and Joey Votto; Puerto Rico's Carlos Beltran and Yadier Molina; Venezuela's Miguel Cabrera and Pablo Sandoval; the Dominican Republic's Jose Reyes and Robinson Cano – and doing everything they can in order to win. There is raw emotion pulsing during each game, even in the veins of the highest-salaried players. This is what we want our All-Star Games to be: superstars vs. superstars, competitive juices flowing.
Why did Mexico and Canada brawl? True, we can make the case that the odd run differential tie-breaker had something to do with it. But this was an honest to goodness brawl, not your mundane bench-clearing, pushing, posturing scrap, featuring two teams that were unified in standing up for their teammates. Coaches perpetually battle to make players care more about the name on the front of their uniform than the one on their back. As it turns out, representing one's home nation provides precisely the right sort of motivation. There's something about wearing the national colors that fires up the blood, and we've seen it demonstrated on a nightly basis throughout the WBC.
In the end, yes, shortened starting pitching performances, absences, and the odd injury or early slump may prevent the World Baseball Classic from ever reaching the heights of the best global sports tournaments.
Yet the fact remains that the WBC consistently provides emotional, meaningful competition for the best players in the world. Outside of the World Series, this is as good as baseball will ever get.
[php snippet=1]