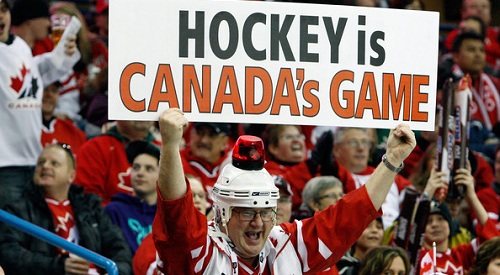 Questions for Canadians at the World Juniors
December 20, 2012
It's the most wonderful time of the year.
It's the time when Santa visits young girls and boys and gives them the gift of the IIHF World Junior Hockey Championships (although judging by worldwide interest in the tournament, I think Santa just stopped at Canadian houses).
With Canada's gold medal drought extended to three years (oh, the shame!) and a tournament filled with potential NHLers (thanks, Gary) this should be one of the most talked-about tournaments since, well, the last time the Grinch — I mean, Bettman — stole hockey.
How will Canadian viewers respond to early wake-ups?
Canada's first three games are being played at 3:30PM… Yekaterinburg Time, which is 4:30AM Eastern Standard Time. The first two games are against Germany and Slovakia, so you'll be excused for hitting the snooze button and missing the action, but the third game is against the United States, and that's a big rivalry game.
Maybe tournament organizers are mad at the IIHF for years of perceived pro-Canada bias, because it isn't until New Year's Eve, when Canada plays Russia in what will likely be the preliminary round's marquee game, that Canadians can watch the game at a reasonable time… 9:00AM.
How will the schedule affect ratings? Will Canadians wake up early to catch the action, or wait until the replays later in the day?
Last year, Team Canada's first three games (against Finland, Czech Republic and Denmark) averaged 2.3 million viewers. Even the game against Denmark brought in 2 million. Will an ungodly start time cripple these numbers, or will Canadians take the schedule as a challenge to prove just how hockey-crazed they really are?
[php snippet=1]
Who will be the tournament's breakout star?
Ryan Nugent-Hopkins is already an established NHLer, so he should dominate the tournament. But who are some other players that will vie for the scoring lead? Here are some guesses.
Ryan Strome: The Niagara IceDogs center and New York Islanders draft pick leads both the OHL and CHL in scoring, with 62 points in 32 games. As one of six returning players for Canada, Strome will be counted on to lead the team, even more so than he was last year when he finished tied with USA's Austin Watson for sixth in tournament scoring.
Alex Galchenyuk: The Montreal Canadiens draft pick is tearing up the OHL. He is second in scoring to Strome with 61 points in 33 games and is showing no signs of rust after missing most of last season with a knee injury. If he keeps scoring in Russia, the United States will certainly do better than last year's humbling one-win, relegation round elimination.
Nail Yakupov: Last year he failed to score a single goal during the World Juniors, but added nine assists, four of which came in Russia's Semi-Final win over Canada. Now, the No. 1-overall draft choice last summer has 18 points in 22 KHL games. Not bad for his first taste of professional hockey. And if that's what he can do against grown men, many of whom as NHL imports, what can he possibly do against a bunch of pimply teenagers in his second tournament?
Filip Forsberg: Initially considered a lock to be a lottery selection in last summer's draft, Forsberg shockingly dropped to 11th before he was mercifully taken by the Washington Capitals. He's currently playing in the second highest-level of hockey in Sweden and will be a key component on a Swedish team hoping to repeat last year's gold medal performance.
Who will win the showdown between draft picks: Jones or MacKinnon?
One of the tournament's most intriguing storylines will be between the two most hyped draft-eligible players, USA's Seth Jones and Canada's Nathan MacKinnon.
Jones, a big, mobile defenseman out of the WHL, and MacKinnon, a dynamic center out of the QMJHL, are the consensus No. 1 and 2 picks (in some order) in this year's entry draft. The Dec. 30 game between Canada and the USA will represent the first time the two have played each other on such a large stage (the two play summer hockey together), and the first time many fans will get to see either in action.
The World Juniors won't be the only chance the two get to square off, however. Both will captain opposing sides in January's CHL Top Prospects Game, and considering Jones' Portland Winterhawks are atop the WHL and MacKinnon's Sea Dogs hold an identical position in the QMJHL, a Memorial Cup Final might be in their futures too.
Here's hoping the World Juniors is the first of many clashes between the two super prospects.
Will this be another tournament of the ages?
The last two times a lockout halted NHL play, the World Junior tournament became a must-watch event for hockey fans, with teams boasting stacked squads filled with future NHLers.
In 1995, Canada iced a team that included Jason Allison, Jeff O'Neill, Darcy Tucker, Wade Redden, Eric Daze and (hold your laughter) Alexander Daigle. Those names don't seem imposing now (just ask mid-2000s Maple Leafs fans), but that roster dominated the tournament, helping Canada go undefeated en route to gold.
In 2005, when a lockout once again flooded the tournament with NHL-calibre players, Canada, led by Corey Perry, Ryan Getzlaf, Sidney Crosby and Patrice Bergeron, among many other future All-Stars, blasted Russia, who themselves had future MVPs Alex Ovechkin and Evgeni Malkin, 6-1 to capture the gold medal.
Other future stars from that tournament included Ryan Suter, Tuukka Rask, Jaroslav Halak and Phil Kessel.
This year, thanks to another incomprehensible lockout, many would-be NHLers will skip Christmas dinner to play hockey in Russia. Canada already has Nugent-Hopkins, a legitimate NHLer, as well as Jonathan Huberdeau, Dougie Hamilton and Strome, all who would have likely be given every opportunity to crack their NHL team's big league roster. Russia has Yakupov, who otherwise would have been playing in Edmonton, and Buffalo's Mikhail Grigorenko, who could have been a surprise 18-year-old in the NHL.
Who will emerge atop Group B?
Group B features Russia, Canada, the United States, Slovakia and Germany. Poor Germany will be lucky to score a goal, but the rest of the group should be ultra-competitive. Yes, even Slovakia.
The three main contenders for the group crown will be Russia, Canada and the United States, three of the past four gold medal winners.
Winning the group and getting an immediate bye to the Semi-Finals will mean avoiding on a tough Quarterfinals matchup against a Group A team like Finland or the Czech Republic.
Will Canada break its "long" three-year gold medal drought?
It's gold or bust in Canada, and through that distorted world view, the last three years can only be viewed as disappointments. Last year's bronze medal was Canada's worst finish since 2001, and the two years before, 2011 and 2010, were heartbreaking losses.
Now, armed with a team loaded with talent, the pressure will be even greater to march into enemy territory and rip the gold medal from awaiting Russian hands. Otherwise, it's only a matter of time before a flood of articles arrive to bemoan the state of Canadian hockey.
[php snippet=1]