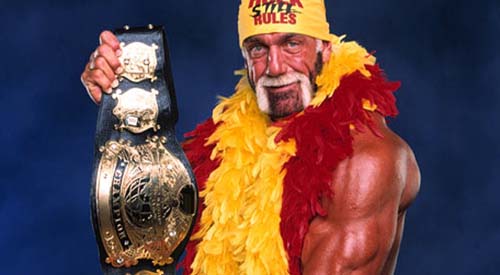 The Golden Days of Wrestling
November 18, 2008
Does anyone remember a time when pro wrestling was actually entertaining and fun to watch? Sometime last week I was doing the old procrastination routine (probably putting off studying for a midterm) when I found myself stumbling around on YouTube. I came across some old-school wrestling matches, which served as my inspiration for this article.
One of my earliest memories of the zany world of pro wrestling was at the tender age of four when I witnessed the infamous contract signing between Hulk Hogan and Andre the Giant for the rematch of their epic clash at Wrestlemania III. But gone are the days of "saying your prayers" and "taking your vitamins" – Hulk Hogan being just one of a long list of entertaining characters of yesteryear.
It seems as though wrestling had its hey-day from the late '80s into the early '90s, with somewhat of a resurgence in the late '90s thanks to "Stone Cold" Steve Austin, D-Generation X, and the New World Order. But at the turn of the century, things seemed to have changed: the quality of the product got boring, bland, far-fetched, and predictable. Perhaps it was me that changed – maybe I just grew out of wrestling – but I feel as though the heart of the problem lies with the decline of the product. 
[php snippet=1]
As a wrestling fan most of my life, I have now been pro wrestling free for about five years. Should I happen to catch a wrestling show while channel-surfing, I have noticed a commonality: watching the program makes me not want to watch it. Kind of counter-productive from a marketing standpoint, don't you think? It's just that storylines are so outrageous and are force-fed to the audience; the commentators treat you like you're in kindergarten and you need every detail laid out. How feeble-minded do they think we are?
So what happened to pro wrestling? I believe a lot of it has to do with Vince McMahon (Chairman of World Wrestling Entertainment), who decided to change the mould and come outright with the fact that it is all entertainment – none of it is real. Back in the wrestling hey-day, pro wrestling had the ability to suspend your belief; nowadays that is all lost.
I challenge any of you to find an old match on YouTube and tell me it's not better than the hogwash that is on TV today. Hulk Hogan, "Macho Man" Randy Savage, Andre the Giant, "Million Dollar Man" Ted DiBiase, Jake "The Snake" Roberts, Honky Tonk Man, Demolition – these are characters with real charisma, real showmanship, and genuine personas. They made you believe in them for their character's sake. Now you have guys like Triple H, Batista, and John Cena who come out and do the same rant week in and week out, trying to impress you with their intensity rather than allowing you the opportunity to be taken in by their character. What crap. It's no wonder viewers have embraced UFC – they are desperate for realism and are tired of being treated like babies.
[php snippet=1]