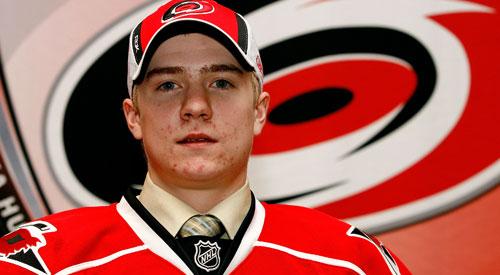 Welcome to The Show
December 20, 2011
It's not often you hear a story of a 20-year old making the jump to the National Hockey League after being cut from a junior C club.
But Zac Dalpe, the Carolina Hurricanes' newest forward, has done exactly that.
Barely five years after being deemed "too small" to play for his hometown junior C team, the Paris Mounties, Dalpe has achieved a goal so many only dream of. The now 6-foot-1, 195-pound Dalpe is travelling the world playing professional hockey.
"'Big time' is what we used to call it growing up," Dalpe said. "It's sort of surreal being here now."
The Paris, Ontario native has gone from playing with the junior B Stratford Cullitons of the Ontario Junior Hockey League to the Penticton Vees of the British Columbia Hockey League, and, most recently, Ohio State University on an athletic scholarship.
After being drafted in the second round (45th overall) by the Hurricanes in 2008, Dalpe has finally cracked the team's roster.
Dalpe was given the opportunity to play his first set of games for the 'Canes overseas – an exhibition game in Russia and two regular season contests in Finland. Carolina picked up two wins over the Minnesota Wild and Dalpe notched his first career point – an assist on an Anton Babchuk goal.
"I was honestly thinking: Please just score," Dalpe said with a laugh. "It's not often that you get the opportunity to set up a play like that."
[php snippet=1]
With three players on the Carolina roster hailing from Finland, Dalpe and his teammates were able to experience some authentic Finnish traditions, including a trip to an exotic smoke-sauna on a private island, a treat from Carolina forward Tuomo Ruutu.
Now back in North America, Dalpe is currently back in the AHL with the Charlotte Checkers. He played nine games this season with Carolina, but didn't record a point. For the immediate future, it's buses for the 22-year-old.
"It's tough doing all of this travelling and adjusting to the time changes," he admits. "I'm used to playing just over 30 games at the college level."
In Raleigh, North Carolina, Dalpe bunks with another rookie – 18-year-old Jeff Skinner, a former Kitchener Ranger.
"All of the guys say he's like my younger brother," said Dalpe, who has two brothers himself. "He's a really great guy, always laughing and has a big smile.
"I always think I'm making these really funny jokes when he's cracking up, but then I see him have the same reaction with all the other guys and I realize it's not just me."
The Hurricanes' young guns were given the opportunity to play alongside some of the very players they grew up watching, but all that changed with Dalpe's demotion to the AHL and Skinner's concussion he suffered recently. But his taste of the NHL hasn't tamed his desire to be a permanent fixture with the big club.
"My first game I remember looking down at the other end of the ice and seeing all these big names," Dalpe said. "But you can't think too much about it, because you won't be on the ice for very much longer if they score."
Dalpe says he now has his sights set on returning to the NHL, and he's continuing to improve his game with advice from the veteran players. The most pivotal step for him going forward will be getting the call from upper management to begin shopping for property in Raleigh.
"When you get the call to find more permanent living arrangements, you know you'll be here awhile."
[php snippet=1]