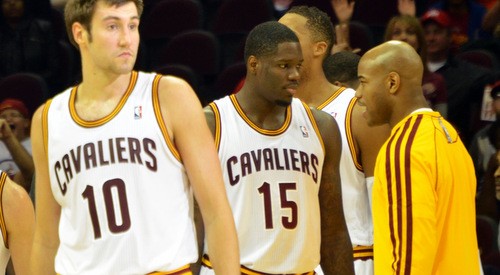 What's wrong with the Cavs?
February 5, 2014
Last Tuesday, Jan. 28, Anthony Bennett scored 15 points in a loss against New Orleans. It might have been his best game of the season: he shot 5-of-10, including two three-pointers, and grabbed eight rebounds. He also played 31 minutes, by far the most he'd played all season. That's the positive. The negative: it came in yet another Cleveland Cavaliers blowout loss.
Indeed, since LeBron James went to Miami, the Cavs have been among the NBA's bottom dwellers. Their winning percentage over the past three full seasons is a paltry .281. They've had six first-round picks, including two first overall, in the last three drafts.
On paper, this team should be good, especially in the awful Eastern Conference. A core of young talent, including All-Star guard Kyrie Irving, should make them one of the most exciting teams in the NBA. And this should be their year: just two teams – Indiana and Miami – would make the playoffs in the Western Conference. Toronto and Atlanta, each just two wins above .500, are tied for third, while Brooklyn and Charlotte would make the playoffs with a losing record.
Their recent trade for Luol Deng should've been a move to put a loaded young team over the top. Instead, it feels like a gamble to try and get the Cavs together for a run at the eighth seed.
At the time of writing, Cleveland currently holds the 11th spot in the conference with a paltry 16 wins. They play a slow pace – 20th in the league – and Basketball Reference has their SRS at -6.13, 27th in the NBA. They've already had losing streaks of five and six games, plus a current four-game streak. They've lost to everyone from Milwaukee to Miami. In so many words, this team is a hot mess and going nowhere quickly. And it's largely because of their young talent's stagnant statistics.
Most glaring is the play of their 2013 first-overall pick. Going into the draft, Bennett was thought of as a lottery pick, but not an especially high one: most had Cleveland taking Victor Oladipo or Nerlens Noel. Instead, Cleveland rolled the dice on Bennett. And so far, it's all been snake eyes.
According to Basketball Reference's handy Game Score statistic, Bennett's had 18 games this season with a negative or nil impact. Some sample Bennett stat lines from this season include:
-0-4 from the floor, four rebounds, three turnovers and zero assists (Nov. 29 against Boston)
-0-5 from the floor, including three missed three-point shots, two points and five rebounds (Oct. 30, against Brooklyn)
-1-6 from the floor, eight rebounds and five turnovers (Jan. 7, against Philadelphia)
Note how some of Bennett's worst games came against other bottom dwelling teams. Also note how Cleveland won two of them, too. He's barely having an impact on his team.
Now, there's an easy response to that: Bennett is a rookie, just 20 years old. He doesn't get a ton of playing time – and thusly, opportunities to score, rebound or make an impact – because he's still developing. It sounds pretty good, but let's take a look at how he compares to some other first-overall picks, on a per-game basis:
-Bennett: 1-of-3.7 shooting, 2.5 rebounds, 0.3 assists, 2.8 points per game
-Anthony Davis (2012-13): 6.8-of-13.2, 10.2 rebounds, 1 assist, 16.9 points per game
-Kyrie Irving (2011-12): 6.9-of-14.6, 3.7 rebounds, 5.4 assists, 18.5 points per game
Even against his rookie class, Bennett's play has been poor: New York's Tim Hardaway Jr. has just six games with a negative game score and Charlotte's Cody Zeller's had eight. And Oladipo, taken second overall, has just two games with a negative score.
I could go on and on (over at SB Nation, Drew Garrison already has). But there's only so many ways to say it: Bennett's rookie season is a bust, worse even than Andrea Bargnani's. There's been talk of putting him in the D-league, a move that'd give him more space to develop as a player, but would also be a tacit admission that he's a bust, a first-overall pick that's not ready for the NBA.
It goes deeper than just Bennett, though. Let's look at Irving's numbers: they've remained about the same through three years. In his rookie season, he averaged about 22 points and six assists per 36 minutes. This year: about 22 points and six assists per 36 minutes. Unlike Bennett, at least he's been starting games.
A deeper look shows that he's scoring more while shooting less efficiently. In 2013-14, his True Shooting percentage has dropped to .521 and his Effective Field Goal percentage to .474. It's telling that Irving is among the NBA's leaders in both field goals attempted and made, he's nowhere to be seen on either efficiency chart.
Meanwhile, their other high draft pick is showing the similar signs of stagnation, too. On a per 36-minute basis, Tristan Thompson's scoring and rebounding numbers are about the same as they've always been, hovering around 13 points and 10 rebounds, while his advanced shooting stats have dropped from last season: a .500 True Shooting percentage and a .455 Effective Field Goal percentage. His bright spot: he's one of the league's best offensive rebounders. But when your team is second worst in the league in shooting, there's a lot of offensive rebounds to be had.
Given what's happened for them over the first half of the season, it's hard to think anything will change soon. They're a team that's somehow refusing to move forward statistically. It's too bad their last few draft picks haven't panned out for them. But at this rate, they'll likely get another do-over this spring.