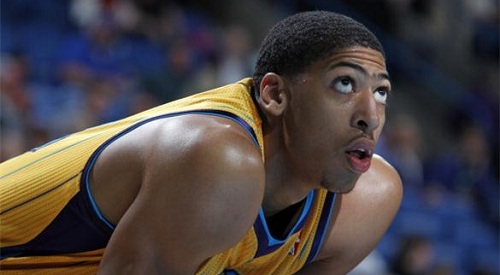 Anthony Davis' Ankle Injury Under the Microscope
December 6, 2012
If Anthony Davis isn't careful, his ankle could soon overtake his brow as his most famous feature. The first-overall pick started out of the blocks fast this season, averaging 16 points per game, 8.3 rebounds and 2.2 blocks. While the early numbers suggest that Davis is living up to the hype surrounding his draft status, the stats have only come over the course of six games as he has been held out by a concussion, and more recently recurrent ankle sprains.
Davis is currently out with a stress reaction of the ankle and is scheduled to be out of the lineup for at least one more week. A stress reaction is caused by excess force and increased stress at a specific point on the bone, creating a "hot spot." This reaction can often be the result of a redistribution of the force of impact, meaning a force that would typically be absorbed by the entire bone is suddenly absorbed over a smaller area. When stress reactions aren't managed properly – typically with rest and rehabilitation – these can progress to stress fractures.
While the rookie big man may very well return in the near future, the trend of recurrent sprains which began as early as his first day of training camp in June, is a troubling one. After hurting his ankle before the Olympics – an injury which Davis insists is "unrelated" to his current situation – he has since rolled his ankle in a game on Nov. 16  against the Oklahoma City Thunder. Following this re-occurrence it was reported that he again sprained the same ankle three times in as many days. While this type of problem is not uncommon in basketball players – studies show an incidence rate as high as 70-80% – a chronically sprained ankle is a problem which, if not managed properly, can plague an athlete throughout the length of their career.
[php snippet=1]
There are two potential causes to a chronically sprained ankle: mechanical and functional instability. Mechanical instability is caused by factors that alter the mechanics of the ankle joint like damage to the ligaments or changes in the way the bones of the ankle move on each other. Functional instability, on the other hand, is the result of things like strength deficits, poor muscle timing, balance issues and impaired proprioception (the sense of knowing where your limbs are in space). Both mechanical and functional instability, either individually or in combination, can lead to an athlete consistently rolling their ankle or feeling like their ankle is "giving way". Over time these issues could also alter how the player's foot and ankle move, how they land from jumps and how they absorb force from running or jumping. When not managed properly, these incidents can progress to arthritis, stress fractures or an acute fracture, all of which could sideline a basketball player for a significant period of time, not to mention potentially shorten their career.
As a result, it will be interesting to monitor Davis throughout this season to see if these ankle issues creep up on him again. It is possible that he could return to play without pain, but still show some of the strength and balance issues that make up functional instability. Even more interesting might be the Hornets' management of their prized possession. Davis mentioned that the team was hoping to avoid "… the whole Grant Hill story, so they wanted to be very cautious with the way I handled things". Prior to chronic ankle issues, Hill appeared to be well on his way to taking the league by storm; and while he has still had a long and impressive career, he has not been back to the level he was before these injuries. By all accounts the team is practicing what they preach as Davis started off in a walking boot which would have served to reduce the stress through the bone and calm down the reaction. According to the most recent reports he is now out of the boot but has yet to run or shoot in practices with the team.
But will a team who is currently sitting third from the bottom in average attendance in the NBA be able to stay patient with their young star's recovery or will they feel the pressure to put a player of his calibre out on the court as soon as possible in order to fill seats? Complicating issues further is the fact that Eric Gordon, their scoring leader last season (albeit, only over the course of nine games) has not played at all this season due to ongoing knee issues. While there is some debate about the legitimacy of Gordon's injury (there is some suggestion that he is unhappy playing in New Orleans), his return to the court does not seem imminent. Playing without arguably their two biggest talents is unlikely to garner many wins, or fans, for the Hornets.
While there are no guarantees, taking a patient route and allowing Davis to rehabilitate fully would give him the greatest likelihood for success, but in the "win-now" model of professional sports will the Hornets be able to stay the course and consider Davis' future or will they feel the pressure to get a player of his abilities back on the court as soon as possible? If Davis' ankle injuries become an ongoing saga, we may look back on his current time off the court as a crossroads in his early career.
[php snippet=1]