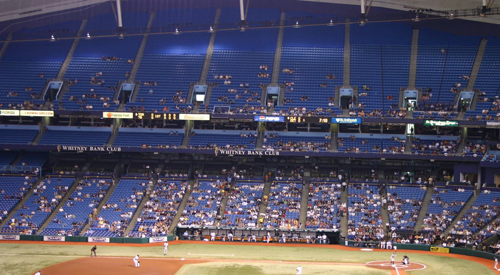 Attendance wars: Tampa Bay vs. the Rays
June 10, 2011
One would think that when a team completes its first winning season in 11 years and first in franchise history, while adding a deep postseason run to the World Series as well, fans would flock to the ball park to see their successful team play.
That wasn't the case with the Tampa Bay Rays in 2008, even though they had just completed one of the greatest single-season turnarounds in professional sports history.
After having finished at the bottom of baseball's toughest division in nine of their first 10 seasons and last in the American League in attendance every year from 2001-2007, the Rays went 97-65 in 2008 and made the playoffs for the first time in franchise history.
The Rays' attendance that season, though, was just as unbelievable as what their team had accomplished on the field. After ranking 29th in baseball with an average attendance of 17,130 in 2007, more people turned out to the park the following year, but not in masses like people imagined.
Instead, the Rays' average attendance rose by just under 30 percent to 22,259 that year; an impressive number only when looking at other seasons at Tropicana Field. Those results were still fifth-worst in all of baseball.
The Rays weren't a one year wonder that season, either. Since the start of that 2008 season, the team has managed a .565 winning percentage with a 310-238 record as of June 9, but have still never averaged more than 23,148 in a season over that span.
[php snippet=1]
Three of the team's most noted followers have stepped up to give their opinions on the most discussed reasons for how the Rays have constantly failed to attract fans to Tropicana Field, despite putting a competitive product on the field even after player losses to trades and free agency. Jason Collette is the Rays' insider for ESPN radio 1040/1080 Tampa and manager of the SBNation Rays blog DRaysBay, Cork Gaines is the editor and lead writer of Rays Index, and Ben Ice is the lead writer for Rays Colored Glasses, part of the FanSided network.
What follows is an in-depth account of the reasons that most significant contribute to the Rays' attendance woes, and where the team goes from here.
Reason One: Tropicana Field keeps people away. The facility is too old.
Collette: Tropicana Field has grown on me. I also grew up in Houston going to many games at the Astrodome, so frankly, my standards were not terribly high when I started going to games. However, the place really got run down toward the end of the Vince Naimoli era to the point I was ashamed to bring friends to the game and I would not bring kids with me because the place was downright filthy. Since Stuart Sternberg took over, it has received a major facelift and the place is quite festive and appealing from the moment you walk in. Sure, it is missing a lot of the luxuries other places have but I'm not a luxury seat type of guy anyhow. The atmosphere can be electric when the games are meaningful but the stadium itself has the stigma of being "that place, all the way over there," to a lot of people. It is a hassle to get to if you don't live on that side of the bay and its location is its biggest problem. Put it over on Channelside and people likely don't complain as much. I find its food choices and staff to be some of the best in baseball and I've been to 23 parks in my lifetime.
Gaines: The Trop is a very underrated park. I wouldn't have said that 10 years ago, but after Stuart Sternberg took over the team, he put a lot of money into renovating the park and making it more of a fan-friendly experience. that being said, the Rays need a new stadium. I don't have the exact numbers, but amazingly, The Trop is already one of the oldest parks in Major League Baseball if you take out the old iconic parks like Fenway and Wrigley. Most of the other teams have beautiful new parks that are younger than The Trop.
Ice: I've not been a baseball fan all my life. Football was always my game. So I don't understand the logic baseball fans use regarding indoor stadium. This season's record cancelled games epitomizes why a place like Tampa needs an indoor stadium. It rains a lot here during the summer. I can't tell you how many times I went to a game when it was pouring outside, or came out after going in when it was sunshine and seeing that it had been raining for some time. The seats are like any ball park. The sightlines are solid. The biggest problem is the cat walk, and that alone says the stadium should be replaced, or at least re-roofed, which is what I personally think should happen. [But] any way you slice it, The Trop is a great venue.
Reason Two: The Rays playing in St. Pete is too much for many Tampa fans. The drive there is a nightmare.
Colette: Getting to the stadium is as frustrating as it is to watch the Rays try to score runs at home this year. Most people have to take I-275 one way or the other and it is a virtual parking lot from Ybor City – which is 25-30 miles east of the stadium, pretty much all of the way to the stadium some days. It has taken me as long as an hour to make that drive from what is essentially east Tampa to Tropicana Field. Smart fans will take the Crosstown toll way to get over to 92 and crawl through stoplights to get to the game but location and the hassle of getting to Tropicana Field is a huge deterrent for fans. My father lives 15 miles from it but after the last 45 minute drive in for a game, he won't go to a game unless I pick him up and do the driving on my way in to work a game. There is no public transportation option and the local streets can become gridlock after games with big crowds as well. I had friends leave southwest Orlando at 4 pm for opening day and did not make it into their seats until 7:45.
Gaines: This is a big issue among fans. Some fans say it is the number one reason they don't go to more games. Others think those fans are crazy and that the drive isn't that bad. But like anything, it varies from person to parson. There is some traffic, and it can be slow going. Some don't mind that. Others would rather stay home and watch the games on TV."
Ice: I've been to Kaufman Field, Yankee's Stadium (the old one back in the 80's) Fenway Park, the Kingdome and Joe Robby when the Marlins played there. The traffic isn't any worse. It would be nice if there were a regional train system like they have in Boston or New York, but we don't have that population base. The complaints from those in Tampa about coming across the bridge are bogus in my opinion, but then I live on the Pinellas side so I could be biased.
Reason Three: Baseball is just not that popular in the Tampa Bay Area.
Colette: There is a lot of baseball in the area with the Rays here as well as minor league affiliates for the Yankees, Blue Jays, Phillies, Tigers and Pirates all within an hour's drive of the Bay Area. That said, football is still king here as it is everywhere in Florida. Little leagues are filled with kids, and there is great high school talent in the area. USF and the University of Tampa have had good baseball programs in the past but USF, despite its size, has had sub-standard facilities for baseball that are finally being upgraded now. The biggest problem in this market are the many different loyalties to teams. A local radio station here carries Yankees games each night while another one broadcast the Rays games. Florida State League games played at the five locations I mentioned earlier are in direct competition with Rays games on most nights over the summer and minor league games with $1 beer nights draw big crowds, particularly over in Clearwater. Fans looking to stretch their dollar can pick up a $5 seat to a game and drink a few for the same price it costs them just to get into Tropicana Field, never mind the price to park and consume adult beverages at the park.
Gaines: Baseball is a big sport in the Bay Area, but so is football. And so is basketball to a lesser extent. There has been a decline in recent decades in little league baseball participation, but I don't think that is a problem limited to the Bay Area. One problem with the Rays is the lack of history, which is an important element in baseball. The short history the Rays have is not very good. As well, a lot of people that live in the area have moved from other parts of the country, with Extra Innings and MLB.tv it's easier than ever to remain attached to your hometown team no matter where you live. The Rays need to give those fans a reason to support their new hometown team. Based on the Rays' current history there is little reason for those people to switch, but if they continue to win and continue to be successful, those fans will slowly come around.
Ice: Baseball is huge here. As you know, we have a lot of it. Bright House Field, home of the Phillies High Class A Threshers, might be the best minor league field in baseball. The Yankee's complex in the shadow of Raymond James Stadium, or the Blue Jays complex, all within an hour of almost anyone in the Bay Area. The problem is simply the economy. I just bought a house for half what it sold for in 2007, and the latest statistics say over 20% of homes in the Bay Area are in foreclosure. Unemployment is slowly easing; it was over 12% but a recent job study has it down to a tick under 11. All those things weigh heavily on the fans. It's hard to go to a baseball game when you can't make your mortgage payment, but the fans are here; I see the jerseys, the flags and stickers on cars and the talk on local sports radio. We just need some economic light at the end of the tunnel to turn the corner.
Reason Four: The Rays still don't have an established fan base to fill the stands with.
Colette: Fanbase and attendance are two separate monsters. If you look on Twitter and search the #Rays hashtag, you see how active and rabid the fan base is. Our blog, DRaysBay, has nearly 900 followers on Facebook. People are interested in the team, but the turnstiles are losing the battle to the 60″ HDTV and the comfortable recliner. My dad watches every game, but catches just about all of them from the comfort of his own living room where, "the beer is cheap and the lines to the restroom are short," as he puts it. When you factor in the hassle of getting to the game for someone who lives in Lutz, Brandon, or even New Port Richey, the home television is mighty attractive. The Rays enjoyed top five ratings in both TV and radio last season and it was up 70% from previous seasons. The interest is there even though it isn't showing up in the form of turnstile counts.
Gaines: The fan base is a lot bigger than most people realize. TV ratings were fifth in baseball a year ago. And while attendance has been down in most places the last few years, attendance at the Trop has risen steadily in recent years. A lot of people love this team. They just need a stadium that is more accessible and an economy that is more conducive to spending money on something like baseball games.
Ice: It's huge. The Rays executive team has done a great job and there is a lot of pride regarding the Rays. It's much bigger than what we are seeing right now at the Trop.
Is there a new field on the horizon? What is the status?
Colette: The status on the stadium remains the same; St Pete doesn't want to permit the team to build the stadium outside of city limits while the team would like to explore all areas. And by all areas, they mean they want to get to the other side of the bay. If you combine the Orlando and Tampa/St Pete TV market, it is a top five market in all of the country so it behooves them to get closer to that other market to increase interest. I go to 15-20 games a year living 125 miles away because I am that passionate of a fan and now I am working games for a radio station so that kind of access is a nice incentive to get over for games. I have many other friends in Orlando who care about the Rays and watch them on television, but the drive over, especially when gas prices are pushing $4 a gallon, is a non-starter for them most of the time. I have always maintained that if there is not dirt being moved for a new stadium for this team by 2017, they will be playing in another market by 2020. They cannot continue to survive in this league with less corporate sponsorship than their competitors who see huge season ticket sales thanks to the guaranteed dollars around that level of sponsorship. The luxuries afforded to corporate sponsors at Tropicana Field simply do not hold up well against those offered at other stadiums around the country as the stadium was outdated from the moment the first pitch was thrown in it as the market rushed to build a stadium in hopes of drawing a team that took much longer to come to fruition than anyone had hoped it would.
Gaines: The status is that there is no status. Both sides seem to be digging their heels in waiting for a fight but neither side is ready to throw a punch. The Rays clearly want to be in Tampa and the city of St. Pete clearly doesn't want to lose their pro sports team. But no matter where a new stadium is built, where does the money come from? Nobody knows. Until that problem is solved, there is little hope for progress. Meanwhile, we are starting to near the point where something needs to get done or this team is going to start thinking about moving out of the area. So I think we will start to hear more rhetoric in the next 6-12 months. And hopefully we will see a plan for a new stadium by this time next year.
Ice: I think most fans are tired of the political infighting, and frankly the attitude of St. Petersburg's Mayer Bill Foster. They are preparing for a fight, which would get ugly. Foster is on record as saying they will go after anyone who even whispers about a move out of St. Petersburg. The reality is we need a change, and like it or not the optimal place for a new field is across the bay in Tampa. But I can't see it happening any time soon. It would take a lot of tax concessions regardless of where it got built, and again the economic situation is such that there isn't a politician in sight willing to discuss using taxpayers money to fund a stadium right now.
For the Rays, success on the field hasn't translated into as much gate success as the front office had hoped. The proverbial sun, however, is still very bright on this team that has managed to remain competitive despite losing some key players to free agency and trades over the offseason. Off the field, the Rays' front office has been extremely creative with the limited resources that their franchise has, successfully putting quality players out on the field at a very low price.
The future of the team will likely be dependent on both of these successes continuing, and until then you could say the Tampa Bay fan base is on the edge of their seats about that factor.
The edge of the seats in their living rooms at home, that is.
For more information on the Tampa Bay Rays, check out DRaysBay, Rays Index and Rays Colored Glasses, or any Rays exclusive interviews at The Good Point.
-May 23, 2011 – Sean Rodriguez: Tampa's Everything Man
-June 7, 2011 – The Dirk Hayhurst Gospels
[php snippet=1]