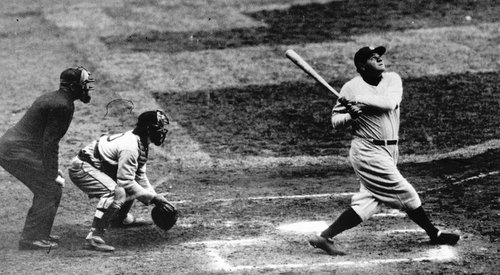 Babe: The Legend Comes to Life (1974)
September 12, 2013
Rating: 7/10
Let's start with the mythology of Babe Ruth the athlete. He was the first player to hit three home runs a single game of the World Series. He didn't just set the record for home runs, but utterly destroyed it, routinely hitting fifty or more in his prime. He called his shot in the World Series, dedicated a home run to a sick child (who than miraculously recovered) and was a pretty good pitcher to boot.
For most athletes, the list would stop there. Ruth wasn't most: his legend ranges beyond the diamond, from tales of his hardscrabble upbringing, wild partying and disenchantment with the game after he retired. Even people who don't like baseball know he supposedly cursed the Red Sox because they sold him to New York. This is the kind of mythology you usually find in Roman histories.
Indeed, there's so much legend and apocrypha surrounding Ruth that any biographer has their work cut out for them. What's true, what's hyperbole, what's pure legend? Fortunately Robert Creamer's biography of Ruth was up to the task. In many ways, "Babe: The Legend Comes to Life" was the first serious look at the man, covering Ruth's life in detail and trying to sort fact from fiction.
[php snippet=1]
He opens up with Ruth's curious early years. It's not certain when or where his parents were married, for example. And there's little documentation for Ruth himself. It's generally assumed he was born in 1895, but throughout his life, Ruth claimed he was born a year earlier. Details of his schooling are also sketchy: he claimed he was in a reform school throughout his youth, but Creamer digs up evidence of him bouncing back and forth between home and school. Even with his research, it's a shady past and Creamer moves through it briskly: before you know it, Ruth's the star player in school and signs with the Baltimore Orioles.
Here's where the biography begins in earnest. It's a story you've likely heard before: Ruth was good, but the Orioles needed money and he was sold (along with some teammates) to Boston, where Ruth blossomed as a star pitcher. After a while, he became known as a good hitter and split time between the mound and the outfield. In December 1919, he was sold to New York. The Yankees would soon rip off some of the best seasons in baseball history and the Red Sox kept losing big games in dramatic fashion until about 10 years ago.
Creamer does a good job of recounting all the stories you've heard about these years and is thankfully mute on the idea of curses. He covers the glory years like 1921, when he hit .378/.512/.846 with 59 home runs and the 1927 Yankees, who won 110 games and destroyed Pittsburgh in the World Series. He explains the context of how powerful Ruth's hitting was and how it changed the league. Each season is recounted over a few pages and some memorable on-field moments get detailed mention.
But where this book stands out from earlier biographies is the spotlight on Ruth off the field: he boozed often, partied hard and ate prodigiously: he once ate an 18-egg omelet. But he wasn't just hot dogs and beer: he was a serial womanizer, openly cheating on Helen Ruth, his first wife.
His first wife is touched on occasionally here and comes off as the tragic figure in Creamer's book. Helen married Ruth when she was a teenager and before Ruth became a superstar. And when he did, she was often shunted to the side, living in a farmhouse out in the country. She had a nervous breakdown and had several unspecified operations, with Creamer suggests might have been miscarriages. She left Ruth sometime in the mid-1920s and died young, in 1929. For someone who was close to Ruth, its shame Creamer doesn't feature her more; she doesn't even get a photo in the book.
His second wife is also an interesting character: Claire Ruth married the Babe shortly after Helen died, but had been a part of his life for years before. She was able to reel Ruth's indulgences in somewhat, keeping him from spending too much money and eating more or less healthily. She comes across as the stern figure in Ruth's life, the person who tried to keep him in line. I'd have appreciated a little more about her life after Ruth's death, though.
Ruth's decline was sudden and depressing. He was moved to the Boston Braves in a deal that led him to believe he was in line to be manager but instead caused a messy falling out with ownership. He spent his last years hoping to become a manager, particularly with the Yankees, but never was. He died 13 years after his last at-bat.
Creamer's book ends with the last days of Ruth, dying of cancer in New York. It was here, only a few months before he died, that he had his final iconic moment, hobbling into Yankee Stadium at a reunion of the 1923 Yankees. Maybe you've seen the photo. Here's how Creamer describes the scene:
"All the other oldtimers had been introduced, the applause from the crowd rising and falling as each name was called. It was time for Ruth. He got to his feet, letting the topcoat fall from his shoulders, and took a bat to use as a cane. He looked up at the photographers massed in front of the dugout. His name rang out over the public address system, the roar of the crowd began and, as WC Heinz wrote, 'He walked out into the cauldron of sound he must have known better than any other man.'" (pg 422)
Although the book manages to cover mostly everything you'd want to know about Ruth, the book feels dated in it's avoidance of racial issues (was Ruth racist? Creamer's a little evasive on the subject, but notes Ruth chafed at being called the N-word) and a reliance on since-broken records. And it doesn't discuss Ruth's legacy in any detail, cutting off at his death.
Still, it's an important book in the sports canon: Babe: The Legend Comes to Life, was one of the first serious biographies of sports figures. As Creamer notes in his introduction, previous ones were full of invented colour and factual errors. His was an attempt not only to set the record straight, but also to make a book that appealed to mature readers. That said, Creamer didn't treat it as scholarly biography. There are no footnotes or bibliography and few provided sources.
In many ways, this book set off the sports biography movement, which has led to some of the best sports reads of recent decades. And although it ranks behind some of them, Creamer's book would still be worth reading for historical importance.  Thankfully, it's also a fun, detailed and engaging look at one of the most mythic figures of sport. Recommended.
[php snippet=2]