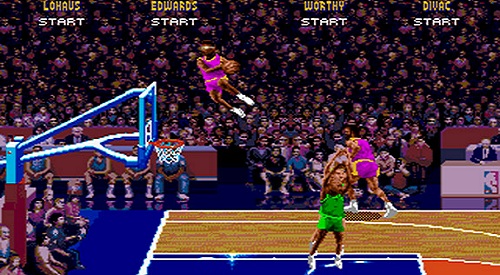 The best and worst basketball games ever
November 23, 2012
It's not a bad thing to be a child every once in a while. Sometimes a video game drowns you in nostalgia, giving you no choice but to squeal with laughter at the memories of sheer joy you had with the game. You're not the only one.
With 2K Sports owning the basketball video game market right now, it's not much of a contest as to what the best basketball game currently is. Instead, what's the best basketball game of all time?
[php snippet=1]
Looney Tunes B-Ball (SNES)
I played the heck out of this game. Sure it's not for the hardcore basketball gamer or anyone over the age of 15 really, but I've never had anybody play this game and not love it. It's 2-on-2 basketball with gems the players can collect on the court to buy in-game power-ups and distractions. A lot of the good Looney Tunes characters are featured, the game play is simple and captivating, the soundtrack is fantastic, and it is just plain fun. Isn't that what counts?
NBA Street, Volume 2 (Xbox, PlayStation 2, GameCube)
The Gamebreakers, insane dribble moves, huge rejections; the NBA Street series had everything you'd want in a basketball arcade game. The second game of four in the series was widely popular, selling the sixth-most copies for a basketball game in video game history. The amount of tricks you could string together was never ending. Playing it against a friend was always a good time. Plus, the success of this series helped spawn NFL Street, one of my favorite sports games, period.
Barkley, Shut Up and Jam: Gaiden (PC-freeware)
I'm not talking about the Super Nintendo version. The Gaiden version is a fan-made Final Fantasy style RPG game feature Charles Barkley doing, well Charles Barkley things. In 2041, Barkley did a dunk called the Chaos Dunk that accidentally killed almost everyone in the stadium (we should be terrified of '80s basketball stars in the future, apparently). Then, in 2053, someone performs another Chaos Dunk, killing millions in the process. Now Barkley needs to find his son Hoopz and stop a villainous group led by Michael Jordan. Oh, also, half robotic Vince Carter helps you out.
It sounds strange but I couldn't stop playing and ended up beating it in around three days. The game isn't actually approved by Barkley and was made by amateur game creators, and there's a ton of swearing. Still, it's fun, hilarious and actually takes a good amount of strategy to finish. Download the game in the top right corner from this website. I promise it's safe, as long as you don't Chaos Dunk.
NBA 2K11 (Xbox 360, PlayStation 3, PC, Wii)
The return of Michael Jordan. The game hyped up having MJ in its game for the first time since he retired from the Wizards. The hype was met too. Jordan Challenge mode is brilliant in that it lets you replay some of the biggest moments in Number 23s career by challenging you to match or beat his final stat line while still winning the game. That itself took up hours of playtime.
The MyPlayer mode was also much improved allowing you to raise your draft stock, actually get selected in a simulation of the 2010 NBA Draft, and conduct interviews. I love the interviews because they are always hilarious. It doesn't matter who your character was; he always had the same inner-city slang accent.
You could make your character as cocky as you wanted, which really pays off comedy-wise when, after a terrible game, you blame your teammates and fans for not being able to hit open jump shots. But that's not all this game had to offer. The franchise hit its peak with this entry in the series. Nearly everything in 2K12 and 2K13 were in 2K11, merely improved. Then there's the classic teams the series always had trouble getting. It is such a fun, complete game that I haven't had the need to buy any of the newer games in the series yet.
NBA Jam (All of them)
This is the obvious selection for best basketball video game ever and is easily up for contention for best sports game period.
It encompasses everything about basketball; the flair, personalities, insane athleticism, fun, and when players decided to light the ball on fire. For being so unrealistic, it symbolizes the game perfectly. And you know what? It's fun to play. Every. Single. Time.
It's so easy to be good the first time you play, but the more you did, the more little things you figured out. Even the updated version that came out in 2010 was fantastic. It included up to four players to choose from (instead of three), tons of legends and mascots to unlock, and a few different game modes. It's always been the most reliable and fun basketball game ever created.
NBA Jam stands the test of time and even made it into this decade successfully. Other than the Golden Tee games, it's the most consistently-found arcade game wherever you go. Thank goodness too, who knows how dull the sports game market would be without the ridiculousness of shoving players and falling from the rafters for a dunk while you yell out "BOOMSHAKALAKA." This game will always be on fire.
***
With these classics firmly and fondly remembered, lets temper ourselves with thoughts of the absolute worst games, and shame them for providing memories of nothing but grinded teeth and thrown controllers.
Shaq Fu (SNES)
If you're familiar with bad basketball games, this was expected. You would also point out that this isn't even a basketball game but an arcade-style, button mashing fighting game.
It's a very poorly controlled fighting game where the characters rarely respond to what you're telling them to do; a fighting game with a hack-job story line that involves Shaq stumbling into the "second dimension" through a portal his kung fu master teacher has.
It's such a difficult fighting game that it took my friends and I nearly two hours to beat four fighters in the story mode on "easy" difficulty and then another hour for me to beat the rest of the game on my own. It's a fighting game that has a website determined to liberate this nightmare from the public.
It's beyond challenging, hard to control characters, the special moves are impossible to figure out, and it's Shaq so far out of his element, that it became a pattern that never ended well, except for his first rap album, Shaq Diesel (I liked that). Somehow, listening to that album while playing this game didn't counteract its awfulness. It may be a fun novelty to own but spare your thumbs from playing this game.
Bill Laimbeer's Combat Basketball (SNES)
From the game's Wikipedia page: "The game takes place in the year 2030. Bill Laimbeer has become commissioner of a basketball league, fired the referees and created a style of play without rules. There are no fouls and use of weapons is perfectly legal."
I'm not sure what's scarier, controlling these frog-like basketball players with weapons (http://www.youtube.com/watch?v=GxlGP26_HlU) or how we're only 17 years away from 2030 when Bill Laimbeer takes over the NBA and allows this (although Gilbert Areas and Javaris Crittenton will be thrilled).
NBA Live '06 (GameCube, Xbox 360, PlayStation 2, PC)
Please meet the downfall of the NBA Live series. Admittedly, and I'm ashamed to say so, I've played this video game more than any other game. I've gone through 25 seasons of Dynasty Mode with one team playing 29-game regular seasons. I must have been desensitized to just how bad this game was.
I accepted the fact that lighting up opponents for 40 points with Jason Kapono every game was normal or that Josh Smith could dunk from the free throw line in a half court set over three defenders. The same goes for passing literally through defenders on top of numerous other glitches.
Then there's "comeback mode" where you're winning by 10 in the fourth with two minutes remaining and suddenly nothing starts to fall. All your passes are getting intercepted, shots are getting blocked, defense can't stop anybody no matter how well you play it, and 30 seconds later you're down by three. Every time. I've never gotten so mad in my life than when playing this game.
Looking back, I have no clue why I played it so much. It didn't even have Bugs Bunny.
[php snippet=1]