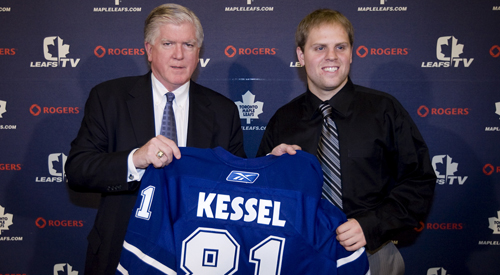 The new-found chutzpah of Brian Burke
September 24, 2009
Brian Burke is not afraid to take a risk.
His latest move as general manger of the Toronto Maple Leafs was to trade the Leafs' next two first-round picks and a this-year's second rounder for Phil Kessel, who he then signed for five years.
Any move involving the Leafs is bound to sound big, but remember that Kessel is 21 and only getting better.
Also remember that his career high is 65 points and he's coming off shoulder surgery. He likely won't play a shift until after the American Thanksgiving.
This means the trade is likely one of two things: it's a coup, a snatch of a young, talented player, or highway robbery, as there has to be a reason why the Bruins were willing to let him go.
Either way it's a gamble, so let's break it down.
First off, Kessel is young and just hitting his stride as a player. He scored 36 goals for the Bruins last season, leading the team in scoring at just 21. And he's still improving, with last year being his breakout season.
It's also worth noting that he was the highest scoring player of his age and was the youngest player in the top 15 scorers last season. He has the two things the rebuilding Leafs need most: youth and talent.
[php snippet=1]
It doesn't hurt that he wanted out of Boston, either.
According to an article in Saturday'sBoston Herald, Kessel has wanted out of Boston since at least last season and turned down a $4 million payday by leaving.
Does he want to be in Toronto? Although he hasn't explicitly said he dreamed of playing in the blue and white, it's hard to imagine he'd prefer anywhere else, especially since Burke signed him to a five-year deal.
Which shows that Burke isn't afraid to take a risk as Leafs GM.
For too long, Leafs general managers have been all too timid. They traded for proven veterans or fan favourites or somebody who once showed potential and was easily had.
That's the key difference in this trade. It wasn't for a 30-year-old Owen Nolan or for a 35-year-old Brian Leetch. This isn't like signing Eric Lindros or Jeff O'Neil. This is bringing in somebody young and who is just hitting his stride.
It's the latest in moves by Burke that have shown some chutzpah. For all the bluster and misdirection Burke has shown, he's made some shrewd moves: he signed Jonas Gustavsson, the 24-year-old Swede goalie bound to challenge Vesa Toskala. And he brought in Mike Komisarek, a move that not only bolsters the defence, but makes Tomas Kaberle expendable should the Leafs become a seller at the deadline.
It shows that Burke is gearing the Leafs up for a playoff run – and if they run short, he has parts to pick up a draft pick or two.
But there are some downsides to the trade too, like Kessel's health. His short career already has been marred by injuries.
Despite only playing three seasons in the NHL, he's had more than a few injuries. Just this off-season he had rotator cuff surgery. Last season he missed time with a case of mono. At 19 he was awarded the Bill Masterson Trophy after successfully battling cancer.
Only once has Kessel ever played more than 70 games is a season.
And now he's coming off surgery and won't be able to play until at least November. How will this affect his game? How tender will his shoulder be – can he take a hit? While it's too soon to say, Toronto fans still have bitter memories of players on the IR: Lindros, Nolan, etc.
And since he's missing a significant amount of time, how long will it take him to get back into form, let alone to develop chemistry with his new teammates?
Last season Kessel posted career highs in all the scoring stats – but he also had a talented cast around him: Michael Ryder (25 goals, 53 points), Marc Savard (25 goals, 88 points) and Blake Wheeler (21 goals, 45 points). In Toronto he won't have that talent to surround him and provide scoring chances. It's not hard to imagine him having an off year this season as a result.
If Kessel becomes another big name sitting in the press box or doesn't play like he did last season, how long will his good graces with the fans last?
And that's not even counting what they gave up to get him, either.
By trading for Kessel, the Leafs gave up three draft picks: a first and second this year and a first next year. Given their recent track record, it could prove costly down the road.
Recently, the Hockey News picked the Leafs to finish 11th in the East this year. If they finish in that area, they're giving up a pick in the 8-11 range.
But it's always risky to give away a first round pick since it's impossible to project what it could turn into or where it will land since the draft is so far off. But remember that by trading away first rounders, the Leafs have missed out on players like Scott Niedermayer, Roberto Luongo and Mark Stuart.
So, is Phil Kessel worth the risk and cost for the Leafs? I'd say he is.
His 36 goals last season wouldn't have just led the team had he been on the Leafs, but it was 11 more than the nearest scorer. His +/- was miles ahead of anybody in Toronto, and as a player who came straight into the NHL from juniors, he could be helpful to some of the Leafs' youngsters coming onto the team, such as 2009 first-round pick Nazem Kadri.
It's a risky move, but it's insightful. Hopefully the short-term gains can outweigh the potential long-term costs. After all, the better this season goes, the further those looming picks will fall into the draft.
[php snippet=1]