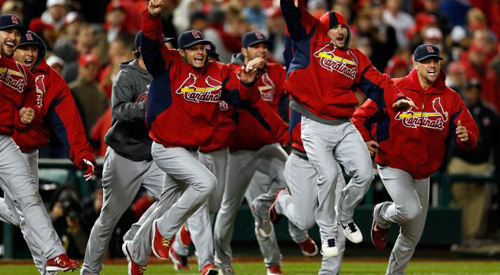 How the Nationals blew it using five pitches
October 15, 2012
There were five pitches where it could've ended for the Cardinals. Five times Nationals reliever Drew Storen threw a pitch, needing just one of them to be a strike to end the decisive Game 5.
Five times it didn't happen.
Storen came out to pitch the top of the ninth inning. He quickly got Matt Holliday to ground out and then struck out Allen Craig. With two out and a runner on third, Storen faced Yadier Molina, and with two balls and two strikes, the Nats were on the brink of victory. Baseball-Reference gave them a 96 percent chance to win the game.
There were five pitches where the Nationals could have won. And there were five ways the series got away from what had been the best team in baseball.
PITCH ONE: Storen throws a low-and-away slider to Molina. Ball three
The Nationals looked great as the 2012 regular season ended. They finished with more wins and a higher SRS than anyone in the National League. Their 98 wins led the majors. Just how good were they? Well, Stephen Strasberg was good for 15 wins, a 125 ERA+ and a Baseball-Reference WAR of 2.7. He was third among team starters in WAR, behind both Gio Gonzalez (4.5) and Jordan Zimmerman (4.4). Indeed, each finished in the NL's top 10 in ERA and WAR. This was a fearsome rotation with the league's best ERA (3.34) and WHIP (1.221).
This pitching prowess didn't show up in the postseason, though. In the five-game series, the Nationals' ERA jumped to 6.14; their WHIP to 1.659. Three times the Cardinals got double-digit hits. Their starters were battered: Zimmerman allowed five runs and seven hits in three innings of Game 2, and Game 3 was a similar debacle. In five innings, St. Louis got eight hits and four runs off of Edwin Jackson. Both ended in losses and gave the Cardinals an early 2-1 series lead, removing any home field advantage. 
[php snippet=1]
PITCH TWO: Storen throws another slider to Molina, high for ball four, putting runners at first and third with two out
In the regular season, the Nationals could hit. They averaged about 4.5 runs per game, well above the NL's average of 4.2, were fourth in the NL in OPS (.750), batting average (.261) and offensive WAR (21.1). Their offense centered on hard hitters like Adam LaRoche, Ian Desmond and Ryan Zimmerman.
Of them all, LaRoche was best during the regular season. He finished with a triple slash of .271/.343/.510, with 90 RBIs and a 4.0 WAR that was a career high. It was a nice rebound from LaRoche's short, injury-plagued 2011 season when he struggled through 43 games. This year, his turnaround became just one of the myriad storylines around this Nationals team.
But easily the biggest storyline was the hype surrounding the new kid in Washington. In his first season, Bryce Harper hit for .270/.340/.477, plus 22 home runs and 18 stolen bases. How good was he at 19? Baseball-Reference's similarity scores for players his age ranks him among Ty Cobb, Mel Ott and George Davis: all Hall of Fame players. Right from his first at-bat, when he hit a double against the Dodgers, he'd been a captivating player to watch and should be a lock for NL Rookie of the Year.
In the postseason, both LaRoche and Harper struggled at the plate, each hitting below .200 and combining for 11 strikeouts. They weren't alone, either: shortstop Danny Espinosa's OPS dropped from .717 to .243 as he managed to get on base exactly three times in 15 at bats. One could make the case for Ryan Zimmerman being series MVP: without his hitting, it's unlikely the Nationals would have lasted five games.
Even including a walk-off hit in Game 4, the Nationals just couldn't solve the Cardinals' pitching, hitting just .232 throughout the series. It's hard to make a series of it if you don't get on base.
PITCH THREE: David Freese checks his swing on a 1-2 breaking pitch from Storen. Umpire Ed Hickox sticks both arms out. Ball two
If the Nationals struggled at the plate, it's not entirely fair to lay the blame exclusively on LaRoche, Harper and Espinosa. The Cardinals' pitching was as on in this series as it's been at any point this season.
At 33, Cardinals starter Kyle Lohse is having a career year. He's been with St. Louis since 2008 and started 30 games or more in three of those seasons. But his 2012 is a vast improvement over anything he's done before. His 2.86 ERA is a career best, as are the 16 wins, 211 innings pitched and 3.9 WAR. Small wonder he pitched their one-game Wild Card playoff against Atlanta.
Because of that start, he only appeared in Game 4 of the NLDS. Lohse picked up the loss in this game, but it was one of the best pitching performances of the postseason: seven innings, two hits, five strikeouts and one run allowed. This, against one of the best-hitting teams of the 2012 regular season!
The rest of the Cardinals staff were just as good. In Game 1, Adam Wainwright allowed one run and rang up 10 strikeouts in 5.2 innings. As for Chris Carpenter, he pitched 5.2 innings in Game 3, not allowing a single run.
It wasn't just the starters, either. The bullpen had a great series, too. Trevor Rosenthal pitched 3.1 innings and struck out six, a quarter of what he did through the regular season. Mitchell Boggs pitched relief in four of the five games, allowing just three men to get on base, none of whom scored. In Game 2, Lance Lynn struck out five batters in three innings. Make no mistake; the Cardinals' pitching dominated one of the regular season's top offensive lineups.
PITCH FOUR: With a 2-2 count on Freese, Storen throws a fastball. Ball three
The biggest question about this series is a very plausible "what if?" What if Strasberg had pitched? Remember, the Nationals shut him down shortly before the playoffs, as they said they would all season long. Their plan was to limit him to a certain number of innings because he was still building up his arm strength after having Tommy John surgery. That's not the controversy. How the Nationals handled his workload was.
Strasburg's season started in April and ended in early September, after just 159 innings. By that point, he'd been posting some of his best starts of the year. For example, he allowed two hits and one run and struck out 11 batters through six innings in an eventual 4-3 win over St. Louis on Sept 2.
Had his season started a little later, or had some of his starts been pushed back to have some more time between them, could Strasburg have pitched into the postseason? It's likely.
Such a plan is not unheard of. Braves pitcher Kris Medlin also made his comeback from Tommy John surgery this season, and to ease the load on his arm, he started the year in the bullpen, only later moving to the rotation. He eventually started for Atlanta in the single-game elimination against the Cardinals. He finished the season with a 10-1 record, a 1.57 ERA and a 4.3 WAR; all while pitching fewer innings than Strasberg with 138.
Had he been similarly managed, Strasberg should've been a difference maker in the NLDS, especially when the Nationals had to start Edwin Jackson (10-11 with a 4.03 ERA) in the pivotal Game 3. By the way, St. Louis won that game, 8-0.
PITCH FIVE: Storen throws a full count sinker low to walk Freese. Daniel Descalso comes to the plate
Ultimately, what did the Nationals in was their bullpen imploding at the worst moment. Remember, it wasn't just the five chances Storen had in the ninth: Washington led this game by six runs at one point.
Throughout 2012, their bullpen had been good, if not great. As a team, they'd blown just 17 saves, actually better than the MLB average. Closer Tyler Clippard picked up 32 saves in 37 opportunities. While both his ERA (3.72) and WHIP (1.156) were up from last year, he was a valuable part of the team's relievers, appearing in more games than any other pitcher.
While Clippard pitched okay in Games 1 and 4 of the NLDS, striking out four batters in two innings, he was less effective in Game 5. He'd pitch just one inning and allow one hit: a home run to Daniel Descalso in the eighth. The six-run lead had been cut to one, but Washington scored in the bottom of the eighth. Enter Freese.
PITCH SIX
Daniel Descalso swings at the first pitch of his at-bat. He knocks a grounder toward Ian Desmond. It's a hard grounder and Desmond has to stretch just to get a hand on it, but he can't haul it in. Two runs score and the game's tied at seven all. Five pitches later, Pete Kozma hits a single to right and two more runs score.
It's 7-5 for St. Louis and Washington's chances of winning the game have dropped from 96 percent to just eight. They go down as quickly as they come up in the bottom of the inning and St. Louis advances to the NLCS.
All thanks to five pitches.
[php snippet=1]