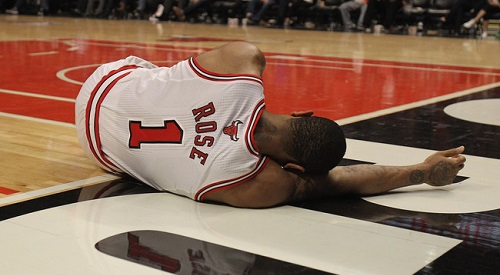 No Rose? No problem: Why the Chicago Bulls might be the NBA's most underrated team
January 21, 2013
It's Wednesday night in Toronto and the Raptors are hosting the Bulls. Neither team is what anyone would call a contender in this season's playoff race: without Derrick Rose, the Bulls are missing their best player and are unlikely to get past Miami or New York. And the Raptors? Well, the less said about them, the better.
The Bulls are ahead by one as the clock winds down when Toronto's Amir Johnson is fouled and goes to the line. He hits one of two, tying the game and we go to overtime. And as they go to the extra frame, it's not a question of if the Bulls will pull it out, but how.
On paper, this Bulls team shouldn't be as good as they are. There's no Derrick Rose, who's out indefinitely and hasn't played since last April. It's a team heavy on veteran players like Rip Hamilton, Carlos Boozer and Luol Deng. True, centre Joakim Noah is entering his prime, but he's never really been able to carry this team by himself before, either. And it doesn't help that the East has gotten much better this season, too.
This season, the Bulls are competing against two tough teams in their own division: the Brandon Jennings-led Milwaukee Bucks and defensive-minded Indiana Pacers. The Bucks have turned from also-ran into a contending team thanks to the emergence of Larry Sanders, a force on the boards and in his own end. And the Pacers are getting bona-fide champion attention from league observers. Just getting to the playoffs should be a challenge for the Bulls.
And indeed, the Bulls are a strange team to watch. In the past seven days, they've won two straight games in overtime and another where Atlanta scored all of five points in a full quarter. They've beaten the Knicks, in New York no less, but lost to the hapless Phoenix Suns, where Michael Beasley torched them, going 10-of-14 from the floor. So, what's happening?
[php snippet=1]
The biggest difference this season is from Carlos Boozer. This is his third season as a Bull and by any measure it's his best (it wasn't long ago when it was his spray-on hair making headlines, not his play). He's not scoring much more per game, but he's setting new highs: in Toronto, he scored 17 points in the first and 36 through the game, both highs for his time with the team. He's rebounding as a better rate, especially on the offensive side: his 9.1 Offensive Rebound Percentage is his highest in five years.
But the most interesting measure of his play is how it's improved as the year went on. In the last two months of 2012, Boozer's shooting percentage plummeted below .500 and he was averaging under 14 points per game. This month alone, it's jumped by nearly 10 points-per-game. He's making more shots and shooting more efficiently, especially in the paint: he's hitting over 60 percent of his shots made in close.
What spurred this change from Boozer? In his three seasons as a Bull, Boozer's play has been inconsistent, usually not on the same level as his time in Utah. If you take his word for it, it's as simple as a New Year's resolution.
But there's a little more than that. Without Rose, this Bulls team doesn't have a steady scorer. Remember that despite injuries, Rose was good for about 22 points per game last season, by far the most of anyone on the Bulls. Even going by per-38 minutes, he still led the team in scoring. Without him on the floor so far, someone's had to take that role for the Bulls. After all, someone has to score, right?
For a while, Deng was the go-to guy: a little over 18 per game in November, a little under in December. But he's faded off as the season stretched on. And Noah's not a big scorer; he's never been above 13 points per 36 minutes over a full season. For better or worse, Boozer's risen to become the Bulls best player.
Another way these Bulls are setting themselves apart is through defense. They have one of the league's best defensive ratings: 101.2. They're allowing the third-fewest points-per-game, too. Deng, for instance, is holding his opponents at SF to under 17 points and seven rebounds per game. Noah's opponents are scoring just 15 per game and that's when they score; Noah's among the NBA's best shot-blockers this season.
A strong defense isn't a new development for this team (last year, they had arguably the NBA's best defensive numbers), but it's keeping them in games when they're not scoring. Last season, the Bulls were fifth in the NBA in Offensive Rating, this year they're 19th. Despite Boozer's spike in scoring, they still miss Rose on the offensive end of things.
These Bulls are hard to get a grip on sometimes. They're one of the better teams in the Eastern Conference, but had a hell of a time escaping the Raptors and their defense fell apart against Phoenix, both among the NBA's weaker teams. But they beat New York, at Madison Square Garden no less, and somehow narrowly beat Boston on an insane Marco Belinelli basket near the buzzer.
They're a formidable team that's dominating on the road. They're 12-5 in away games, unbeaten in three overtime games, and as of this writing, have won seven of their last 10 and haven't lost to the two best teams in the East. This is all without Rose, by a wide margin their best player.
Without him, they're a hard team to get a total grip upon, but thanks to Boozer and Noah, they're one of the NBA's most underrated teams. And once Rose is back, the Bulls might be the most formidable team in the NBA.
[php snippet=1]