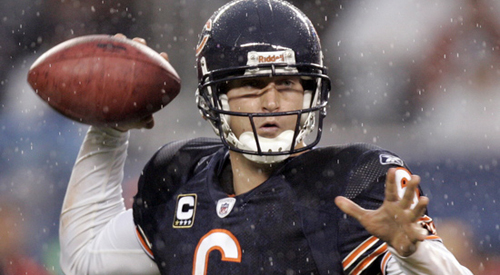 Chicago Bears: Life in the lockout
May 23, 2011
Among usual NHL and NBA playoff intensity and the progression of baseball season as June approaches, this spring has the added wrinkle of an ongoing NFL lockout making it a unique one for sports fans in many cites. One of those cities in a maelstorm of activity is Chicago.
A city with a loyal fan base for all of its sports teams, Chicago is currently in the midst of a flurry of action across the board. If there was ever a test of how the NFL lockout would affect a city with plenty of sports competion, this would be it.
The Windy City has been on a sports roller-coaster ride over the course of the last few years. Baseball's White Sox won the World Series in 2005 and have been a playoff contender since. This season, however, they sit 10 games back of first-place Cleveland in the AL Central already and their playoff prospects look bleak. The crosstown Cubs won back-to-back division titles in 2007-2008, but lost both divisional series and haven't made the playoffs since.
The NHL's Blackhawks won the Stanley Cup in 2010, but lost many players to free agency in 2011, and fell in the first round of this year to rival Vancouver. In contrast, on the hardwood, after years of rebuilding and gradual progress, the Bulls broke through and finished the 2011 regular season with the NBA's best record and are currently battling it out in the Eastern Conference Finals against the Miami Heat.
The NFL's Bears are no exception to the city-wide roller coaster; they won the NFC North three out of the last six years, including in 2010-11, where they made a playoff run but lost the NFC conference championship to their division rival Green Bay. They've also made a Superbowl appearance recently, losing Super Bowl XLI in 2006 to the Colts.
[php snippet=1]
With all of this sports action currently going on, it's easy to forget about a concerned football fanbase in the city, one that stands to lose their upcoming season altogether. Has the city lost interest in the NFL and their beloved Bears thanks to all the action in other sports?
We turned to the fans themselves.
Geoff Gilbert, a 31-year-old Bears' diehard from Shcaumburg, IL, said there's still generally plenty of interest in the NFL even at this time of year.
"Honestly, offseason is always chaos here," Gilbert said. "Everyone is looking at our draft picks; how are those guys coming up through the team? Are we looking at acquisitions? There are always thousands of opinions on what we should be doing."
Although Gilbert isn't concerned that the team would suffer any longterm effects of the stoppage, he has noticed a difference in the interest of casual fans throughout the city.
"You would [in previous years] always hear someone talking about [the Bears]," he said. "There was always hype to get ready for next season. I think that if anything suffers, we are not going to have as much hype because we are not going to have as long to build it going into next season."
34-year-old Ron Lindsey, from Wauconda, IL, has noticed some changes in the media's coverage of the Bears this spring.
"If you listen to the sports talk radio right now, there is not a blurb about the Bears," Lindsey said. "Everyone is concentrating about the Bulls".
But even with the lockout, coverage issues and competition from other teams, Lindsey said the Bears are still kings of Chicago.
"This is definitely a Bears town first and foremost."
Maggie Hendricks is the editor of NBC Chicago's Grizzly Detail Bears' blog. She said there's been substantial interest in their offseason articles, but fans are looking at the offseason from a different perspective thanks to the work stoppage.
"There is still plenty of love and excitement around the Bears, but the lockout has disgusted the fans," Hendricks said. "[Bears fans] want to know what their Bears are up to right now. Are they working out? Do they miss football?"
Hendricks said it's been nice to have some Bears' news that isn't entirely lockout-centric as well.
"Jay Cutler getting engaged has been a unique aspect of the offseason because it has been a fun, happy story," she said.
Sure, many of these sentiments aren't unique to Chicago, as fans everywhere grow increasingly frustrated with the situation, but the Bears' continued relevance in a city busting at the seams with competing sports stories is a testament to the commitment of football fans in Chicago – and how much they, among others, deserve to see their professional football team back in action next fall.
Besides, Jay Cutler can only get engaged so many times.
[php snippet=1]