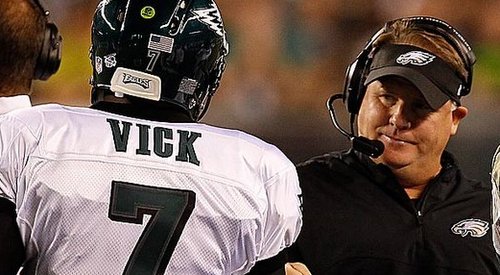 Chip Kelly and the Reinvented Philadelphia Eagles
September 20, 2013
It seemed like every which way you turned for NFL coverage this offseason people were talking about the Philadelphia Eagles, including yours truly.
Now, not all that talk was about one wide receiver's racially charged comments. A lot of it focused on the man in charge, new head coach Chip Kelly. Coming from an Oregon program that operated with a level of speed and precision that induced cramps in viewers, many were wondering how Kelly would handle the transition from college to the NFL, and more importantly they were wondering if his offense could possibly work in the NFL.
As an NFL head coach, Kelly is stripped of Phil Knight's stewardship and the McDuckianwealth and resources that allowed him to stock his cabinet at Nike's Favorite University with the perfect athletes for his system. The NFL is a league of salary caps and parity. Everyone in the NFL belongs on that level. There are no cupcakes to feast on in the NFL (well, except for the Jaguars).
And then Chip Kelly starting holding practices, and those produced more questions than answers. A Chip Kelly practice looks nothing like a normal NFL practice, and that simply muddled the minds of anyone searching for clues as to how the Eagles would fare once the season started. Then they practiced with the Patriots, the NFL standard bearers for keeping things close to the vest, which only added fuel to the fire of intrigue around the Eagles.
[php snippet=1]
Even the preseason did little to satisfy the curious. Kelly only allowed the public minor glimpses of the offense he planned to run. All anyone truly knew is that the plan was for it to be fast. Very fast.
Then, finally, on the first Monday night of the season Chip Kelly unveiled his monster to the world. In the first half of football under their new coach the Eagles ran 53 plays and held a 19-point lead on the defending NFC East champs. And still Chip Kelly thought his team was too slow. In the second half of that game the Eagles intentionally slowed down their offense to salt the game away, and it became obvious that they weren't prepared for that. Kelly has designed an offense that is so brutally efficient at high speeds that slowing it down to an average NFL pace actually harms it's effectiveness.
A lot of the credit for that has to go to Michael Vick, who has thrived in the new offense so far. Vick is one of the most freakishly athletic quarterbacks in NFL history, a man with such transcendent real life skills that he looked like a video game character come to life. And the video game version of Vick was so brutally unfair that "No using the Falcons" rules were commonplace in the mid-2000s. He was even named the quarterback of the Madden All-25 Team earlier this year.
So to say Vick is an ideal field general for Kelly's frenetic offense would be an understatement. To say that the Vick that used to strike dread into the heart of every teenager with an Xbox would be even better is also an understatement.
Michael Vick is 33 and getting older. He is also injury prone, having missed three or more games due to injury every season since returning to the NFL after his time away while in prison. Now he is in an offense that will test his stamina by the sheer number of plays it is asking him to run, an offense that relies on his ability to run to keep defenses guessing. An offense that can not afford to see him get hurt. The Eagles know Vick probably won't hold up, and even before they brought Kelly aboard were exploring the possibilities of acquiring Colin Kaepernick or Russell Wilson before those players set the football world on fire last season. Yet there's Vick on that first Monday night, sliding headfirst and throwing downfield blocks, something Kelly doesn't think he will be able to get his quarterback to stop.
So what exactly am I getting at? To be honest, I'm not sure.
These Eagles are very, very fun to watch. Their offense, when running the way it did in that first half against Washington, leaves viewers breathless with delight. It set the football Internet on fire after it debuted, and cemented Philadelphia as a must-see team this season. That much I know.
I also know that their defense has problems, not the least among them being how little rest they are provided by the offense, and that being able to slow things down and bleed clock on both sides of the ball is a skill they must develop if they want to keep winning.
I also know that in a game in Week 2 where the Eagles had the ball for less than 20 minutes of game time they still scored 30 points and put up 511 yards of total offense on 58 plays. Their opponents on that day, the San Diego Chargers, held possession for over 40 minutes, ran 79 plays, and only outgained Philadelphia by 28 yards. 21 more plays, 28 more yards.
Yes, San Diego won that game on a last-second field goal, and yes, Phillip Rivers' insane stat line underlined a definite problem in the Philadelphia secondary. For much of the game the Eagles looked disjointed and out of sorts.
But there they were, in the game, tying it with less than two minutes to go in the fourth, while Michael Vick accounted for 450 total yards of offense and three touchdowns. For a team that had the ball for less than 20 minutes. A team that still packed 58 offensive plays into that time frame.
I guess it comes down to this: We still don't really know that much about these Eagles. When Chip Kelly took over we had so many questions. Two games in we have some answers and a slew of new questions that will be answered as the season unfolds.
What we do know, however, is that for now these guys are doing something new, and it's working, and it is downright fun.
[php snippet=2]