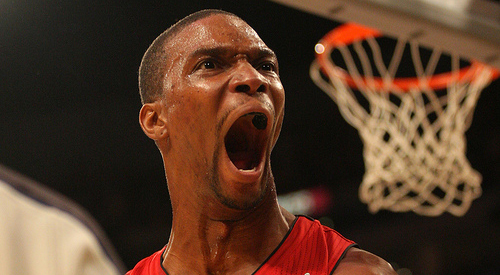 Defending Chris Bosh's questionable legacy in Toronto
February 22, 2011
On Feb. 16, Chris Bosh returned to Toronto, the city he had spent his entire career with before joining the Miami Heat. It was not a homecoming, nor was it an affirmation of the Heat's dominance. The Raptors lost 103-95. The night wasn't really what anyone expected. In other words, it was a very Bosh-like night.
As somebody who has written extensively about Bosh, I felt like I had to be in the city to at least to get a handle on what was going down. I watched the game earlier this season when seemingly the entire city of Cleveland showed up to jeer LeBron James – and watched the Cavs get crushed beneath the Heat's gears. Would Miami also crush the Raptors? It wouldn't be the first time a visiting former star burned the Raptors. Despite a hailstorm of boos, Vince Carter scored 39 points in his first game against Toronto in 2005. Were those boos awaiting Bosh?
For a long time – longer than Carter, Tracy McGrady or Damon Stoudamire – Chris Bosh was the Toronto Raptors; the first person who sprung to mind when thinking of the team. When he was called soft or overrated in the States, Raptor fans in Canada jumped to defend him. "You haven't seen him play," they could rightfully say, since the Raps were never on ESPN or TNT until the postseason.
But while he was something close to a star, it was on a succession of bad teams. After all, Toronto didn't get the first overall pick by being good. On the few occasions when the Raptors actually were tolerable – like in 2007, when they won a division title – they still weren't that good. In 2007 and 2008 they were bounced from the first round in series' that weren't even close.
He left under somewhat trying circumstances, but in retrospect, were they really all that bad? He had been here longer than any previous Raptor star and secured his legacy with a couple of team records. In his time, he helped the Raptors get to the postseason, albeit not for long. In so many words, didn't he serve his time? Like other star player the Raptors have had, he left. C'est la vie.
[php snippet=1]
I met two friends in Toronto for dinner and to watch the game at a bar hosting an 'Unwelcome' party for Bosh. The owner decorated the door with balloons and hung a current Raptors jersey above the bar. Beside it, they stuck a Bosh jersey upside down with an "X" through his name and number in bold, black permanent marker.
One of my friends said she liked Bosh and didn't get the hate. The other complained the team isn't as interesting without him. Both expressed indifference to this season's team. While they don't speak for everybody, their opinions stuck with me as tipoff neared. When Bosh came out, there were a few loud boos, but most of the people at the bar didn't seem to feel one way or the other about him. And I don't remember anybody cheering when the Raptors came out.
The Air Canada Centre didn't seem much different on TV. Sure, Bosh was booed. But as theToronto Star's Dave Feschuk wrote: "this wasn't the cauldron of hate that met Vince Carter in 2006." By game's end, Bosh had hugged former teammate Jose Calderon and blew kisses to the crowd.
Where was the hate? Could it be that Toronto fans want to hate Bosh but just can't bring themselves to do it? After all, Bosh isn't as easy to hate as Carter is. After Carter left, he told TNT he didn't always try with Toronto, yet plays memorable game after memorable game against them. Why did Raptor fans go so easy on Bosh?
It's not like Bosh didn't notice the jeers. Heck, he was even able to rationalize them. In a postgame interview, he suggested those who always liked him still do and those who don't like him now never really liked him to begin with. Is that arrogance? Take them in the same context of the lengths Bosh went to get noticed as a member of the Raptors: a DVD documentary about getting a tattoo, a viral video where he sold his all-star candidacy in used car salesman drag and a Twitter account more notable for asking fans where he should go as a free agent than for postgame tweets. That is not how somebody who's arrogant about his stardom acts.
Indeed, Bosh has gone to considerable lengths to defend his legacy as a Raptor. He sat down with TSN's James Cybulski for an interview late last year and said he never quit in Toronto. He tried to explain comments he's made in the US media, including one about how the Raptors were never on American television. Even after he's left the Raptors, Bosh seems to genuinely care about how people in Toronto feel about him. (Compare that to Vince Carter, who obviously doesn't.)
This plays into how he was treated in his first game back: it wasn't a hero's welcome, but it wasn't as visceral as Carter's return. Some may suggest the booing wasn't Carter-level because Bosh didn't mean as much to the team. But that's not entirely accurate. Each was the face of the team at different levels of success. Others may blame him for leaving the Raptors, but what was he supposed to stick around for? The team needed to rebuild and couldn't do that with Bosh – and his $14.5 million salary – around.
So what will his Toronto legacy be? That of a player who was good but not good enough, or of a team which had some success, but not a lot? Maybe he wasn't jeered like LeBron was in Cleveland because on some level everybody was glad to see him gone. Not because of anything he said or did, but because it was just time for a change.
What Bosh represents is the team's years in the desert: two postseason appearances, both of them over as soon as they began, drafts that netted players like Andrea Bargnani, Charlie Villaneuva and the immortal PJ Tucker plus a combined record of 188-222 in the five full post-Carter seasons where Bosh led the team. In others words, the Bosh era was a wash and it was high time for everybody to move on.
Sure, Bosh was one of Toronto's biggest sports personalities in his time here – both on the court and off. Not every star athlete makes appearances at the Much Music Video Awards. He was adored here. The booing was for Carter, T-Mac, Hedo For the bad guys.
No wonder he told the Canadian Press he was surprised by the jeers.
[php snippet=1]